Boggs discovers new passion for education
Ja'kin Boggs hits his stride upon returning to Miami University.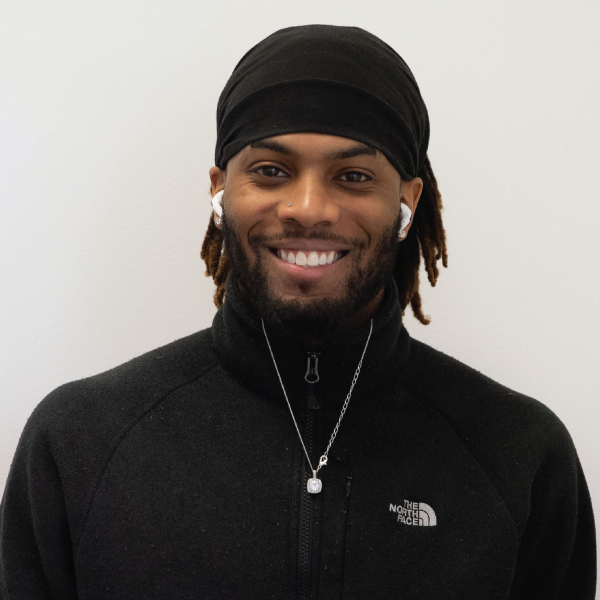 When Ja'kin Boggs started his first year at Miami Hamilton in 2017, his focus was on one thing — basketball.
As a recruit for the Hamilton Campus men's basketball team from Fairfield High School, he was hoping his athletic career would lead to professional sports. Unfortunately, those dreams were cut short when he was injured in his sophomore year and had to stop playing.
The setback caused him to lose interest in school. He didn't like a lot of the classes he was taking and couldn't see a path forward without the sport he loved. His grades slipped, and he dropped out in 2019.
After leaving school, he dabbled in many different pursuits — music, clothing design, even poetry. But it was a job working as a waiter at Cracker Barrel restaurant that made him realize he needed to return to college.
"When I was at Cracker Barrel, one of my co-workers celebrated her 25th anniversary (as a waitress) there. I knew then I did not want that. I wanted something different for my life."
Boggs decided to return to Miami in 2022 and knew he wanted a career in graphic design, something he had built an interest in during his time away from school.
"Now, it's completely different," said Boggs. "I see a future for myself in this. I'm so much happier now. Even taking the earliest class doesn't bother me."
His years away from campus gave him time to mature and figure out what really fit him as a career. It also gave him a new perspective on the importance of an education and what he wanted to get out of it.
"The first time, I didn't take advantage of my professors' efforts to help me. I wasn't interested in school and my grades were C's. Now, all my grades are A's and B's."
Boggs said he also had an inspiration in his mother, Frenchetta Burks, who had started at Miami Regionals when he originally enrolled in 2017 because she wanted to earn her degree. After he left in 2019, she stayed and graduated in 2020 with a degree in Computer Information Technology.
"She's been a big support for me," he said. "She could see that I was a little lost when I left. I was so focused on basketball and wanting to be an athlete that I couldn't see the importance of school. What's funny is I'm actually enjoying school more now without the basketball. I love it."
He said he's glad he didn't give up on his education. "Taking a break showed me how important it is," he said. "I feel more hopeful about the future now than I ever have."