Student government role injects new life into first-year experience
Being a campus leader helped Gracelyn Steigerwald build her community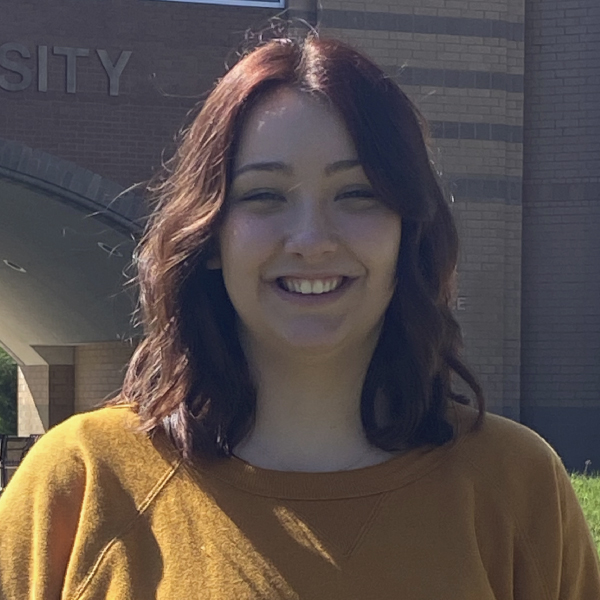 When Gracelyn Steigerwald came to Miami University Regionals in the fall of 2022, she had no ambitions to become a campus leader.
At Talawanda High School, her alma mater, she had never been one to seek the limelight or run for student office. She was comfortable letting others take the leading roles while she remained in the background. All that changed, however, after she met Senior Academic Advisor Julia Pond while working part-time in academic advising.
"She encouraged me to get involved in student government," said Steigerwald, who is studying Psychological Science and Communications. "It's a rebuilding year after COVID and they needed new people."
At first, Steigerwald resisted.
"This is not something I would have naturally decided to do. I would have never expected to be in a leadership role," she said. "I was such an introverted person in high school."
In spite of her hesitation, she ran for student body president in September and won. Now the job that sounded way out of her comfort zone has turned into the role she was born to play.
"I feel like it's helped me grow as a person. It's very eye-opening having to lead a group of people. I have made so many connections on campus with staff, faculty, and students. I feel a connection (to Miami) that I never did before."
While it didn't come easy — and she even felt a bit of imposter syndrome at first — Steigerwald said she has found the joy in being involved in campus life in a big way. It has given her new confidence to reach for goals that seemed unattainable before.
"I was so nervous in my first student government meeting," she recalled. I kept thinking, 'Am I really this important?' Now I feel more confident in any meeting situation."
Working with other campus organizations and faculty members has helped her realize the potential in her leadership role for new experiences and greater exposure. It also helped her understand more about her own potential.
"I realize now that I do have leadership abilities, and I could work my way up to a leadership role in my career," she said. "Before, I would never have felt that way. I've definitely considered grad school now, which I hadn't before this."
But one of the best parts of her student government involvement, she said, has nothing to do with career aspirations. It's purely social.
"All of my best friends from high school went to different (colleges). I knew nobody when I started here at Miami. It was a little lonely. But my student government role forces me to be social. I've made many more friends. I run into people all the time on campus that I know. It feels very liberating, like I'm starting new after COVID and creating a community."