Support services key to success for Kelly
Myrissa Kelly found support network at Miami Regionals that she describes as her lifeline.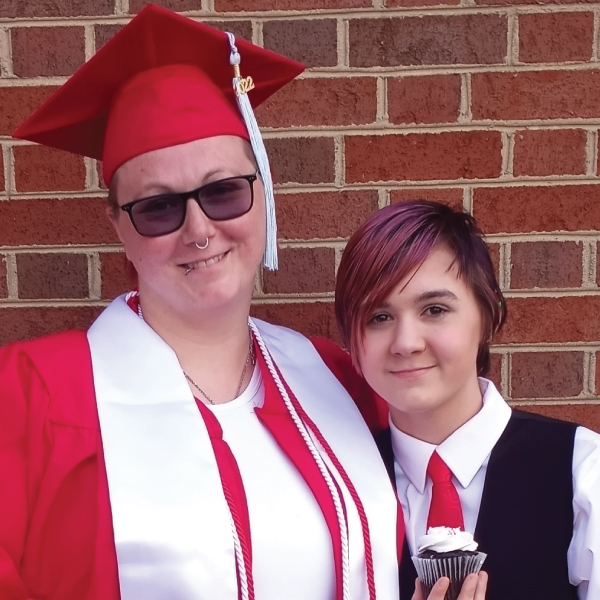 As a high school student years ago, Myrissa Kelly said college was the furthest thing from her mind. Her home life was a mess, and she was forced to drop out at 17 to get a job in order to avoid homelessness.
She joined the U.S. Army to help her find a path, and, while enlisted, she earned her GED. After a year in the Army, Kelly left and earned a credential to become a State Tested Nursing Assistant (STNA). Along the way, she also had a baby.
By the time she was considering returning to school, she was the mother of a 9-year-old daughter and had a busy life. Her daughter and her boyfriend encouraged her to pursue her degree, however, in spite of her hesitations.
"I was really scared to come back to school, and I was so scared to talk to professors," Kelly said. "Once I got here, my feelings changed. I discovered it was a family atmosphere on campus, and my daughter could even come with me if she wanted."
Kelly earned her associate degree from Miami Regionals in May 2022. Now a double major in Psychological Science and Forensic Science, Kelly said she sees new possibilities for her future that never seemed attainable before. She is interested in eventually pursuing a graduate degree in Forensic Psychology and working with law enforcement after earning her bachelor's degree in 2023 with University Honors.
"I've always been low on the socioeconomic ladder. Now I can see a way out. Going back to school has given me more confidence to help my daughter succeed, too."
College studies haven't been easy, she admitted. But the resources at the Regionals and the supportive professors made her feel more comfortable with her course load. She also used resources such as the Tutoring and Learning Center and TRIO Student Support Services, an educational support program that helps students with college success skills, course supplies, and one-on-one coaching. "These were lifelines for me," Kelly said. 
She also credits her instructors with encouraging her along the way. "They are so supportive at the Regionals. I've faced so many setbacks, and if it wasn't for the help of my professors, I wouldn't still be here."
Not only has her experience at the Regionals boosted her own outlook for the future, it also has changed her daughter's. "She's gone from not interested in college to very interested."