Fourth-year student stares down personal challenges to achieve her dreams
She credits supportive professors and friends as integral to her success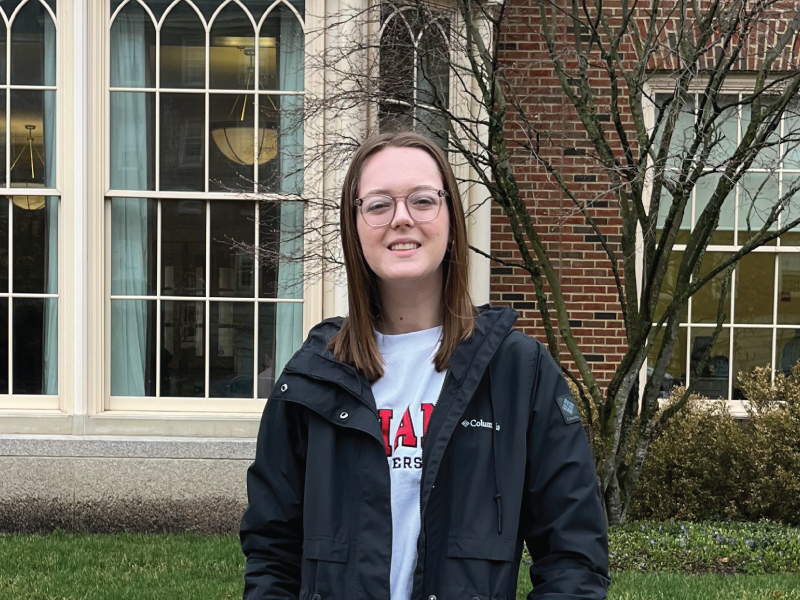 Fourth-year student stares down personal challenges to achieve her dreams
When Kailey Cox graduates in the fall of 2023, her Bachelor of Arts (BA) in Health Communication and Psychological Science will be only one of her many accomplishments at Miami University Regionals.
Her journey during her four years at Miami Regionals has been a series of personal triumphs where she has overcome adversity and pushed forward in spite of a number of obstacles thrown in her path.
Her first hurdle was overcoming her insecurity about attending college at all. As an LGBTQ+ student in high school, she felt that college plans were for "popular people," not for students like her. She admitted to struggling with school and worried that college would be too rigorous and expensive. With encouragement, she agreed to apply to Miami University Regionals because of its close proximity and affordability.
Once at the Regionals, she was happy to find a community where she could finally be herself, but she then realized she needed to be completely open with her parents about the news of her sexuality, which terrified her. In the middle of these major life changes, fate decided to hand her some additional challenges.
She required surgery for spinal fusion, a major procedure that meant months of recuperation. As she was recovering, she was in an auto accident that fractured her spine. A short time later, she was diagnosed with Lupus, a debilitating condition that causes chronic pain and fatigue. She feared dealing with her health and completing her degree at the same time would be too much to handle.
"Navigating all the personal stuff and school too, was a lot," she confessed. "I was even thinking of dropping out. It all felt a little overwhelming."
But with the help of some good friends and some very supportive professors, Cox said she fought through the difficulties and came out not only OK, but better than she ever imagined.
She decided to throw herself into her studies and campus life. "I used studying as a coping mechanism. Getting involved made me happier and made me feel more connected."
She joined the campus PRIDE organization in her first year and found valuable support from its president, who became a friend and encouraged her to talk to her parents about her sexual orientation. His confidence in her helped to reduce her anxiety and give her the courage to follow through on her plans to be open with them. Ultimately, they were accepting and supportive, she said.
Today, Cox is the president of PRIDE and uses her experiences to encourage other members of the LGBTQ+ community to pursue their goals and dreams without fear of judgment. She is also a student ambassador, a research assistant, and maintains a 3.9 GPA.
She is quick to give credit to those who helped her overcome her setbacks.
"I could talk all day about how amazing the teachers here are," Cox said. "My professors gave me some flexibility when I needed it, and they checked in with me to make sure I was OK. They kept encouraging me even when I doubted if I could continue."
In her role as a student ambassador in the admission office, Cox said she feels proud to explain the benefits of Miami University Regionals to prospective students, knowing that she's a shining example of the welcoming, supportive environment she is telling her high school age tour participants about.
"I never feel like I'm selling something," she said. "I never have to lie. I mean what I say. It really is a place where you're a person, not a number. I never feel judged here. It is very welcoming."
After graduation, Cox plans to attend graduate school and eventually become a therapist or psychologist counseling those who need help with chronic illness and pain management, drawing on her own experiences.
"I'm studying something I love and feel passionate about," she said. "I hope I can help others find their way through it like I did."