2023 graduate finds her job skills are a prime lure for employers
New Digital Commerce major helps student land her dream job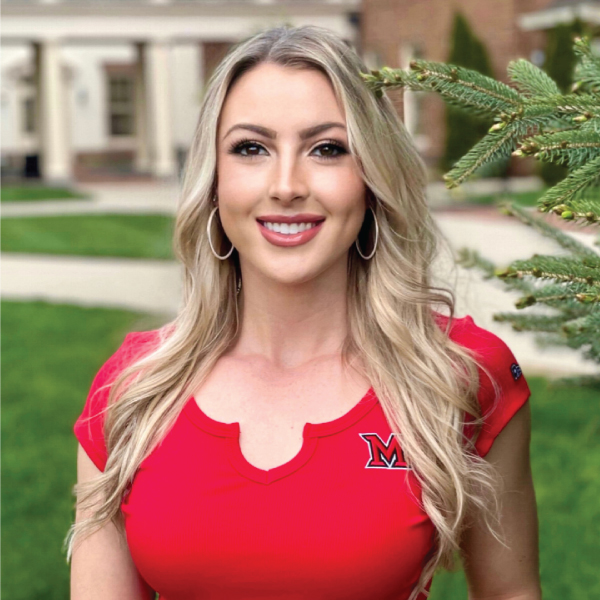 Fourth-year Miami University Regionals student Anna Perry's phone has been ringing off the hook.
As she approaches graduation in May, there has been no shortage of job offers. Perry is one of the first graduates in the new Digital Commerce major, completing a Bachelor of Science in Commerce. She said there has been plenty of interest in her skill set.
Two internships in marketing and social media last year led her to land her dream job before graduation. She was recruited by Reynolds and Reynolds, a Dayton-based business providing software development services to the automotive industry. Since starting there part-time last fall as a marketing campaign and content specialist, she has worked on a variety of brand projects and targeted campaigns. 
Digital Commerce majors focus on developing marketing campaigns through multiple digital channels and understanding marketing metrics to adjust campaigns. Courses in the major, which was launched in 2020, center on digital marketing, content marketing, and web and social media analytics. Like all commerce majors, they share a foundation of commerce courses covering business law, economics, marketing, accounting, and related business fundamentals.
Perry grew up in Ross Township and began her first year at Miami University Regionals in the fall of 2019 after graduating from Ross High School. She decided to attend Miami due to its affordability, close proximity, and its long-standing tradition in her family. Five of her family members are Miami alumni.
She began as a Small Business Management major, thinking she would be prepared for a variety of careers that required broad business skills. She decided to switch her major from Small Business Management to Digital Commerce after realizing she was most interested in specialized marketing skills such as search engine optimization (SEO). When she made the change midway through her studies, she figured there'd be a solid demand for graduates with her background. But the strength of the job market surpassed even her highest expectations.
"After I switched my major, I got job offers right away," she said. "During the winter of my junior year, I was working three jobs and was also the vice president of the Economics Club in Oxford, the first-ever female in that role. I was very busy."
Luckily, her coursework in Digital Commerce dovetailed nicely with her previous major, so it was a "seamless transition" to the new program, she said. "All my classes in Small Business Management applied to the new Digital Commerce major. My advisors and instructors were great," she added. "Tom Mays (associate professor in the Department of Commerce) often left video comments explaining the details of different processes or coursework. He was an amazing guide."
Mays, who coordinates the Digital Commerce major, said it was created to fill the growing need for qualified candidates with e-business proficiency.
"Once considered an afterthought, digital commerce, at some level, is a requirement for business success today," he said. "Consumers have evolved to expect all businesses to maintain an e-presence on multiple platforms including web, social, and mobile. Job growth is expected to remain strong."
In addition to her multiple internships while at Miami, Perry was also active in the Female Student Leadership Program and maintained a 3.95 GPA. She will graduate with summa cum laude honors.
After graduation, Perry said it appears the sky's the limit. 
"My skills are very valuable for a lot of different industries. I don't know where I'll go next, but I know there will be lots of opportunities."