2023 Nursing Student and Alumni Awardees
Miami University's Nursing program recognition of distinguished alumni and honors students.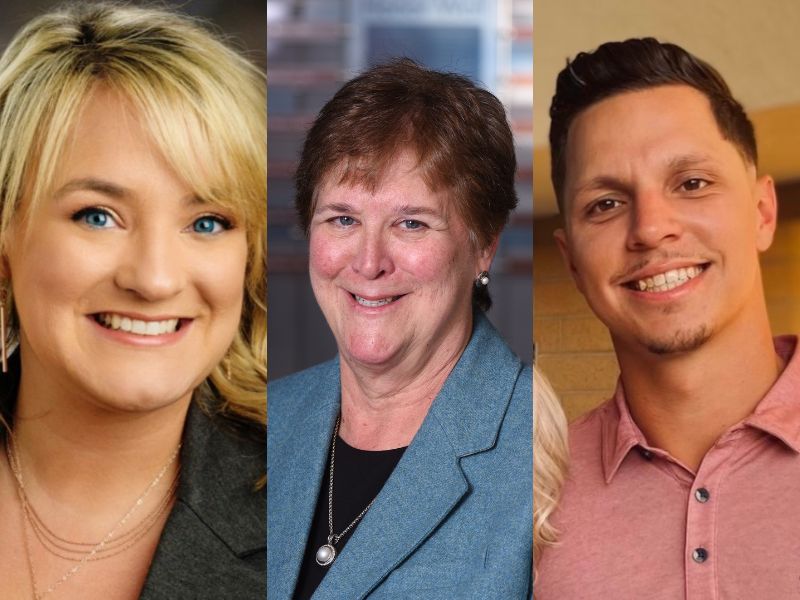 Pictured from left to right: Dr. Rihanna Lloyd (Distinguished Alumni Award), Jayne Lachey Gmeiner (Distinguished Service Award), and Joseph "Joey" Hudson (Graduate of the Last Decade Award).
2023 Nursing Student and Alumni Awardees
Pictured from left to right: Dr. Rihanna Lloyd (Distinguished Alumni Award), Jayne Lachey Gmeiner (Distinguished Service Award), and Joseph "Joey" Hudson (Graduate of the Last Decade Award).
Distinguished Alumni Award
The Distinguished Alumni Award recognizes an alumnus currently engaged in practice, and someone who provides distinguished service to the community in a way that enhances the visibility of nursing as a profession in a way that furthers nursing at Miami University. Nominees must be graduates of Miami University. 

Dr. Rihanna Lloyd began her career as a 7th and 8th grade math and science teacher. After several years of teaching and an experience following the birth of her twins, she felt a calling to return to school and joined the Miami University Middletown Nursing Class of 2009, with 12-week old twins and a 2 and 4-year-old at home. While attending Miami she worked as a patient care technician at Kettering Medical Center in Dayton, and on graduation became an RN on the Cardiothoracic Surgical Stepdown Unit there.  She received her MSN from the University of Phoenix in 2014, and the following year was accepted into The Ohio State University DNP Nurse Executive Leadership Program. Receiving her doctorate in 2018 and recognizing healthcare providers' increased burnout and compassion fatigue, Lloyd switched her focus to helping care for healthcare providers.
She joined a local non-profit, RISHI (Remen Institute for the Study of Health and Illness), and in her role as National Director of the Power of Nursing, had the opportunity to support nurses and other healthcare providers through retreats, learning activities, and academic programs focused on resiliency and well-being across the United States and internationally. In 2021, Lloyd transitioned back to organizational leadership as Market Director of Patient Experience in Tampa, Florida. Following the impacts of COVID and still feeling that call to nurture and support our care providers, she transitioned once again to direct leadership as a Nursing Director of Medical Surgical Services and OrthoNeuro Services.
Distinguished Service Award
The Distinguished Service Award recognizes an individual who has served and supported nursing's mission at Miami by using compassion, creative problem-solving, and critical thinking in their daily practice.  
As a Nursing Leader for over three decades, Jayne Lachey Gmeiner served in progressive nursing leadership roles in adult and pediatric acute care environments. Her clinical experience as an adult cardiovascular and intensive care Clinical Nurse provided an excellent foundation for future leadership roles. Her current responsibilities for patient care leadership include: strategic planning for the nursing division, supporting the patient and family experience performance improvement, and providing oversight of financial management for the nursing division. In addition, she provides operational oversight for all inpatient units, hospitalist service, two emergency departments and two urgent cares, Magnet Sustainment, IV therapy, Respiratory Therapy Service, and Children's Home Care of Dayton. She has been successful in working in environments that have supported 4 Magnet Designations/Redesignations at Dayton Children's and Miami Valley Hospital.
Gmeiner is Past-President of the Ohio Organization of Nurse Leaders (OONL) and has served on its Board since 2009. She has also been President of the Dayton Chapter of the OONL and the Organization's liaison to the Ohio Nursing Association Summit. She serves on Ohio Hospital Association Healthcare Workforce Task Force, Special Wish, and LLS Boards in the Dayton Region.
Graduate of the Last Decade Award
Our Graduate of the Last Decade Award recognizes a Miami graduate from the last ten years who is currently engaged in the practice and has shown excellence in the field. 

Joseph "Joey" Hudson graduated from Miami University in 2019 and began working at Fort Hamilton, now Kettering Health Hamilton, as an Emergency Department nurse after graduation. In 2022, he began undertaking several travel contracts. Currently, he is full-time at Fort Hamilton as a charge nurse. Hudson is a Hamiltonian with a sense of joy in being able to work in the community in which he grew up. He credits his development to serving around great nurses and other healthcare workers over the years.
Additionally, Hudson acknowledges a host of family and friends who have supported him continuously to help him be where he is today. Most importantly, his mom is his role model, and the best nurse he knows. Joey stated, "If I can impact as many people's lives as she has, I will be extremely grateful. I love nursing, and I love being able to be a light on people's worst days. I can't see myself doing anything else."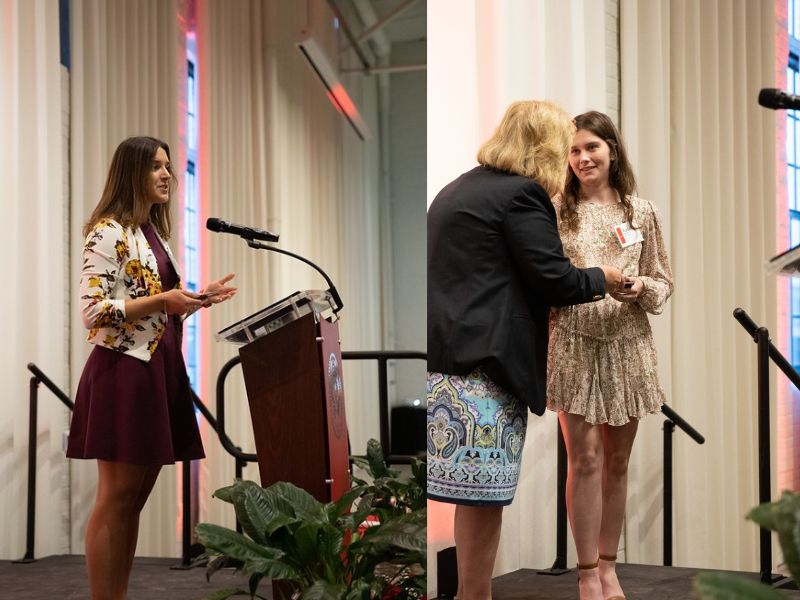 Natalie Sobel and Katie Bassler accepting the Ruth Ann Busald Award.
Ruth Ann Busald Award
The Ruth Ann Busald Award is named for Nursing's founding department chair and given to outstanding Miami University Baccalaureate Degree Nursing program graduates. Recipients are selected based on grade average, clinical performance, professional attitude, and professional adeptness. 

Natalie Sobel is recognized as an extraordinary student who strives for excellence inside and outside the classroom. Both her faculty and peers recognize her support of classmates and infectious positive attitude. Her passion for nursing is evident through both her clinical and academic performance. Sobel is a valued member of the Miami University Synchronized Ice Skating Team, balancing the demands of being a university athlete with a rigorous nursing program curriculum, a Spanish minor, and Honors College coursework. She is driven and motivated to succeed in all of her personal and academic endeavors. Sobel is a phenomenal representative of Miami Nursing and will make a great impact wherever her nursing career leads.

Katie Bassler is an outstanding student who exemplifies the professional attitude and adeptness of the Ruth Ann Busald Award. Faculty describe her as a responsible and caring learner who advocates for herself and others. A strong academic performer, she remains humble and always willing to help and support her peers.  She is a quiet leader in the classroom who chooses to lead by example and through actions more than words. Bassler continues to excel in her classes and clinicals and interacts professionally with peers, faculty, and patients.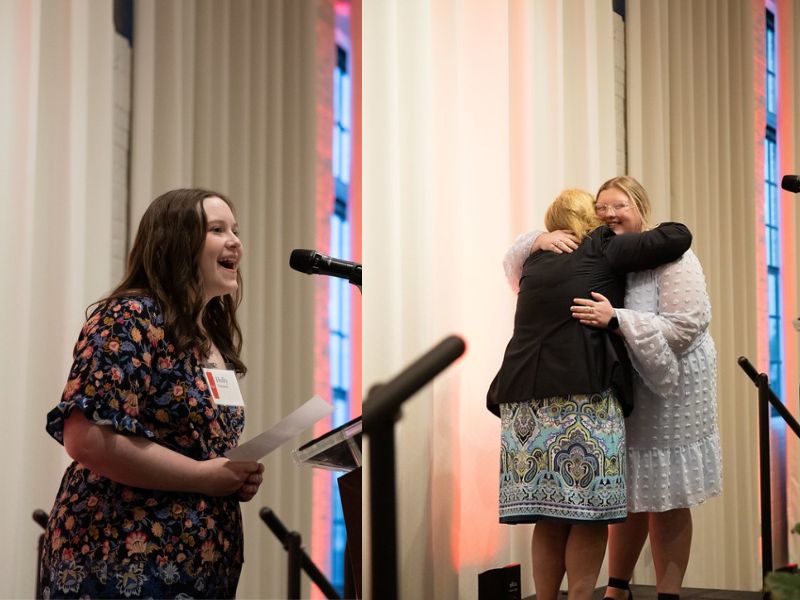 Holly Thornton and Kendall Robinson were awarded the Nursing Alumni Scholarship.
Nursing Alumni Scholarship Recipients
Students awarded the Nursing Alumni Scholarship are chosen by the department scholarship committee from faculty nominations. Nursing Alumni Scholarships are based on academic merit and are awarded to students who demonstrate commitment to their education and the nursing profession.  
Holly Thornton
demonstrates a passion for nursing and has a strong desire to grow in her professional role as an emerging nurse. A sophomore nursing student, she is prepared for each class session and demonstrates a professional and supportive attitude. During her first year in the nursing program, Thornton developed an organized study guide on health assessment content that was shared with her faculty and later used to support other students' understanding of the material. This spring semester, she qualified as a peer tutor for the Department of Nursing. 
Kendall Robinson
has demonstrated academic excellence during her time in the nursing program. Despite the intense coursework and workload demands of an undergraduate Nursing degree, she has maintained a strong cumulative grade point average. Robinson is not only strong academically, but is seen as a leader among faculty and peers, serving as a student lab worker, and in multiple leadership roles in the Miami University Nursing Student Association, Men in Nursing, Student Advisory Council, and Miami University Regional Peer Health Health Educator organizations. In 2021 and 2022, Robinson participated in two Nursing Department study-abroad experiences, one in Central Belize and the other in Luxembourg. Her volunteerism is exceptional and demonstrates the strong makings of a future nurse leader.