Finishing his Miami degree from 2,000 miles away
A journey that included theater, marketing research, and culinary school brought Patrick Vaughn back to Miami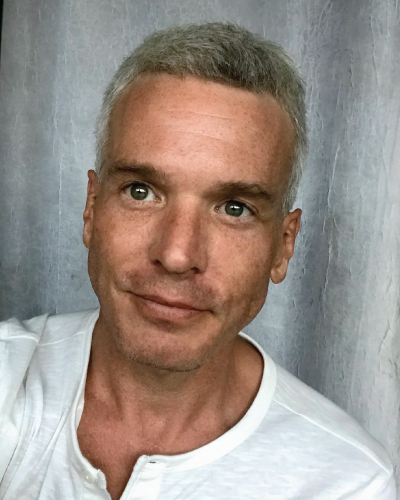 The journey from graduating high school in 1997 to earning his Bachelor of Arts in English Studies in 2023 has been an interesting one for Patrick Vaughn, this year's student speaker for the College of Liberal Arts and Science Student Recognition Ceremony.
Along the way to completing his bachelor's degree, he performed in professional theater, co-wrote musicals and cabaret shows, worked 20 years in a marketing research firm serving Fortune 500 companies, earned a degree from Le Cordon Bleu, and worked in the test kitchen of California Pizza Kitchen.
And along the way, he and his mother, Miami administrator emerita Susan Vaughn, became the first mother/son team to compete on The Amazing Race on television.
"I'm so thankful that my journey led me back here at a time when I can appreciate these opportunities," he said. 
His early involvement with Hamilton Community Theater led to his being cast in Cincinnati Playhouse in the Park's production of To Kill A Mockingbird, which led to long-run performances in Cleveland and St. Louis before graduating from Hamilton High School.
Vaughn began Miami classes on the Hamilton Campus and in Oxford and remained active as a professional performer at Cincinnati Playhouse in the Park and Dayton's Human Race Theatre while still a student. Branching out beyond performing, he also collaborated in creating three musicals.
Feeling the call to write for musical theater, he left Miami after fall 2000 and headed to New York, continuing his writing for cabaret.
He later moved to California during his career with the national marketing research firm, primarily engaged with transcription and focus group studies, always aware that artificial intelligence (AI) was developing. At one point, he said, his assignment included working on the AI software that might one day replace him.
It came to a head one day when Vaughn, along with 66 colleagues, was called into a Zoom meeting, and told that their positions were ending.
Exploring his options, he learned he could complete his bachelor's degree at Miami Regionals through online courses while continuing to live in California. 
"It seemed like a sign that it was time to finish what I started," he said. "I felt like I was ready to take on the challenge of being a student again at the age of 44."
Reading and writing had been integral parts of Vaughn's career working in theater and market research. When he first began at Miami he was a theater major and an English minor.
"This time around," he said, "there wasn't any doubt in my mind that I would be an English major."
Returning to Miami, he became more engaged in his studies and completed an internship with the Department of Languages, Literatures, and Writing from 2,000 miles away.
Whitney Womack Smith, one of his nominators and chair of Languages, Literatures and Writing, cited the work Vaughn did in his internship, collaborating with others to develop a website to more fully connect English Studies majors. She shared that "Patrick is an outstanding representative of the many nontraditional, returning, and transfer students who find a path to a bachelor's degree at the Miami Regionals." 
Looking ahead, Vaughn is exploring a career that would allow him to combine his degrees in English Studies and Culinary Arts, possibly in the field of food writing. He is also considering returning to the research field.
"Now I understand that a liberal arts education allows you to take on a critical thinking position, something that artificial intelligence isn't able to do," he said.