Miami Regionals student Emme Nolan takes leading role in research study
Outcome could impact how dementia patients receive care a test description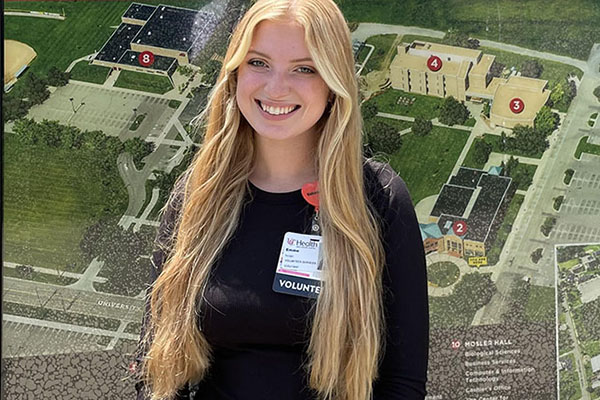 Miami Regionals student Emme Nolan takes leading role in research study
Fourth-year Miami University Regionals student Emme Nolan will begin a one-year research study this summer on the potential for using specialty printed publications to engage dementia patients in order to improve the quality of their interpersonal experiences.
Nolan, a Psychological Science major, experienced first-hand the challenges of caring for dementia patients when she worked as a nursing home aide. She saw the frustration of caregivers who wanted to engage with patients more fully, but struggled to find ways to communicate effectively.

"I worked on a COVID unit and I saw how understaffed and overworked nursing home staff were," Nolan said. "It's easy to get stuck in a routine just meeting everyone's basic needs. But they are always looking for ways to better connect with patients."

The study will use printed magazines created specifically for dementia patients by Mirador Magazine and Nana's Books. The content will include nostalgia articles, large pictures, light-hearted stories, and activities that are targeted to older adults, such as simple crossword puzzles.

Nolan said she will work with individual nursing home administrators and their staff to implement the magazines into activities with selected residents. She and other volunteers from Miami's Psychological Science Club will spend up to three days per week working with the residents for the project.

Their study will begin by establishing a baseline for each resident that determines their emotional state, anxiety level, and relationship qualities with family and caregivers. At the conclusion of the study, the team will re-evaluate these markers to look for indications the printed entertainment may have impacted their quality of life in these areas. The results will be published in a peer-reviewed journal.

Assistant Professor Elliott Jardin, who has studied brain health for much of his career and is working with Nolan to organize the project, said there is a lack of specialized training and tools for caregivers to use in their efforts to engage older adults with dementia.

"Family and caregivers often don't know how to talk to individuals with dementia," he said. "The types of conversations they were able to have prior to their diagnosis may not be possible after their diagnosis. It's often helpful to focus on stories from long ago or on the strengths of the individual. The magazines are tailored to these types of activities."

Jardin added that behavioral interventions for improving quality of life in dementia patients can be an important piece in high-quality care. As staffing shortages and increasing numbers of older adults strain resources, proven approaches for effective caregiving are in greater demand.

Nolan said the project is important to her because of her experience working in the nursing home industry.

"It comes very easy to me to engage with older adults and people with cognitive impairment," she said. "They need someone to remind them they are valuable."

After graduation in December, Nolan plans to continue her work in this area of study, possibly focusing on how conditions such as anxiety and attention deficit hyperactivity disorder (ADHD) affect health as people age.