Student discovers her abilities after making the decision to work toward degree
Summer research opportunity gives her a glimpse at future career possibilities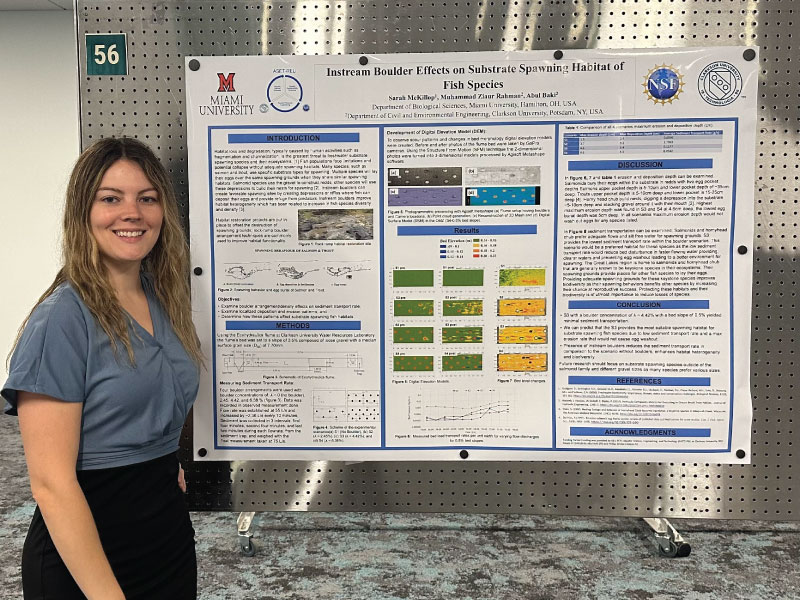 Student discovers her abilities after making the decision to work toward degree
Five years ago, if someone told Sarah McKillop she'd someday be assisting with research to improve habitats for fish spawning in Upstate New York, she would have never believed it.
As a third-year Applied Biology major at Miami University Regionals, McKillop studied ecohydraulics for freshwater rivers and streams in Upstate New York this summer as part of an undergraduate research experience with Clarkson University. It was an opportunity she could have only dreamed of a few years ago working as a waitress in Hamilton.
McKillop, 27, didn't take the traditional route to college. During her teen years, she was busy caring for a newborn and figuring out how to pay her bills as a single mom. She thought of college as a pipe dream, a luxury for those who had the time and the money.
Growing up in close proximity to Miami's campus, however, McKillop had good memories of attending hockey games with her family. 
"I always thought it was the coolest place ever," she said of the Oxford campus. "The idea of going back to school was never far from mind. I had been working as a server at a restaurant for a while, and I wasn't fulfilled. I knew I did not want to make this my career. I needed more."
But even though she had the desire to work toward a degree, McKillop said the thought of returning to school also terrified her.

"As a first-generation college student, I didn't know what I was doing. I had no help at home."
She decided to talk to the admissions counselors at Miami Regionals. They were encouraging and reassured her that she could find help when she needed it. Reflecting on the moment, she realizes this was exactly what she needed — someone who believed in her abilities.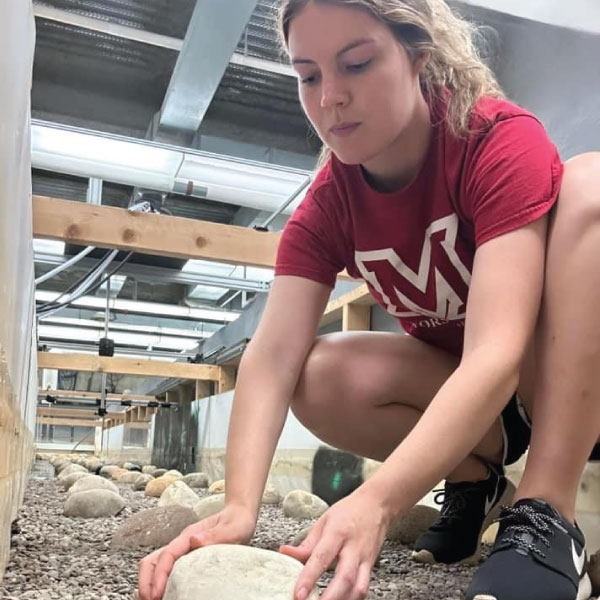 Once on campus at the Regionals, McKillop found her niche quickly. She made friends and got good grades. She was interested in environmental science and ecology which led her to major in Applied Biology. She learned about the opening in the summer undergraduate research program through her Ecology professor, David Berg, University Distinguished Professor of Biology and Biological Sciences.
McKillop said she was excited for the opportunity and thrilled that one of her professors in the Department of Biological Sciences had enough faith in her to recommend her for the job. She had an interest in habitat restoration, and the project would give her the chance to work hands-on with a program directly involved in habitat research.
She worked alongside environmental engineers in the water resources engineering lab at Clarkson in Potsdam, New York. Their mission was to identify stream substrates that would help native species of fish to spawn.
"My job was to help build this substrate," she said. "We used sediment and boulders at the bottom of a flume to test the best methods. As an ecologist, I needed to help the engineers understand the patterns needed to target specific species of fish."
As part of the program, she visited an area dam and spoke with a wildlife biologist working at the site.
"Hearing him talk about the work he was doing and how passionate he was, it really resonated with me," McKillop said. "I want to help reverse the negative impacts of habitat loss and bring awareness to help people understand the importance of preserving wildlife habitats."
Once she graduates, McKillop hopes to work in conservation with a non-profit organization or government agency. Before graduation, she plans to publish her first paper about amphipod abundance in groundwater, from research she completed in conjunction with her Ecology lab work.
Looking back, McKillop said there are moments she still can't believe she's come so far in such a short time.
"I still surprise myself at the things I'm able to do now," she said. "Sometimes it almost doesn't seem real, like a fairy tale.
"I don't think I'd be here now if it weren't for the Regionals," she said. "It meant a lot that I had someone to believe that I could accomplish all these goals, which seemed astronomically out of reach just a few years ago."