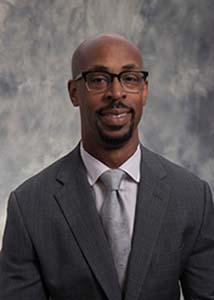 Vice President and Dean, Miami University Regionals, College of Liberal Arts and Applied Sciences
College of Liberal Arts and Applied Science (CLAAS) Leadership
Ande Durojaiye
Dr. Ande Durojaiye became Dean of the College of Liberal Arts and Applied Sciences in July 2021, succeeding Dr. Cathy Bishop-Clark. In August 2021 he was appointed Vice President for the regional campuses.  
He came to Miami following service at Northern Kentucky University as Interim Provost and Executive Vice President for Academic Affairs, overseeing its seven colleges and more than 100 programs at the bachelor's, masters, and doctoral levels for more than 15,000 students.
Born and raised in Atlanta, Dr. Durojaiye's academic journey began with a Bachelor of Science degree in biology from Tennessee State University, followed by a master's of higher education from Loyola University in Chicago. He then earned his law degree at Georgetown University, and ultimately earned an EdD from Peabody College at Vanderbilt University.
His past positions include service with the US Department of Education Office for Civil Rights first as an investigator and then as an attorney. In 2014 he transitioned to higher education, serving Florida Atlantic University as the Executive Director of Equity, Inclusion and Compliance and Title IX Officer, followed by Michigan State University as its Director of Institutional Equity. It was while serving at Michigan State that he chaired the Big Ten Academic Alliance Equity/Affirmative Action Committee.
In January 2018 he became the Vice Provost for Undergraduate Academic Affairs at Northern Kentucky University with responsibility for a broad spectrum of university operations including accreditation and assessment, curriculum academic advising, first-year programs, adult learners, and the NKU Center for Teaching and Learning.
It was during that time that NKU experienced its highest first-to-second year student retention in the university's history, established its Office of Adult Learners Programs and Services, increased transfer pathways with local community colleges and launched the Young Scholars Academy. Dr. Durojaiye also partnered with industry partners to create micro-credentials and degree pathways for post-traditional learners.
Dr. Durojaiye and his wife Jillian are the proud parents of four children. His personal interests include reading, traveling, and running.