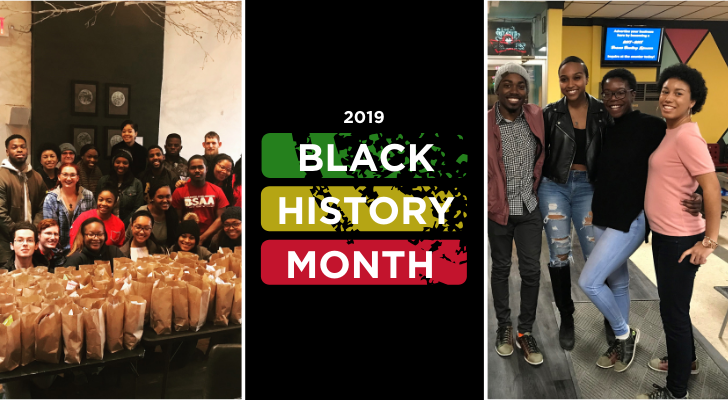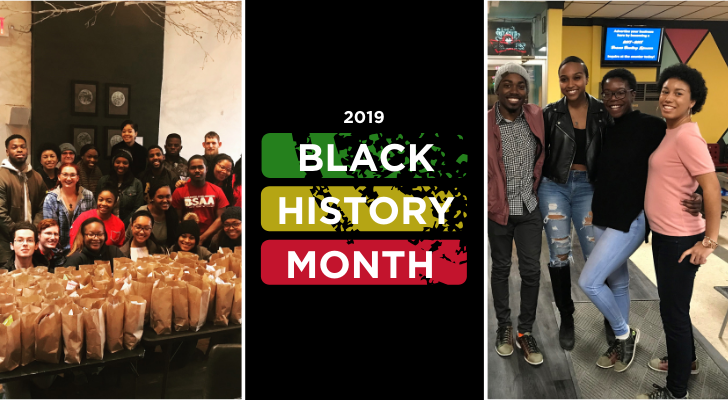 Black History Month, February 2019
Jan 22, 2019
The Office of Diversity Affairs and the Black Presidents Caucus are partnering with several offices and organizations around campus to celebrate Black History Month in February 2019.
Feb. 1, World Hijab Day, 10 a.m. - 2 p.m., Armstrong Student Center Slant Walk. This day serves to bring awareness to the choice of wearing or not wear the Hijab within the practice of the Islamic faith. Participants will have the opportunity to put on the Hijab or head covering to raise awareness about the Islamic faith and the choice Muslim women have to wear the Hijab. Staff will have a visual display of artifacts from the Middle East and will highlight the accomplishments of Muslim women who are advocating for their Islamic faith in meaningful ways. All are welcome to join. Sponsored by the Women*s Center and Global Initiatives.
Feb. 1, Pink Goes Red Bowling, 7 p.m. - 9 p.m., Oxford Lanes. This event highlights the Lambda Mu chapter of Alpha Kappa Alpha Sorority's "Pink Goes Red" initiative on Heart Disease Awareness. Their national sorority, among others, are joining forces with the American Heart Association in the fight against heart disease to improve the health of all women. Students will get in some active movement with a few rounds of bowling while learning more about this deadly disease and promote life changes that will increase the longevity and quality of the lives of women around the globe. Sponsored by the Lambda Mu chapter of Alpha Kappa Alpha Sorority, Inc. 
Feb. 7, Know Your Roots, 6 p.m., Hughes Hall 158. Participants will learn about the African Diaspora and some of the cultural traditions within the African and African American cultures. Coordinated by members of African Student Union and the Delta Upsilon chapter of Alpha Phi Alpha Fraternity, Inc.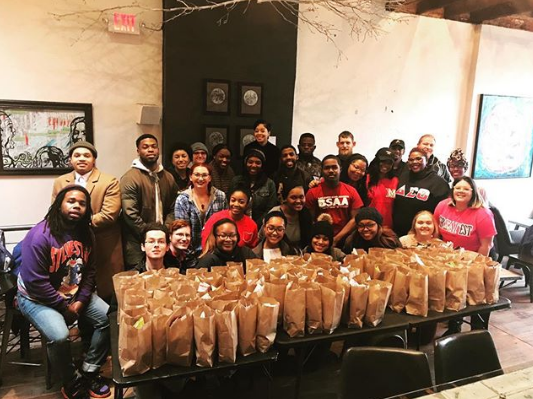 2018 #Hashtag Lunchbag event at Revel OTR Feb. 9, #Hashtag Lunchbag, Revel OTR in Cincinnati, Leaving Oxford at 10 a.m. This community service opportunity provides lunchbags to the homeless population within the Downtown Cincinnati area. Students will leave campus around 10 a.m. and head to Revel OTR, where they will assemble lunches to pass out and take to some of the nearby shelters. Sponsored by the Office of Diversity Affairs.
Feb. 13, Career Center's Breaking Barriers in Careers, 6 p.m. - 7 p.m., Armstrong 2080. In preparation for the career fair, students will be able to ask the questions they always had about navigating workplace environments. Students are invited to hear uncensored responses from leading professionals on topics related to navigating the career fair and professional spaces, pre and post graduation. Directly following the presentation, students can get their resume critiqued, practice their elevator pitch, learn how to excel in an interview and get career fair tips from employers. Sponsored by the Career Center.
Feb. 15, Step Afrika, 8:30 p.m., Armstrong's Wilks Theater. Step Afrika is the first professional company dedicated to the tradition of stepping. During this event, attendees will learn about the foundation of stepping practiced by historically Black fraternities and sororities, plus African traditional dance and influences from a variety of other dance and art forms. Step Afrika! promotes stepping as an educational tool for young people, focusing on teamwork, academic achievement and cross-cultural understanding. Sponsored by the Lambda Mu chapter of Alpha Kappa Alpha Sorority, Inc. and MAP. 
Feb. 19, ABPsi Mental Health Forum, 6 p.m. - 8 p.m., Shideler Hall 0032. Members of Miami's Association of Black Psychologist (ABPsi) will present and discuss the research they have compiled regarding mental health within the Black community, such as latest statistics and best practices. Sponsored by the Association of Black Psychologists.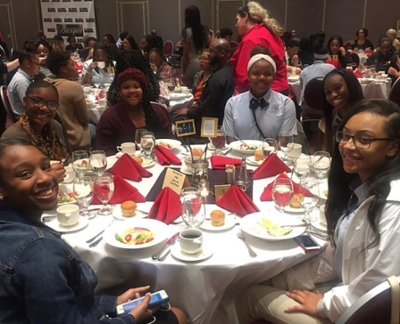 2018 Black History Month Banquet. Photo from @blackpresidentcaucus Feb. 20, Black History Month Banquet, 6 p.m., Armstrong Pavilion C. The third annual Black History Month banquet features keynote speaker Courtney Allen, a Doctoral Student in the Educational Leadership Ph.D. program at Miami University. This year's theme is "I'm Black and I'm Proud." The event includes dinner and entertainment. Tickets are $10 for students, $15 General Admission. Deadline to purchase tickets is Wednesday, February 13, 2019 at p.m.. Tickets are available online or in person at the Miami Box Office. Purchase Tickets for the Banquet. Sponsored by the Office of Diversity Affairs.
Feb. 23, Who's Got Game? Game Night, 5 p.m. - 7 p.m., Shideler Hall 0032. Join us for a night of board games, card games and some of your other childhood favorite indoor games. Sponsored by the Office of Diversity Affairs. 
Every Monday in February will also feature the Black World Studies' Penny Lecture Series: Race, Sports, and Social Justice, 6 p.m. - 7:40 p.m., Upham Hall 001. The Penny Lecture Series: Critical Lecture Series (BWS/SJS/SOC) theme changes each year and features some of the brightest, critically claimed scholars in the field. Each Monday, the series offers lectures connected to the overarching theme of Race, Sports, and Social Justice from notable nationwide scholars. This year marks the series' 20th consecutive year. Sponsored by Black World Studies, the President's Office, and Athletics.