Mega Changes for Mega Fair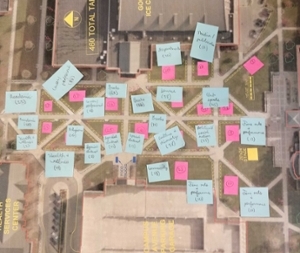 Mar 15, 2019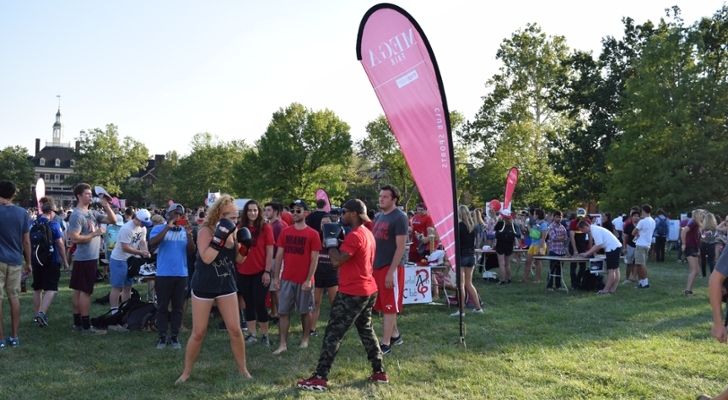 "We can't even have a meeting about Mega Fair without rain," quipped Mike Arnos, Senior Director of Programs and Academic Partnerships for Miami Recreation. The joke lands on this rainy March day. Two of the past four Mega Fair events were rained out on the original date, and the 2018 Mega Fair was cancelled altogether when even the rain date was plagued with inclement weather.
Mega Fair is the massive annual student organization fair held during the first week of class. Leaders from 400+ student clubs, organizations, and departments set up shop to introduce themselves to other students and let them know how to get involved. It's arguably one of the most anticipated events during Welcome Week. 
The event is traditionally held on Central or Academic Quad, and is thus subject to the weather. The Office of Student Activities and the Cliff Alexander Office of Fraternity and Sorority Life will not let another year go by without a better rain plan. For an event that's too big to fit in Millett, a new plan is no easy feat.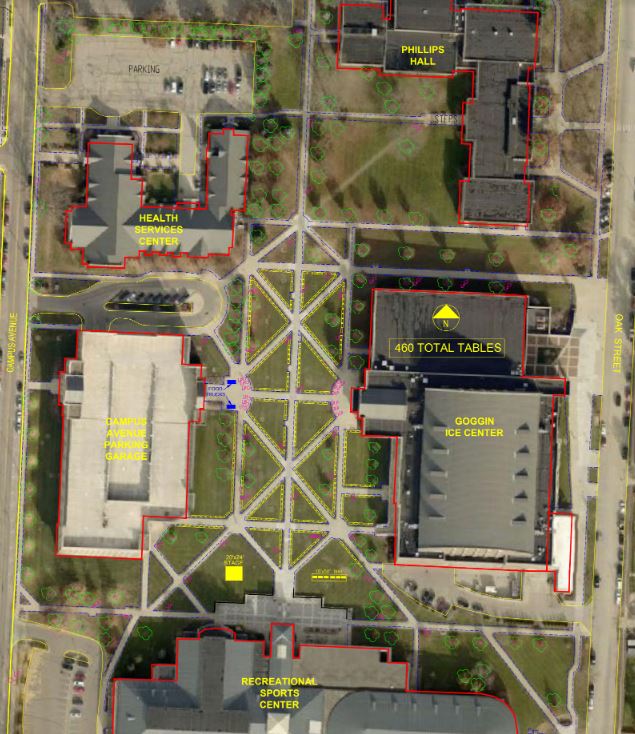 Mega Fair set up in the Rec Quad "We're operating under the guiding assumption that Mega Fair is a critical event for both students and student organizations that needs to best serve all students," said JS Bragg, Assistant Director of Student Activities.
 After cancelling Mega Fair in 2018, Miami Activities and Programming (MAP), the SEAL Ambassadors, and the Office of Student Activities held a series of focus groups to come up with a better solution. They met with classes, student organizations, and even held a few open sessions. "We found that almost everyone we talked to preferred a rain location instead of a rain date," said Bragg. They also agreed that the event should be accessible for all students, including students with disabilities, and that it wouldn't hurt to make Mega Fair a little more welcoming and less overwhelming.
A new plan emerged, one that moves Mega Fair out of Central or Academic Quads and over to the Rec Center Quad with a rain location split between the Rec Center and the Goggin Ice Center. Regardless of weather, the event will be held on Wednesday, August 28, from 6:00 to 9:00 p.m. In both locations, the event will be able to accommodate 460 tables (50 more than registered for the 2018 event).
"This way we can essentially keep the same date and location on all of our marketing," said Alyssa Francis, co-president of SEAL Ambassadors. "It would just be a quick update on social media to say we're inside at Rec Quad instead of outside."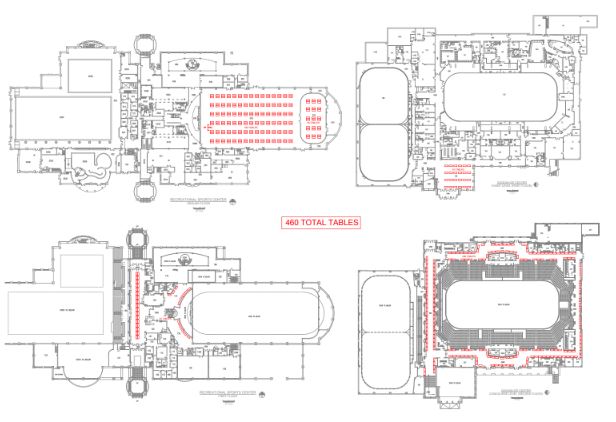 In the event of rain, Mega Fair will be split between Goggin and the Rec In addition to the obvious benefit of having a rain location, the Rec Quad provides several other benefits over Academic and Central Quads, including:
All tables will be located beside sidewalks, to increase accessibility
Public restrooms
Parking available in the Campus Avenue Garage for off-campus students
5 nearby bus stops
Additional lighting for later hours
Registration for Mega Fair will open in April.