Summer 2021 Orientation Changes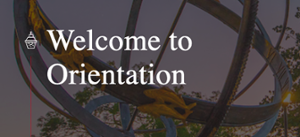 Feb 12, 2021

Summer orientation will look a little different again this year as the office of orientation and transition programs prepares to welcome incoming students during the COVID-19 pandemic for the second year. The 2021 orientation program will build on successes from last year, and expand options for real-time and in-person connections for students.
"New students will experience a comprehensive orientation to our community," said Liz Walsh, assistant director of orientation and transition programs. "We're coordinating a plan to safely provide students with a solid foundation for a successful academic and social transition."
Students will build important connections with student leaders, faculty, staff, and the Miami community; learn about their academic curriculum and important resources and opportunities; set goals and join student organizations; and register for fall classes. The process will include synchronous and asynchronous virtual aspects, with optional in-person programs in Oxford. 
Orientation 2021 includes five steps, each of which builds on the previous step:
Orientation Canvas course: The Canvas course will introduce students to academic and student life, campus resources, and opportunities. The course will be available for confirmed students beginning in early May. Students will be able to reference information in this course throughout their first year. Virtual, asynchronous. 


Virtual Real-Time orientation program: Virtual real-time half-day orientation programs will complement Canvas content and provide greater depth through synchronous, interactive sessions, where students and families can ask questions and learn from campus representatives. These programs will foster a connection to peers, faculty, and staff, increasing a sense of belonging and community at Miami. Programs will be offered throughout the second half of May and first half of June. Virtual, synchronous. 


Academic advising and course registration: Students will meet virtually with an academic advisor in their area of study and register for fall semester courses. Virtual, synchronous. 


(Optional) Miami Bound programs: Students will have the option to visit campus through a variety of in-person workshops, events, and multi-day experiences over the course of the summer. The primary goal of these in-person experiences is to build connections to campus and each other. Events may be multi-day programs focused on a specific topic, or shorter one-day programs. In-person.


Welcome Weekend & First 50 Days: Welcome Weekend & First 50 Days is a robust series of programs designed to welcome new students to Miami. Welcome Weekend will include a variety of ways for students to connect in their communities of interest: academic departments/majors, residence halls, identity-related affinities, and other interest areas. Transition experiences and events will continue with daily offerings during the first 6-weeks of classes, further supporting the academic and social transitions of new students. Mostly in-person, some virtual.
The new format for new student orientation will allow students to learn about campus and resources, build connections, and prepare for their first year at Miami in a safe, equitable way. 
"We're excited for the changes we've made this year to provide an even more robust virtual experience for students, while increasing in-person opportunities," said Gwen Fears, assistant vice president of student life for assessment, planning, and transition. "While we're looking forward to moving beyond the pandemic, it's likely we'll maintain some virtual elements in future years, given the positive response we saw last year."