Open door clothes closet aims to serve transgender and gender diverse students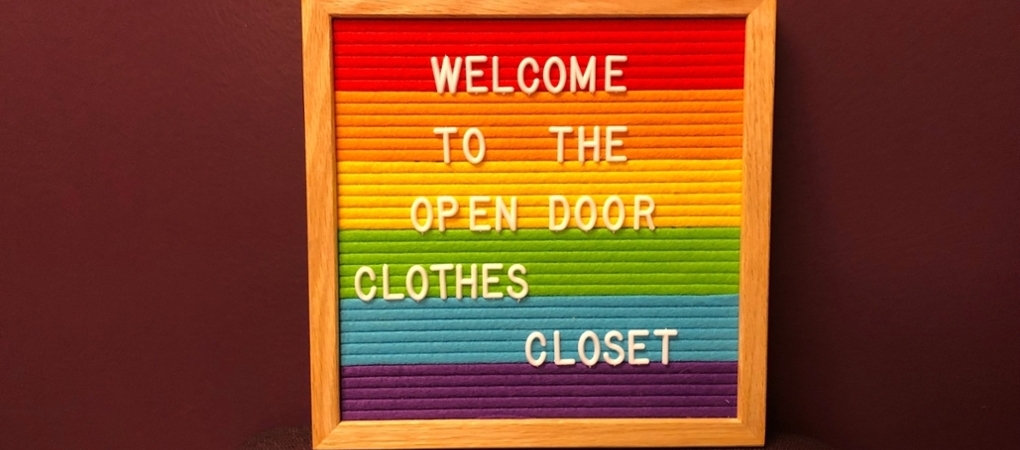 Oct 20, 2021

Transgender and gender diverse individuals can face unique challenges and barriers when shopping for clothes. Many stores have segregated women's and men's sections. There are often separate women's and men's fitting rooms as well. The typical shopping experience may not meet the needs of these individuals, and may not provide a safe environment to select and try on clothes. 
Miami University's new gender-inclusive clothing space, located in the Center for Student Diversity and Inclusion (CSDI), aims to eliminate these barriers for students. The Open Door Clothes Closet provides a welcoming experience for transgender and gender diverse students to try on new clothes, shoes, and accessories. They can take what they like at no cost.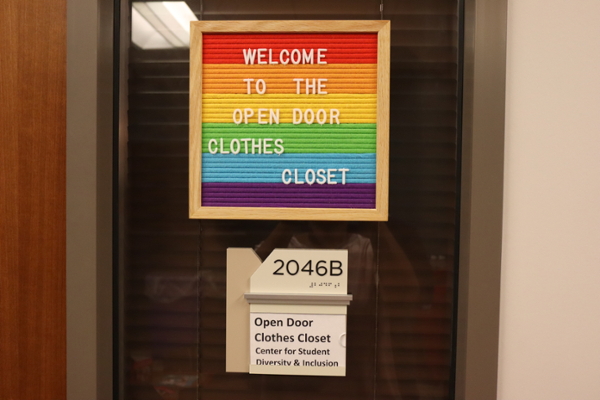 The Open Door Clothes Closet is located in Armstrong. The clothing closet was conceived in 2019 when the previous associate director for LGBTQ+ initiatives Hannah Thompson joined forces with previous associate director for intercultural initiatives Devin Moran, and Dr. Kate Kuvalanka, a professor from the department of family science and social work. They recognized barriers faced by gender diverse students when shopping for clothes and decided together to create an inclusive clothing closet for students at Miami. 
The team applied for several grants and were funded in 2020 through M.I.A.M.I. Women's Giving Circle, an alumni group that funds grants for various needs on campus. Last year, Rhonda Jackson, the previous administrative assistant in the CSDI, picked up the reins and asked Jamie Kuhlmeier, graduate assistant in the CSDI, to join her in bringing this project to completion. 
Students were heavily involved throughout the process of creating this project. "The Open Door Clothes Closet was made by and for students," said Kuhlmeier. "They completed a survey of what types of clothes and accessories to include and some even went shopping with us. Other students participated in a focus group with more in depth questions of what to include. Through this collective effort, we have created a campus resource that will be able to give back to the students who helped create it, as well as to serve incoming students for years to come."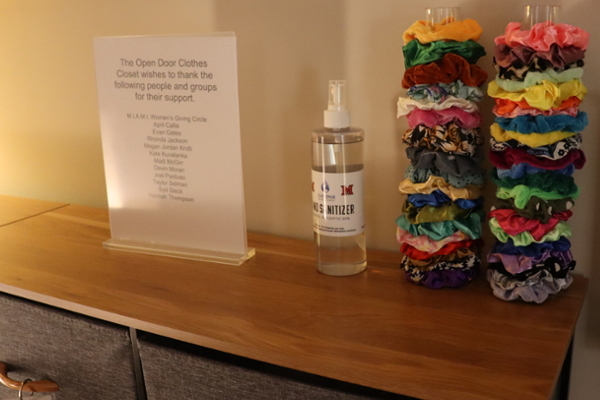 The closet contains clothes and accessories at no cost.The grand opening for the Open Door Clothes Closet was held on Wednesday, October 13, 2021. 
During the event, transgender and gender diverse students spoke about what the Open Door Clothes Closet means to them. Many talked about how the closet will alleviate the financial burden of purchasing new clothes. Students also spoke about the closet as just one step in the process of supporting gender diverse students. Many spoke about implementing more gender neutral bathrooms in academic buildings. Some pushed for more gender inclusive housing options. Another spoke about how this topic needs to be constantly revisited and that this should not be the last time Miami collectively considers the needs of transgender students. 
Staff hope to apply for additional funding through various Miami University grants and local LGBTQ+ organizations throughout the Oxford area. The CSDI is in the process of hiring an assistant director for LGBTQ+ initiatives who will take over the project from Kuhlmeier. 
Shopping at the Open Door Clothes Closet occurs by appointment. Currently, the clothing closet has tops, pants, dresses, skirts, jewelry, makeup, and accessories ranging from size XS to 4XL. 
Anyone can donate clothing and accessory items to the closet. Donations are accepted at the front desk of the CSDI, located within Armstrong Student Center in room 2030.
Sign up for a shopping appointment at the Open Door Clothes Closet website.