Miami's Strengths-Based Approach to Leadership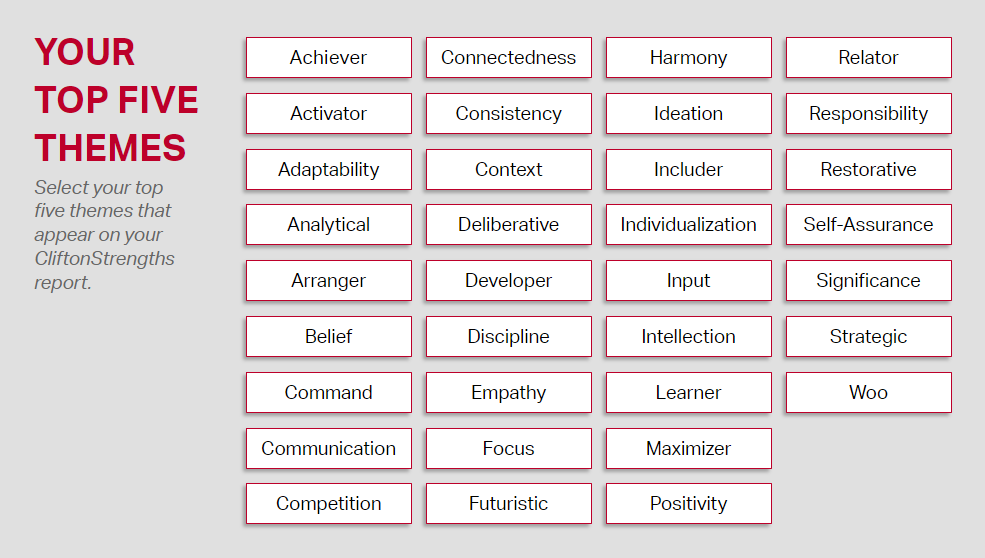 Feb 10, 2023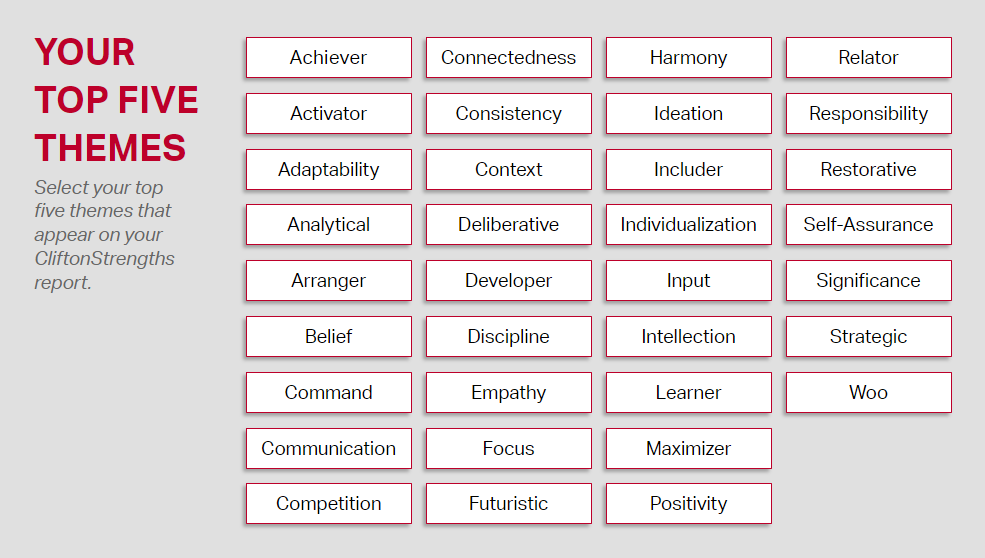 Miami University is expanding access to strengths-based leadership development this year.  
The Miami community can now discover their strengths through an online platform by Gallup CliftonStrengths, offered through a partnership with the Wilks Institute for Leadership and Service. 
Even those who aren't immediately familiar with CliftonStrengths will recognize the concept.  
Woo. Learner. Achiever. Focus. Maximizer. 
These are just five of the 34 total themes identified through the CliftonStrengths assessment. And they are more than a byline in an email signature or a line on a resume.
The Gallup CliftonStrengths is rooted in positive psychology to help individuals identify, harness, and cultivate their innate talents. Participants take a 30-minute online assessment to identify a profile of their top five natural strengths.
"Knowing your strengths helps you identify opportunities to make the most of your innate abilities," said Ryan Kwapniowski, associate director in the Center for Student, Engagement, Activities, and Leadership. "Our hope is for students to develop a self-awareness and appreciation for their talents, honing in on what makes their leadership abilities unique, allowing them to perform to their full potential."
The new platform will allow users to complete the assessment, access their insight report, and connect with others to understand how their talents relate. 
Miami has incorporated strengths-based leadership for more than a decade into various workshops, conferences, and programs. This will be the first time students can participate in the assessment on their own and learn from others' strengths. 
"A critical component of being a leader is identifying your values, learning how you communicate, and understanding how to leverage your strengths," said Kwapniowski. 
The strengths-based approach is one of many useful tools to increase leadership capacity. "This investment in our student's leadership experience will encourage students to identify where they excel and pinpoint areas of growth," said Kwapniowski. "It's another tool to prepare our students to step into leadership roles beyond their time at Miami University."
The online platform is available for students to explore at MiamiOH.Gallup.com. Students should reach out to WilksLeadership@miamioh.edu to activate their account and then create an account using their MiamiOH email address. 
Students can also take advantage of the following immediate opportunities to engage with strengths-based leadership programming and learn more about their top five strengths.
Perlmutter Leadership Conference 
This free one-day conference provides an opportunity for participants to explore their personal leadership values through Gallup CliftonStrengths and educational breakout sessions. Perlmutter will be held on Sunday, February 26, 2023 in Armstrong Student Center. Register by February 19, 2023 at tinyurl.com/perlmutter23.
CliftonStrengths Workshop 
The Wilks Institute facilitates workshops to build teamwork and develop leadership skills. Student organizations, chapters, or leadership teams can request a workshop with wilksleadership@miamioh.edu. 
One-on-One Coaching 
Miami's Gallup-certified CliftonStrengths coaches can provide an individualized approach to understanding themes, leaning into natural talents, and goal setting. 
Leadership and Service Certificate Program 
This semester-long cohort-style program helps students learn their personal leadership style and apply knowledge to practice while connecting with the community.