Preview of Welcome Weekend 2023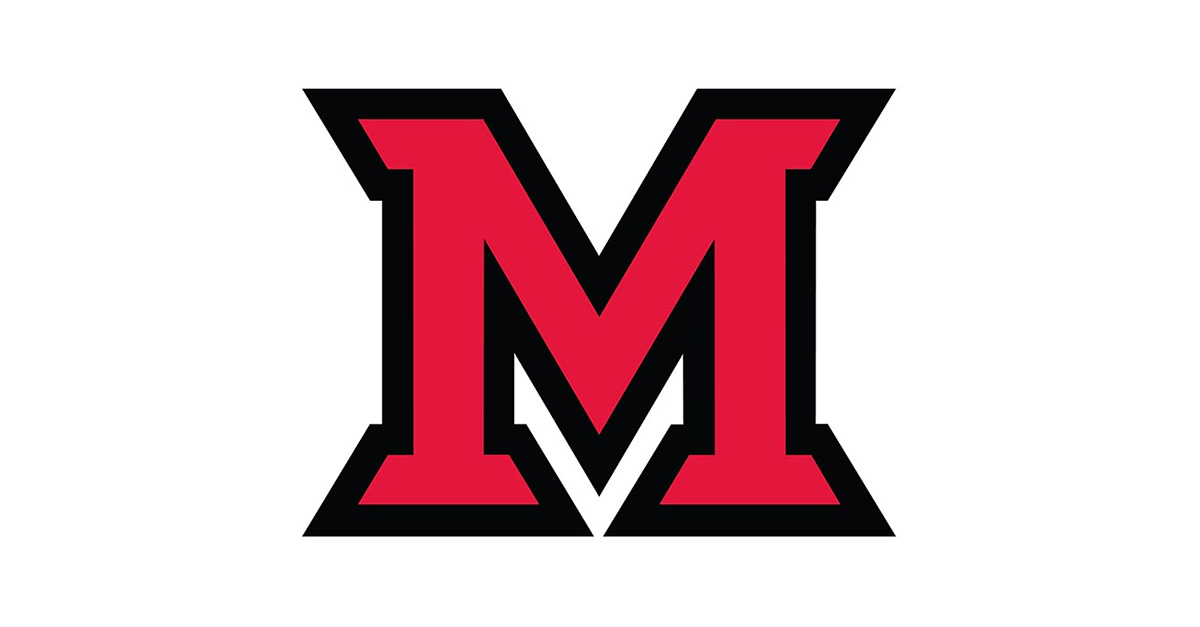 Aug 14, 2023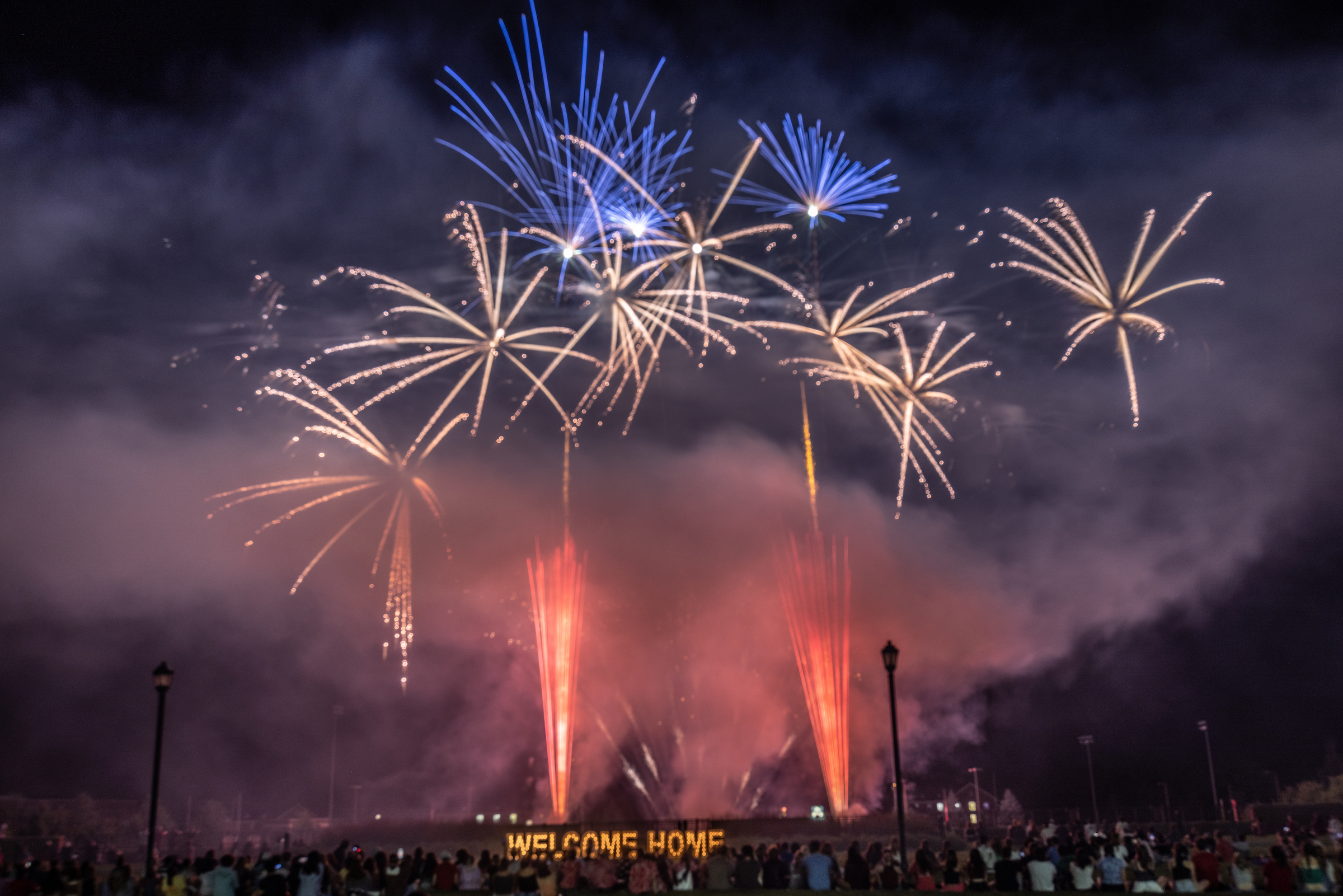 Fireworks at last year's Welcome Home event.
Miami University will welcome new students with a jam-packed Welcome Weekend starting Aug. 23, filled with a range of engaging and entertaining activities. Several new events will be offered this year, along with some favorites from previous years.
"Welcome Weekend is an exciting time on campus" said Liz Walsh, director of orientation and transition programs. "The vibrancy and excitement of a new year will be evident as the Class of 2027 joins us."
Wednesday's Soft Launch
The weekend kicks off with a soft launch on Wednesday, Aug. 23 with Late Night Miami Preview for the students who have already moved into their hall. While most incoming students will move in on Thursday, Aug. 24, there are three halls moving in one day early for traffic purposes, along with about 1,500 students who moved in early for Miami Bound and other programs. Commuters are also invited to attend.
Students will have the opportunity to watch a screening of the new Super Mario Brothers movie in the Wilks Theater, play board games and Nintendo Switch at the Red Zone, and compete in a cornhole tournament in Bishop Woods.
Every Day: Morning Menu (New)
The Morning Menu is a new feature of Welcome Weekend this year. The Morning Menu is a list of optional activities students can explore on their own starting Thursday morning and throughout the entire weekend.
"The Morning Menu includes passive, on-your-own (or with a friend) activities that provide some structured flexibility," said Walsh. "While we hope students will take advantage of at least a few of these menu items, we want students to think of it as a menu, not a checklist."
Activities on the Morning Menu include trying out a new dining hall, discovering the green spaces on campus, and taking part in craft activities in the Armstrong Student Center. A virtual scavenger hunt will provide an opportunity to learn more about the university's history, while the poster sale offers a chance to decorate their living spaces. Additionally, students can pick up textbooks, check out the Rec Center, and open a PNC Bank account, ensuring a smooth transition into campus life.
The Morning Menu will be encouraged from 8 a.m. to noon, Thursday through Sunday.
Thursday
Family Fun Zone (New)
Also new this year is the Family Fun Zone on Thursday from 1 to 5 p.m. on Central Quad.
"We found that parents and family members weren't sure what to do after unloading the car and before the evening activities began," said Walsh. "The Family Fun Zone event will serve as a welcoming space for students and their parents and family members who aren't quite ready to leave."
The event will feature carnival games, a digital photo booth, and giveaways.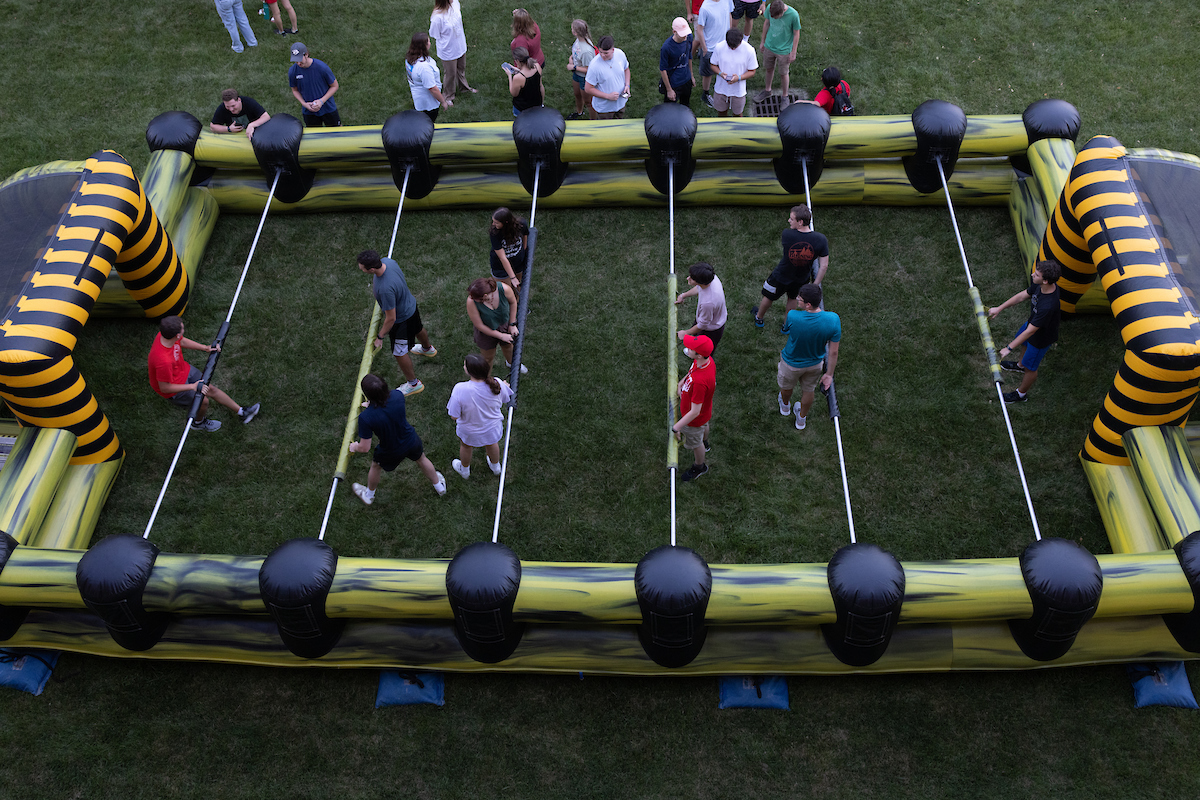 Human Foosball at the 2022 Welcome Weekend Block Party
Welcome Weekend Block Party
As the sun sets, the Welcome Weekend Block Party will come alive, featuring an exciting Silent Disco, prizes, inflatables, and life-sized board games. 8-11 p.m., Rec Quad and Goggin Ice Center.
Friday
RedHawk Ready (New)
Friday afternoon is dedicated to wellness, classroom preparedness, and community engagement.
From 1 to 3 p.m. students will focus on the eight dimensions of wellness, with activities such as dog therapy, water bottle contests, hammocking, and various wellness activities. The career center will be open for headshots and tours. Fitness classes, massage therapists, and badminton, volleyball, and frisbee provide a balance of mental and physical wellness.
From 2 to 4 p.m. students will focus on getting ready for the classroom through the Explore King event. This time can be spent mapping classroom locations and planning their time, with help from the University Libraries.
Then from 3 to 5 p.m. students will focus on being ready for community, with the ultimate ice breaker for the entire incoming class: Playfair on the Rec Center quad. Also during this time there will be a pARTy at the Art Museum.
Welcome Home with MAP
From crafty and creative (e.g., custom street signs, water colors) to sporty and competitive (e.g., dodgeball, ninja warrior course) to exciting and adventurous (e.g., roller disco, Sizzler ride), there is something for everyone at Welcome Home with Map on Friday night. The night always ends with a stellar fireworks display behind Benton Hall!
Welcome Home is 7-10:30 p.m., all over campus.
Saturday
Rise Against Hunger
During Rise Against Hunger, students will work together to prepare 25,000 meals for those in need. This event is an opportunity for students to get to know each other while providing service for the community.
2-4 p.m. in the Armstrong Student Center Pavilion.
Sip and Socialize (New)
Sip and Socialize is a new Saturday program featuring iced coffee and boba tea, with several passive and active ways to meet other students. Small, structured ice breakers will be held with facilitators who can help connect students in person. Students can also participate in the Social Spree, where they can share their social media handles with others who are interested in similar activities.
"The idea for Sip and Socialize evolved out of a desire to help students connect in a space they may be more comfortable with so early in the semester - on social media," said Walsh.
3:30-5:30 p.m.; location TBD
Residence Hall Rendezvous (New)
Before the late night activities begin, students can connect in a smaller setting with individual residence hall events from 7 to 9 p.m.
Saturday Under the Stars (New)
The Saturday late night event will feature an outdoor viewing of Top Gun: Maverick. Beyond the movie, there will be Kona Ice, a bus photo booth, crafts, and a s'mores dessert. Pick up a free beach mat and flashlight while they last as well. The event runs 8:30-11 p.m. in Central Quad.
Sunday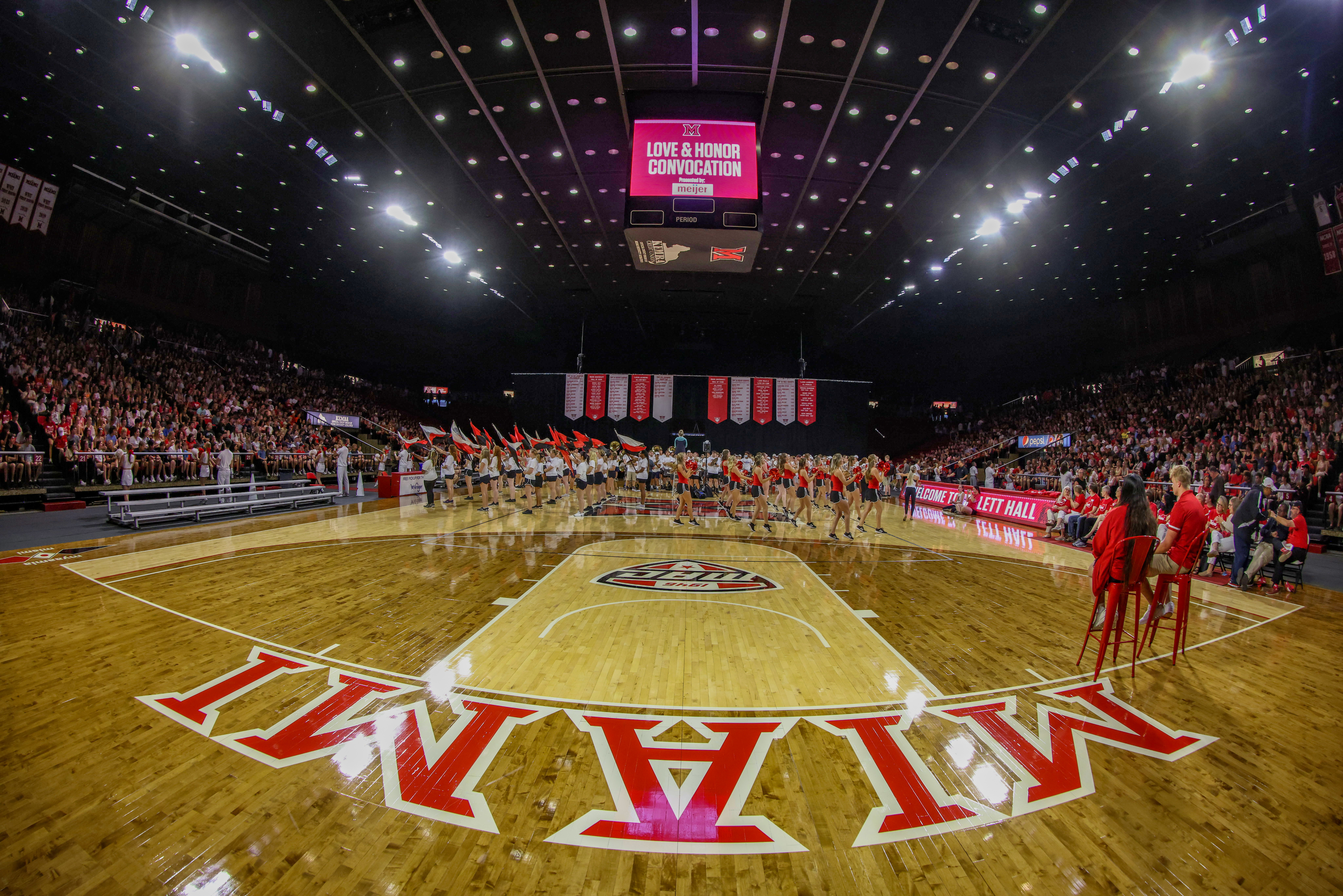 Convocation at Millett Hall in 2022. 
Love and Honor Convocation
The weekend concludes with the Love and Honor Convocation at Millett Hall from 3:30 to 4:30 p.m. This pep rally event celebrates Miami's core values and prepares students for an exciting year ahead. Students will learn the fight song and the Code of Love and Honor and attendees will receive a free shirt.
Monday
First Day of School Pictures (New)
On the first day of the fall semester, students can stop by the Armstrong East Court for photo backgrounds, balloons, light-up letters, and snacks throughout the day. Students can take their requisite "first day of school" photo and share on social media.
Welcome Weekend is just the start of the "First 50 days" programming that will continue through the first several weeks of the semester. More events and details can be found on the Miami University Events App.