"Angelic Troublemaker" Bayard Rustin, A Fighter For Social Justice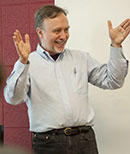 John D'Emilo
Thursday, September 6 from 7:00 - 9:00pm. 
Hamilton Campus Parrish Auditorium
Join us as speaker John D'Emilio discusses "Angelic Troublemaker", the story of Bayard Rustin who was a fighter for social justice. D'Emilio is also the author of Bayard Rustin's Biography: "Lost Prophet: The Life and Times of Bayard Rustin."
John D'Emilo is a pioneer in the field of LGBT studies and the history of sexuality, and a historian of post-World War II social justice movements. He has written or edited more than half a dozen books, including Sexual Politics, Sexual Communities: The Making of a Homosexual Minority in the United States; Intimate Matters: A History of Sexuality.
D'Emilio was a finalist for the National Book Award and received the James Robert Brudner Memorial Prize from Yale University for lifetime contributions to LGBT studies. A former co-chair of the board of directors of the National Gay and Lesbian Task Force, he was the founding director of its Policy Institute. D'Emilio was also Professor of Gender & Women's Studies and History at the University of Illinois at Chicago. He is currently writing a "coming of age" memoir and is the incoming President of the Board of the Gerber/Hart Library and Archives in Chicago.
This event is free and open to the public, please RSVP.