Miami's Inside Washington program celebrates 20th anniversary while surpassing 500 graduates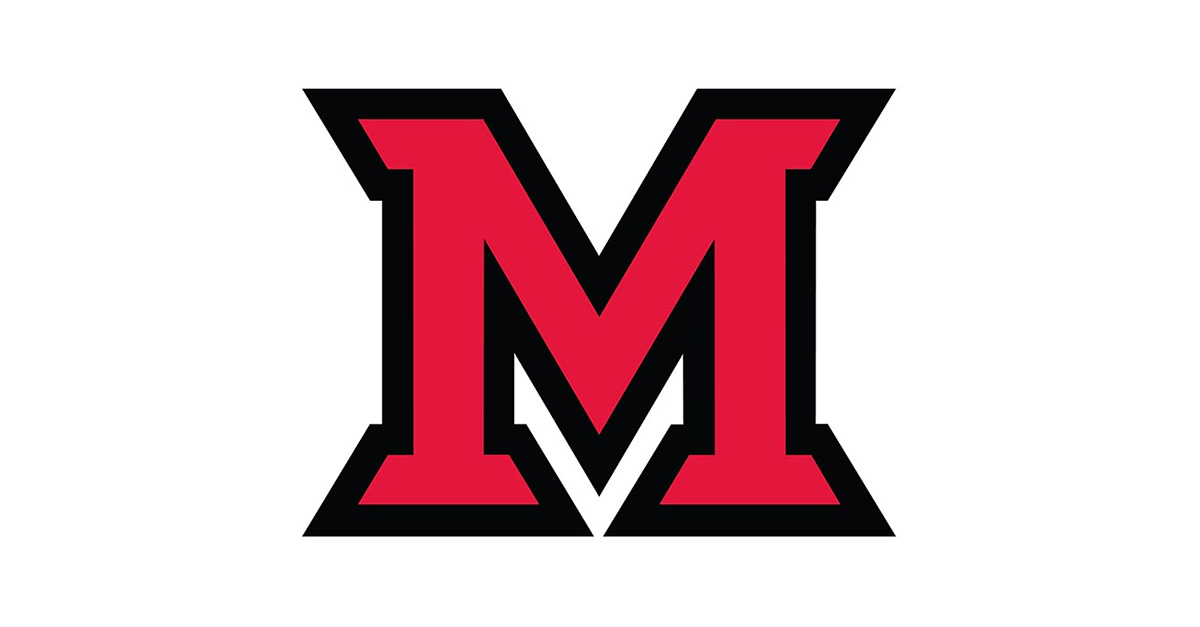 Apr 30, 2019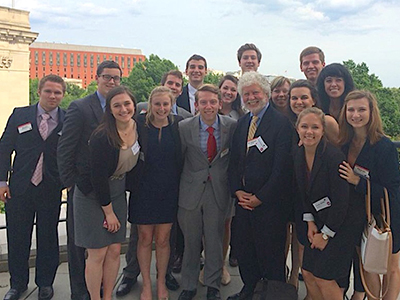 Howard Kleiman with Inside Washington students (Summer 2016)
Miami's renowned Inside Washington program, which has exposed more than 500 Miami students to the career opportunities possible in Washington, DC, observes its 20th anniversary in 2019, highlighted by a celebratory brunch on Sunday, June 23 in Washington.
Inside Washington was created in 1999 by Chad Pergram '93, senior producer for Capitol Hill at Fox News, and Howard Kleiman, Miami professor of media, journalism, and film. Kleiman retires this spring after 36 years on the Miami faculty.
Over the years, Miami students from across the university landscape, particularly majors in political science, strategic communication, and journalism, have participated in the Inside Washington program. They begin their experience with an extensive speaker series, where they meet with Congressional members and staffers, Executive Branch administration, nationally recognized journalists, heads of advocacy and lobbying firms, and countless others with deep knowledge of Washington.
Students are then placed in immersive internships, working under eminent figures in DC's media and political circles. Prime examples of internship sites include NBC's Meet the Press, Voice of America, former Speaker of the House John Boehner's office, and the U.S. Supreme Court.
"Applying for the Inside Washington program was the best thing that I could have possibly done for myself," said business reporter Bonnie Meibers '16. "I learned a great deal from the program director in DC, Chad Pergram, [who is] one of the best congressional reporters in the business." See Inside Washington Student Testimonials.
Meibers wrote about her own summer 2016 experience with Inside Washington in the CAS press release Miami students spend a long, hot summer working with some of the movers and shakers of our nation's capital.
Pergram, known to all Inside Washington alumni, is an award-winning journalist. As Inside Washington's co-creator, he has been a stalwart supporter of the program, coordinating internships and guest speakers, including Vice President Mike Pence, Supreme Court Justices Clarence Thomas and Sonia Sotomayor, former Representative and Speaker of the House Paul Ryan '92, Congresswoman Susan Brooks '82, and Senator Maria Cantwell '80.
"[Inside Washington] is so vital because so many people come to Washington, and they just don't know what to expect," added social work and individualized studies major Naomi Gaston '20, a summer 2018 participant. "So having that inside knowledge and all the connections I made on the Hill is great." See the July 2018 EHS press release Miami University Inside Washington Student Helps Shattered Communities Heal.
One in five of all Inside Washington graduates now live and work in the DC area, a testament to the united vision and execution of Kleiman and Pergram as well as an illustration of the profound impact the program has had on Miami's presence and alumni community in Washington.
"I began my career at ABC News in Washington, DC," said Jennifer Duck '04, now a producer for CNN's Anderson Cooper 360, in an April 2016 interview with Miami's College of Arts and Science. "I decided after doing the Inside Washington program at Miami that I wanted to move to DC and just start at the network and see what I could do there." See Jennifer Duck's video transcript.
The stories of students turning their Inside Washington experience into professional careers are countless, and the June 23 celebration in Washington will highlight the two decades of impact that Inside Washington has had on Miami students.
"Our goal is to celebrate 20 years of Inside Washington and the 500-plus accomplished alumni the program has produced, while also recognizing Miami's storied history of public service at all levels of government," said Mike Scott, Miami's director of regional development for the east coast. "We invite all local DC alumni, Inside Washington alumni across the country, and friends and supporters of the program to join us at the historic Willard Hotel for what promises to be one of the largest Miami alumni gatherings ever assembled in Washington."
Along with Kleiman, President Gregory Crawford, College of Arts and Science dean Chris Makaroff, prominent Miami alumni, and current Inside Washington students will all participate in the program on June 23 to commemorate this important milestone.
"Working on Inside Washington these past 20 years has been an amazing honor," said Kleiman. "I've seen it grow from a 3-day trip for my TV news capstone to a 10-week summer program and full spring semester program. It's been a privilege working with the hundreds of student participants and a joy to see how Inside Washington has contributed to their professional success."
Over the years, students have interned with Miami alumni at numerous political offices and media organizations in DC, such as CNN, Fox News, Voice of America, Senator Sherrod Brown, Speaker Nancy Pelosi, former Senator George Voinovich, and former Senator and Ohio Governor Mike DeWine '69.
For more information on the 20th anniversary celebratory brunch, contact Michael Scott (Mike.Scott@MiamiOH.edu).