AG Loretta Lynch and Dr. Tom Price discuss "Drowning in Drugs: The Opioid Crisis in America"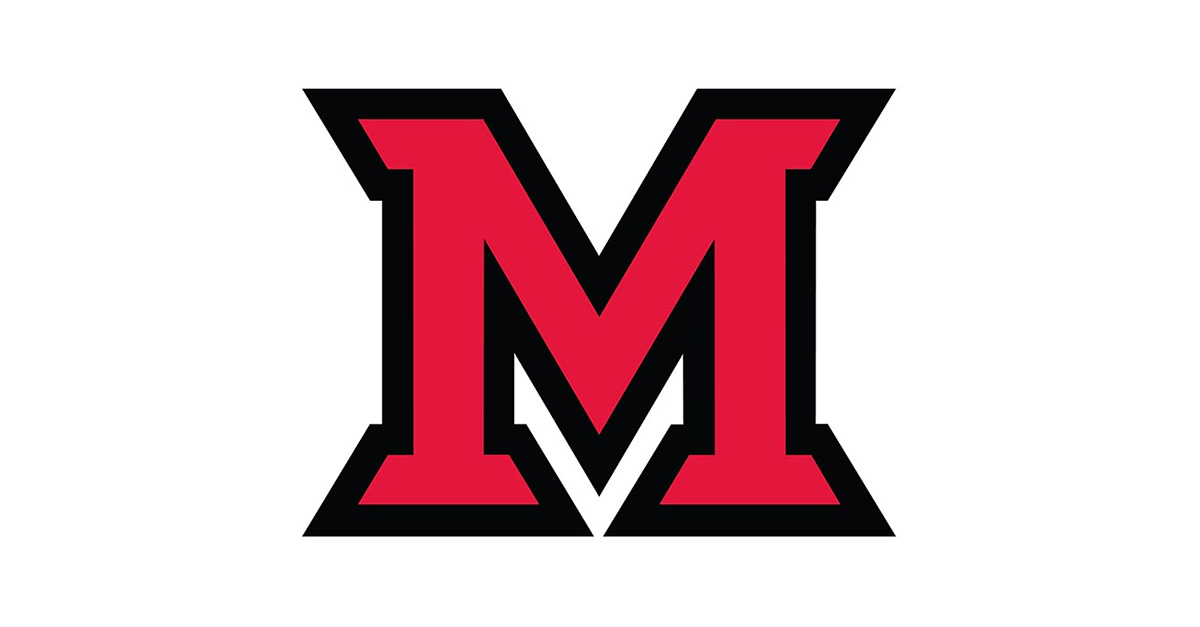 Apr 02, 2019
Written by Diego Marcucci and Dania Puente, CAS communications interns
According to the National Institute on Drug Abuse, opioid overdoses claim over 130 lives every day. Annually, the United States absorbs a $78.5 billion economic burden caused by the epidemic affecting millions of American lives.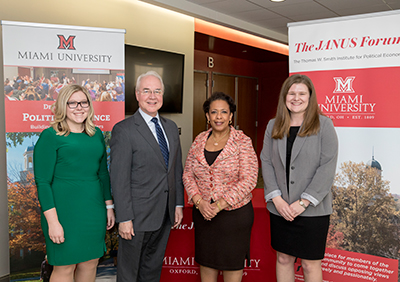 Miami students Megan Cremeans (left) and Annika Fowler pose with Dr. Tom Price and former US Attorney General Loretta Lynch.
The Janus Forum, held on March 13, invited former Attorney General Loretta Lynch and former U.S. Secretary of Health and Human Services Dr. Tom Price to share their views and experiences on the opioid crisis.
Both guests held private seminars prior to the lecture where students were invited to ask either speaker questions and discuss the topic, their background and related material, followed by a reception. Price answered questions about his time as the HHS Secretary and his transition from more than 20 years in private practice into politics. Lynch discussed her work as a lawyer prosecuting drug-related crimes and spending time with families impacted by this.
Political science major (and 2019-2020 Joanna Jackson Goldman Memorial Prize winner) Megan Cremeans was on stage as the student moderator.
Key Stances in the Discussion
Lynch began the evening by sharing stories of the time she has spent with the families of those caught up in addiction and how the heroin and opioid issue today is fundamentally different. During her time as attorney general under President Obama, Lynch said that it was clear the approach to solve this would have to involve more than law enforcement. Her tripartite solution consisted of "prevention, enforcement, and treatment."
"The disease of addiction takes away all the things you never thought you would do," Lynch said. "Are we going to make it easier or harder for people in this country to stay alive? That's what it comes down to."
An estimated 90% of the 2 million patients suffering aren't getting treatment, according to Price. Because the opioid crisis was one of his three clinical priorities during his time in office under President Trump, he argues that the statistic demonstrates how the system isn't doing the right thing.
In 2002, the nonprofit healthcare organization The Joint Commission examined the "unintended consequences" that had arisen by some organizations choosing to add pain as a fifth vital sign, which required physicians to measure a patient's pain and equate its significance to other objective measurements like temperature or blood pressure. The country has seen an increase in viewing pain as a fifth vital sign since, and some argue that this eased opioid prescription from doctors. [See Joint Commission FAQ.]
"Pain is something that's subjective, and to say that it's a vital sign is to ignore the manner in which we treat diseases and challenges," Price said. "Many of the questions that surround this crisis stem from challenges of keeping the patient at the center."
Causes of the Crisis
The role that pharmaceutical companies have played during the opioid crisis is a significant debate topic. Although she admitted she is not a medical professional, Lynch argued that she believes there is no one person to blame for this problem, and that the production and marketing of these drugs to the public by pharmaceuticals is significant.
"When you have heavy marketing and low awareness, you have a recipe for the disaster that we find ourselves in," Lynch said.
Price, who prescribed pain-killers during his decades of work as a physician, responded to Lynch's comments by reminding everyone that we shouldn't buy into the premise that there's something out there that can treat a disease risk-free. "We ought not to be punishing pharmaceutical companies for creating innovative and wonderful opportunities," Price said.
"We're all for science, but once it's being sold we have to regulate," Lynch responded.
Local Impact
Southwest Ohio and Butler County have seen significant increases in drug overdoses in recent years and join the nation in the fight against addiction. Richard K. Jones, the Butler County sheriff, stands by his position to not allow his officers to carry Narcan, a life-saving medication that reverses the effect of opioid overdoses. Both speakers were invited to comment on this policy.
"There is no place where the public exists where we ought not to have this drug available," Price said.
"If you can save the life, you save the life," Lynch said.
Several students in the audience gave their feedback of the discussion.
"The opioid crisis is undoubtedly one of the largest issues that face our country, and I think we lack the proper conversations and debates that have the potential to be very constructive," said Matt Strasses, a sophomore political science and history double major.
"The Janus Forum brought together an incredible and timely event on one of the greatest challenges our society has faced for decades," said Bryan Marshall, professor and chair of political science. "The opioid crisis has no bounds — reaching across all segments of our society. AG Loretta Lynch and Dr. Tom Price provided a rich variety of perspectives in understanding the problems and full, sustained efforts needed to produce effective solutions to the crisis. This was one of those eye-opening discussions, characteristic of our Janus Forums, that greatly enriched the discourse of students and the Miami community."
For an example of what Miami professors are doing about the opioid crisis, see the March 2019 Miami press release After an overdose: Miami researchers study opioid overdose effects on the brain in ongoing drug crisis.