National public policy and public health experts debate the viability of legalizing marijuana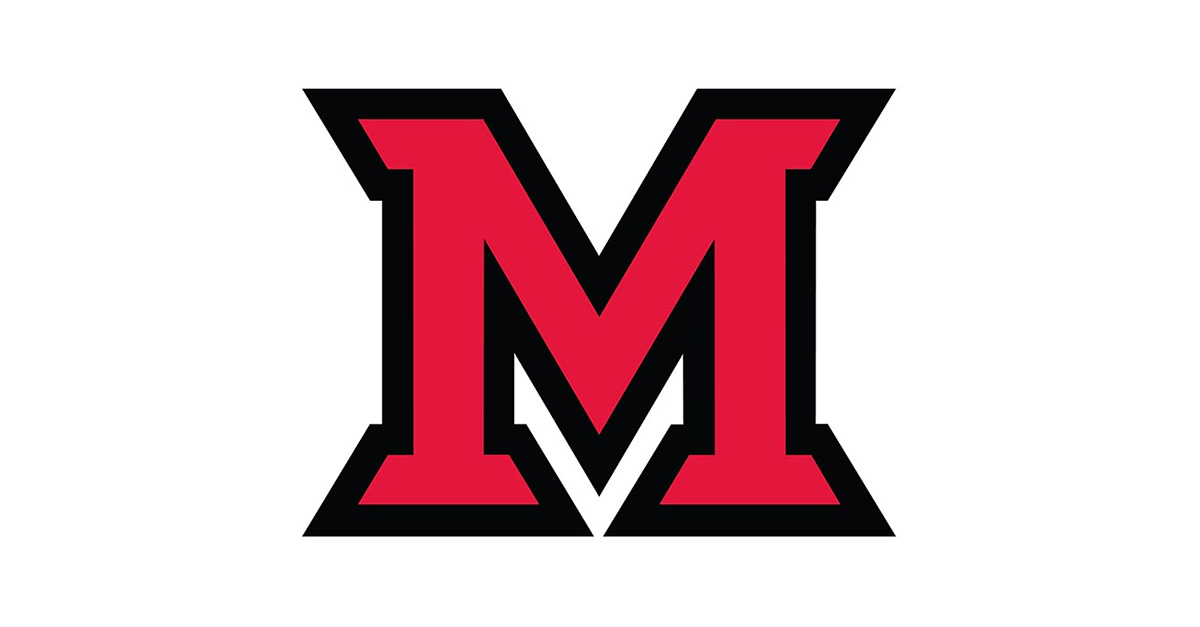 Mar 29, 2022
Written by Allison Haeger, CAS communications intern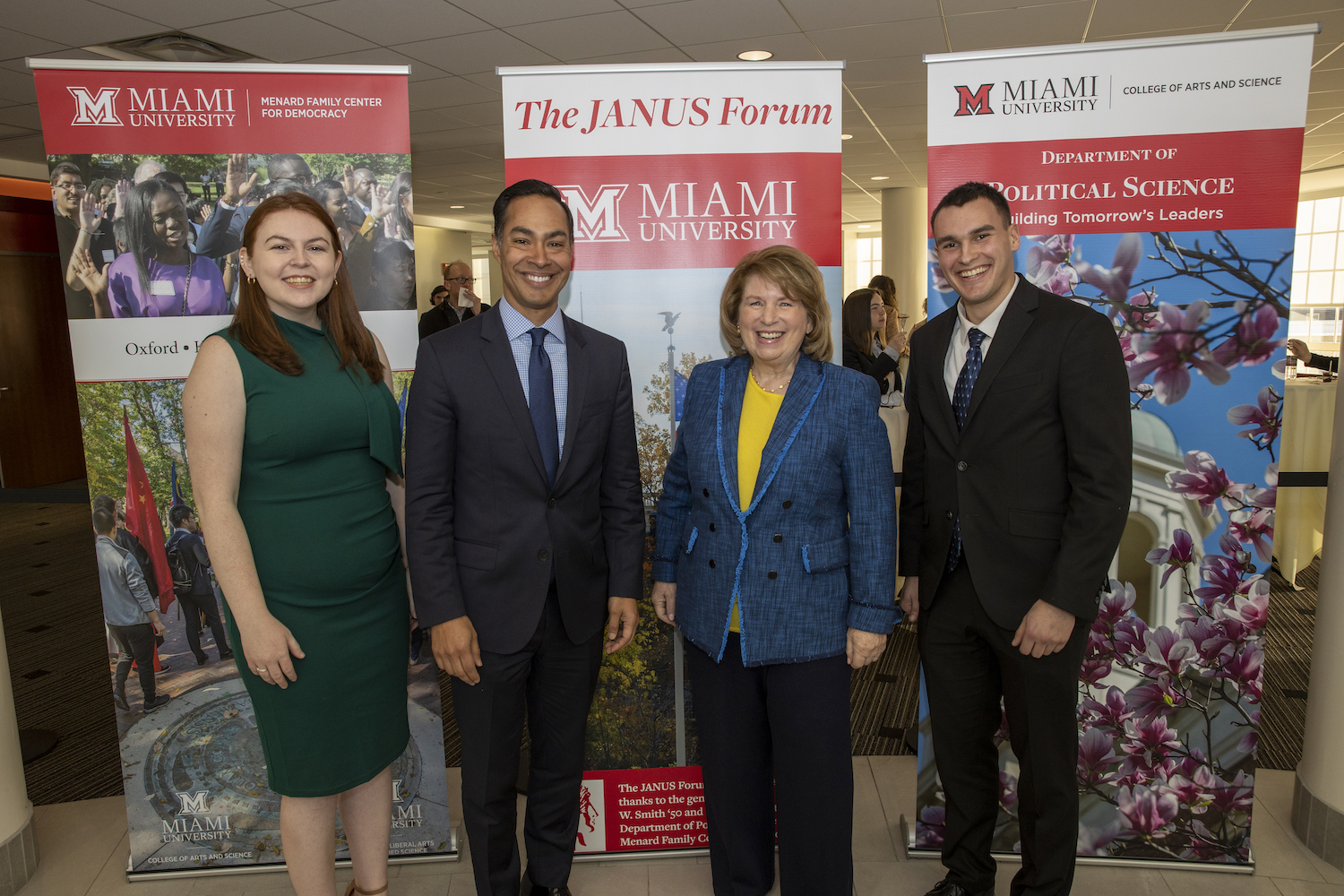 Reena Murphy, Julián Castro, Dr. Bertha Madras, and Diplomacy and Global Politics major Justin Grega '22
On March 9, Miami University's biannual Janus Forum welcomed former Housing and Urban Development Secretary Julián Castro and Harvard Medical School professor Dr. Bertha Madras to discuss their opposing views on "Let's Be Blunt: Should Marijuana Be Legalized?"
Sponsored by alumnus Thomas W. Smith (Miami '50), the Menard Family Center for Democracy, and the Department of Political Science, the event featured questions from the Janus Forum executive board, moderator Reena Murphy—an Environmental Science graduate student and Miami graduate from Chemistry & Biochemistry—and those submitted via Twitter via #JanusMiamiOH.
Castro served as the 16th Secretary for Housing and Urban Development under President Obama from 2014 to 2017 and mayor of his hometown San Antonio from 2009 to 2014. He also ran as a candidate for the 2020 Democratic presidential nomination.
As a professor of psychobiology at Harvard Medical School and a neuroscientist for over 30 years, Madras has published more than 200 manuscripts, articles, books, chapters and commentaries. In 2017, she served on President Trump's Commission on Combating Drug Addiction and the Opioid Crisis and has previously worked as the Deputy Director for demand reduction in the White House of National Drug Control Policy.
The social impact of marijuana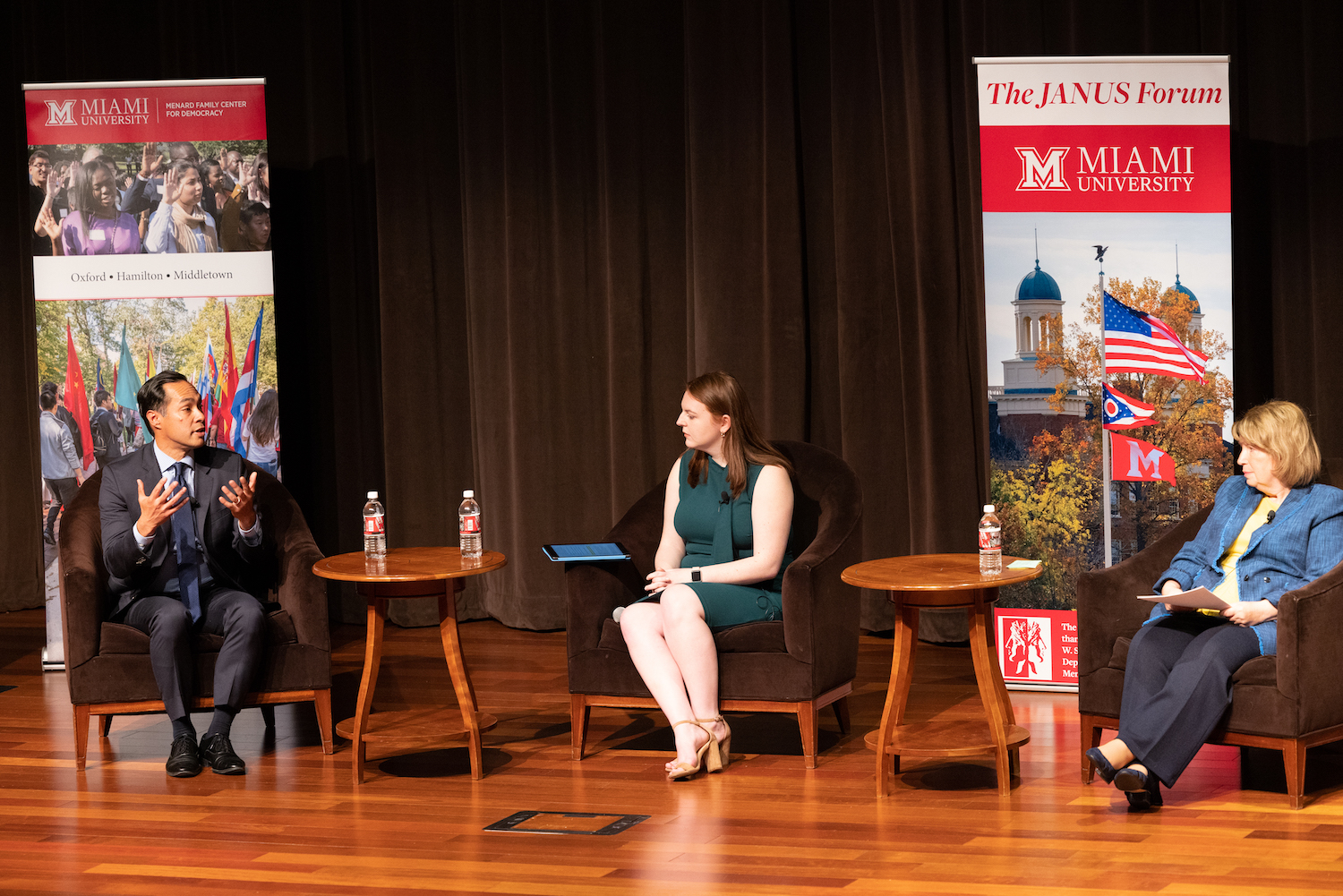 Julián Castro makes a point while Reena Murphy and Dr. Bertha Madras look on.
Opening statements began with Castro's support for legalization of marijuana in Ohio and across the United States. He emphasized the importance of making policy changes structured to work for the whole community.
"Oftentimes, when we create policy, it's a learning process," said Castro. "It doesn't matter whether you're super liberal or super conservative, you have to make sure that when you create policy that is operational, that it actually works."
Castro believes tax revenues can be produced from legalizing marijuana that could be used to reinvest in the healthcare system, education system, and addiction prevention efforts. 
"When there is an opportunity in a smartly regulated way to be able to sell marijuana, then I think it makes sense to use that to create entrepreneurship opportunities within those communities," said Castro.
Mentioning that the criminal justice system is four times more likely to prosecute Black Americans for marijuana use, Castro said that he is hopeful that legalization could also lead to positive social changes around the disparate effects of the war on drugs.
"We have data that suggests that you can regulate it in a smart, feasible way," said Castro. "If the day comes when the federal government legalizes it, I would hope that that would be one of the policy goals on this social end of it is to create greater opportunity, and in a sense atone for some of the injustices of the past."
Examining legalization from a scientific approach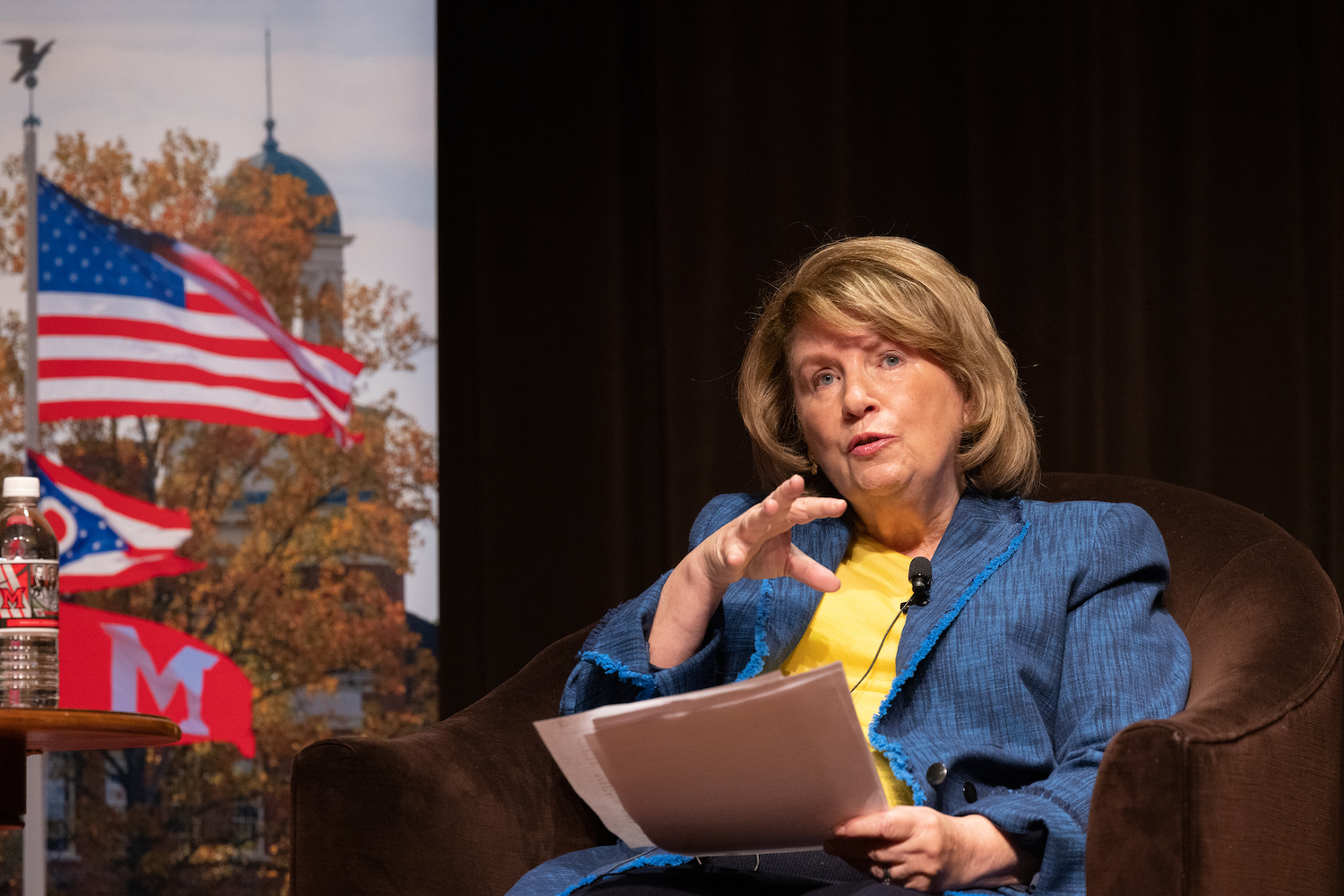 Dr. Bertha Madras
Madras opposed Castro's hopes to legalize the drug, stating that 30 to 50% of marijuana's heavy users would develop cannabis use disorder. 
"We are now engaged in a human and social medical experiment without informed consent," said Madras, explaining that public knowledge about the drug is inadequate. "I prioritize people's health over commercial market interests, over unrealized taxes and social issues, which can be an inverse consequence of what is claimed."
Madras fears that the legalization of marijuana is all about big businesses' ability to commercialize it. She said that they already do this successfully by pushing the vote past the Food and Drug Administration and taking it to the people instead.
"The industry wants to target the young because they know that those are their customers of the future," said Madras. "At Columbia University, the CDC and NIDA say that if a young child between 12 and 17 starts using marijuana and continues using it, by their fourth year 20% will have a cannabis use disorder. The same for adults is only 10%."
Foreseeing legalization, Madras shifted to keeping marijuana controlled and away from children, pregnant women, and those with undiagnosed predispositions to mental illness.
"The National Academy of Medicine found significant links to mental health disorders of psychosis, schizophrenia, depression, anxiety, suicide," she said. "Prolonged use can lower IQ, reduce driving skills, and compromise learning and memory. It is especially hazardous to the developing fetus and the developing brains of teens."
Making regulation feasible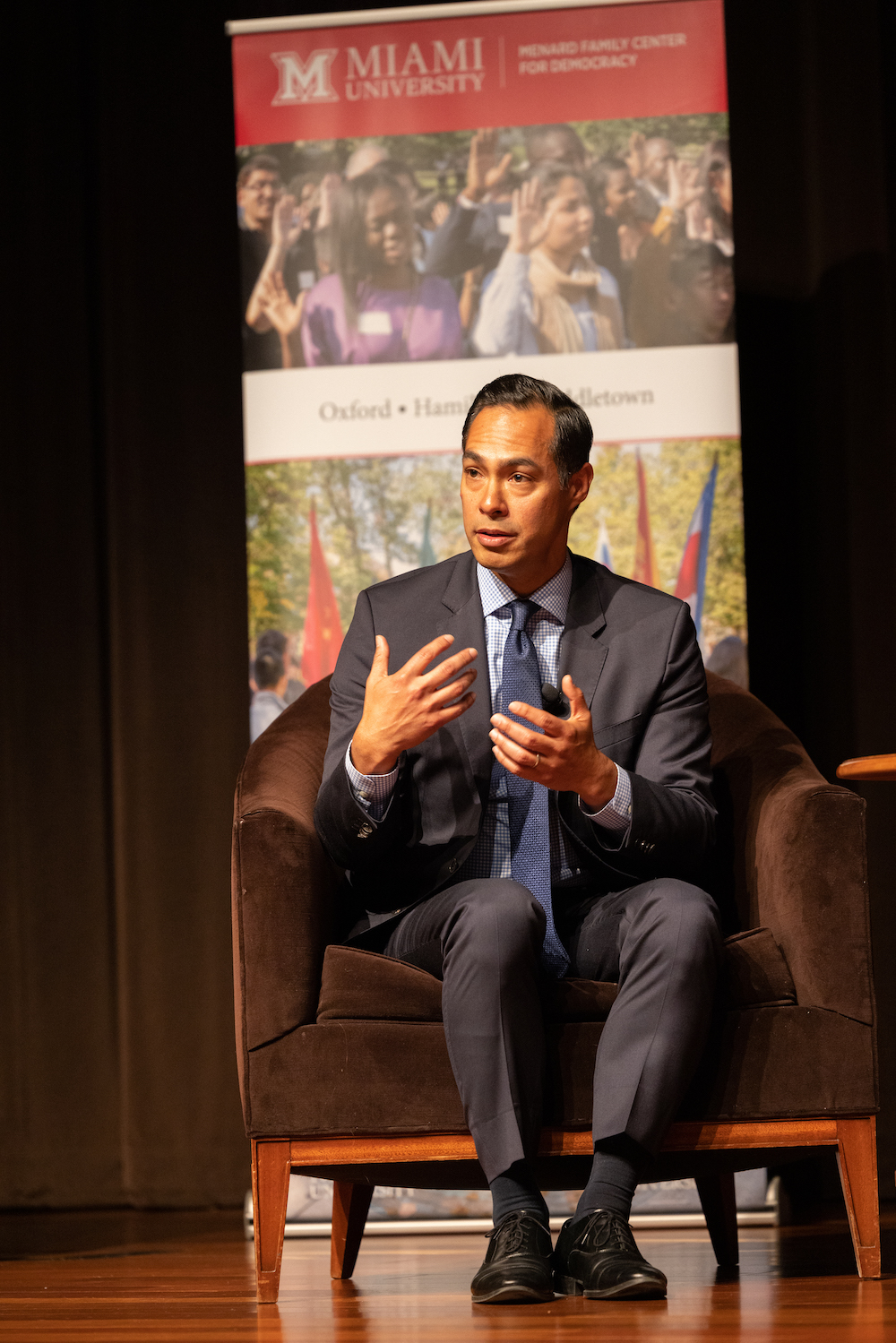 Julián Castro
Castro challenged Madras on a key point, stating that there is evidence that educational scores in the United States are nothing compared to levels in countries that have had marijuana legalized for years.
"Talking about our children and learning, the United States has dropped in math and science and other academic measurements over the years, even compared to many of these nations that have a much more liberal regime when it comes to the use of different drugs," said Castro.
However, Madras held steadfast with her concern about marijuana's effects in the states that have chosen to legalize it.
"Scientific evidence is largely marginalized by the marijuana law, the media, and consequently the public," Madras said. "The drug has a misleading reputation for being harmless. It is severely addictive and far more addictive amongst young people than it is adults."
Castro countered that with legalization, it may be easier to withhold marijuana from minors. "We can smartly regulate," he said. "We can do this well for the benefit of adults, and keep this out of the hands of kids in a more effective way as well."
Audience reactions
Caroline Gronowski, a junior Political Science major and Critical Race and Ethnic Studies minor, aligned with Castro's position for legalization because of the general danger posed with any recreational drug, citing alcohol as a legalized example.
"In a perfect world, no one would need to leisurely use drugs, but we have to look at this issue pragmatically," she said. "The prison system wastes so much taxpayer money incarcerating people for marijuana use and distribution. It would be far more beneficial to legalize and regulate it."
Gronowski added that she appreciated Madras' statistical data, but wished her anecdotes had provided more specific education.
"Since marijuana does have medicinal benefits, there should not be intense propaganda about it," said Gronowski. "Fear tactics have failed to educate students about drugs."
Although Political Science first-year student Lucas Orlando was glad to see an argument focusing heavily on science, he said, "Legislation isn't only science, it's also feeling, and both matter. This debate shows things like that."