State grant to expand Miami's Opening Minds through Art program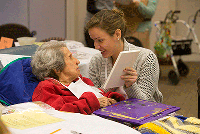 Aug 15, 2016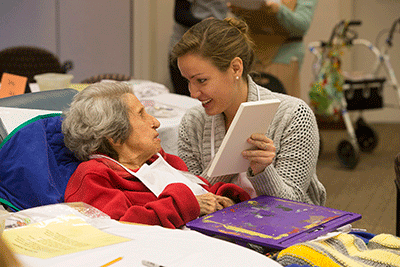 Opening Minds through Art (OMA) has been awarded a grant from the Ohio Department of Medicaid to expand its award-winning program in the state.
OMA is an intergenerational art-making program for people with dementia developed at Miami University's Scripps Gerontology Center. The program provides opportunities for creative self-expression and social engagement for people with Alzheimer's disease and other neurocognitive disorders.
The artists' projects help caregiving staff and family members see people with memory loss in a new light, thereby helping to promote person-centered care.
"OMA is a wonderful blessing in helping my husband express his mood and feelings through the tools of an artist," said Mary Ann Lynn, whose spouse is an OMA artist.
Sessions are led by trained facilitators, and each artist is paired with a trained volunteer (typically either a college or high school student), who provides guidance. Research shows that participating in OMA improves the well-being of people with dementia and gives volunteers more positive views of aging and those living with dementia.
The $717,852 grant from the Ohio Department of Medicaid allows nursing homes to apply for startup funding, and qualified nursing homes will receive up to $3,500 over a one-year period to cover initial training expenses and art supplies.
"The purpose of the project is to put OMA in more nursing facilities in Ohio so the state can serve as the national model of quality-of- care improvement through creative arts," said Elizabeth "Like" Lokon, OMA founder and director.
Lokon said the goal is to have OMA offered at 100 nursing homes in Ohio within the next three years.
All Ohio nursing homes interested in implementing OMA for their clients are welcome to contact Scripps Gerontology Center at Miami University for more information.
The request for proposal and application are available at MiamiOH.edu/ScrippsAging/oma-qip. Only licensed Ohio nursing homes with Medicaid certification may apply. Other organizations such as adult day centers, assisted living facilities, hospice centers, and geriatric hospitals do not qualify.