"Avenue Q" opens April 16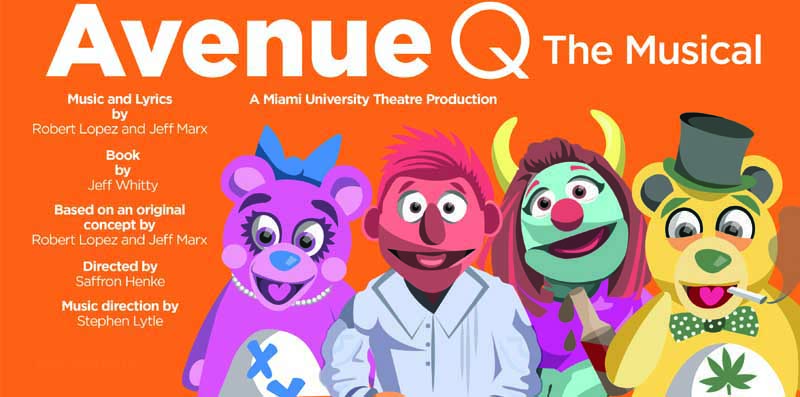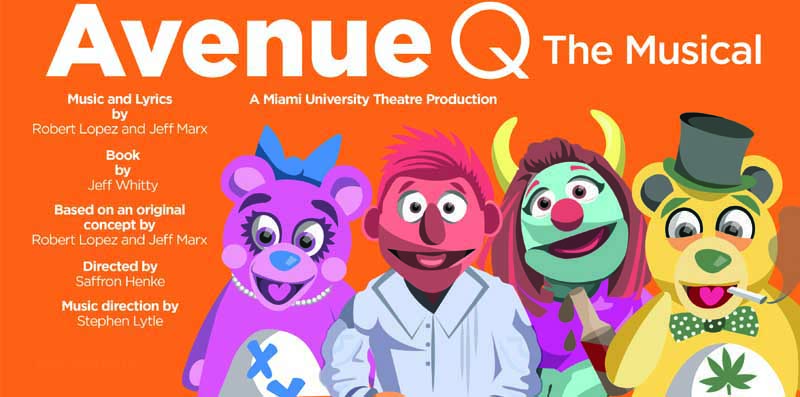 Apr 09, 2015
By Susan Meikle, University News and Communications, meiklesb@MiamiOH.edu.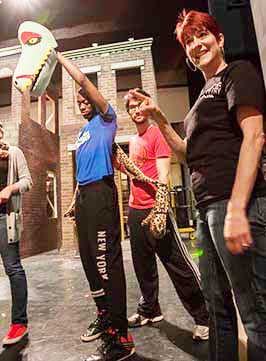 Puppeteer Aretta Baumgartner,
education director at the center for
Puppetry Arts in Atlanta (the largest
arts non-profit in the U.S. devoted to the
art of puppetry) worked with the cast
and crew during a recent residency in
the theatre department.
The department of theatre presents the musical "Avenue Q" at 7:30 p.m. April 16-18 and April 23-25 and at 2 p.m. April 26, in Gates-Abegglen Theatre, Center for Performing Arts.
"Avenue Q," with music and lyrics by Robert Lopez and Jeff Marx and the book by Jeff Whitty, won the 2004 Tony "triple crown" for Best Musical, Best Score and Best Book.
Miami's production is directed by Saffron Henke, assistant professor of theatre, with music direction by Stephen Lytle, director of athletic and symphony bands.
A "laugh-a-minute satire" on the characters of "Sesame Street," "Avenue Q" tells the story of a recent college graduate named Princeton who moves into a shabby New York apartment way out on Avenue Q. There he meets colorful types such as Kate (the girl next door), Rod (the Republican), Trekkie (the internet sexpert), and Gary Coleman, who help Princeton discover his purpose in life.
The production includes nearly two dozen songs, such as "What Do You Do with a B.A. in English?"; "It Sucks To Be Me"; "If You Were Gay"; and "Schadenfreude."
Tickets, $7 students, $8 seniors and $10 adults, are available at the box office in Shriver Center. 
Learn more about the production on the department of theatre's website. 
Puppetry 
The puppets that appear in "Avenue Q" are designed by Grant Lemasters, senior history and theatre double major. Each puppet takes approximately 8-10 hours of construction work to produce, said Melanie Mortimore, assistant professor of theatre and costume designer for "Avenue Q."
Mortimore, who also teaches courses in puppetry and theatre, has been working with a puppet construction team that includes Andy Lynn, theatre major and arts management minor; Meggan Peters, costume shop supervisor; and several costume shop staff members.
Most of the puppets are constructed from poly foam and Antron, or "muppet fleece," Mortimore explained.
Mortimore and Henke both joined the theatre faculty in fall 2014. Henke has worked as a professional actor, director and educator after receiving her M.F.A. from the professional actor training program at the University of Washington.
Other production designers are Gion DeFrancesco, scenic design; Russ Blain, lighting design; and Geoffrey D. Fishburn, sound design.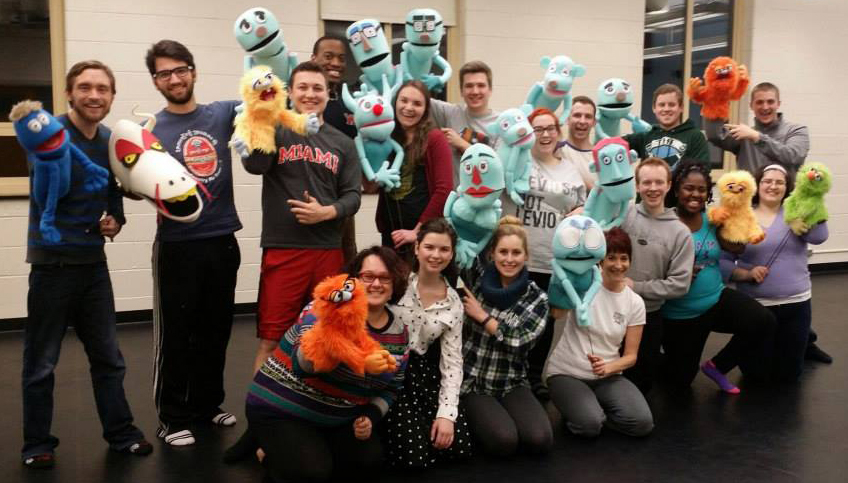 "Avenue Q" cast and crew with rehearsal puppets. The final production puppets will be much more detailed.