Paper science grads are part of the paper science legacy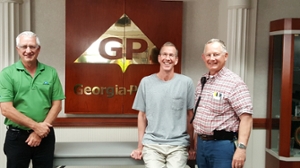 Aug 02, 2017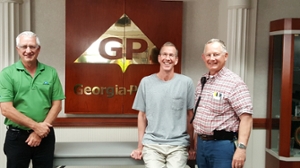 Russ Minerich, Duane Sauers, and Mike Ohl             
at Minerich's retirement party
The Big Island paper mill is a part of history. The 126 year old mill, currently owned by Georgia-Pacific, employs 380 people including multiple Miami University Paper Science Grads. These grads prove that a paper science education is just the start of a long and fulfilling career.
Duane Sauers, BS '78 and MS '83, worked for Champion International (1979-1980) and Mead Paper (1980-2004) before going to the Big Island Mill in 2007.
His career has taken many twists and turns since 1978. As a process engineer, he has optimized processes involved in self-guided vehicles, sensors, and so many more. At Big Island he has modernized their processes by integrating modern technologies to generate data and make Georgia-Pacific's mills the "factories of the future," as he puts it. He retired this year after thirty-nine years working in the paper industry.
Sauers has also remained dedicated to his alma mater and its students. He has worked with the Paper Science and Engineering Foundation for six years as a member of the Scholarship and Enrollment Committee, helping many students discover a love of paper science and fund their education.
Russ Minerich '74 has worked for Champion International (1974-1981) and Georgia Pacific (1981-2017); he started working at the Big Island Mill in 1995. His work has focused on process, production, and compliance.
He has also recruited for students at Miami before he retired this year.
"Miami University helped develop my thought process, which enabled me to have a varied and successful career in the paper industry," he says, and he likes to give current Miami students the experiences he has had in industry.
Mike Ohl '71 worked briefly for Owens-Illinois Forest Products in Toledo until he moved to the Big Island plant, which was owned by Owens-Illinois at the time. The plant has changed ownership several times since then, but Mike Ohl has worked there since 1973.
Ohl's contributions to the mill are extensive. But he has not forgotten the school where he discovered his passion for paper science.
As half of a Miami merger and the father of another Redhawk, he has been invested in helping students and young professionals start their careers in the paper science industry. In fact, he created an internship and co-op program at the Big Island mill.
These paper engineers are just a few of the people who have formed a long, proud legacy of paper science at Miami University.
By Paige Smith