Dr. James Chagdes awarded first NIH grant in MME in nearly 20 years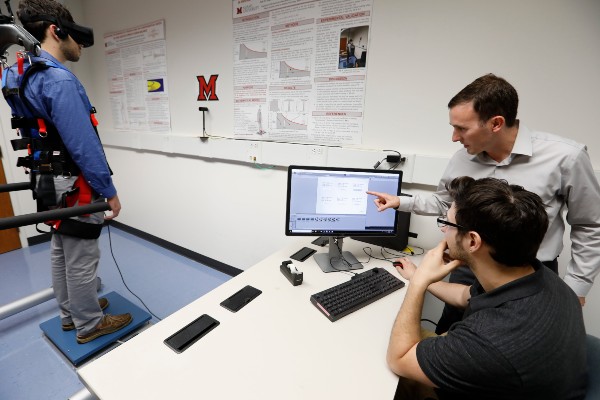 Mar 18, 2021
When he's not running the MUCAT Design Innovation Competition, Dr. James Chagdes is busy with his research project, which recently earned him a National Institute of Health (NIH) grant! 
The NIH National Institute on Aging awarded funding to Chagdes, an assistant professor in the department of mechanical and manufacturing engineering (MME) and director of MUCAT (Miami University Center for Assistive Technology), for his work as principal investigator in the project "Virtual Manipulations to Assess Fall Risk and the Mechanisms of Postural Instability that Occur with Age." 
This is the first NIH award in the department of MME in nearly 20 years.  
The project studies using virtual reality (VR) as a tool for assessing human balance. In particular, the researchers want to investigate whether VR can be used to identify fall risk in those experiencing the effects of aging.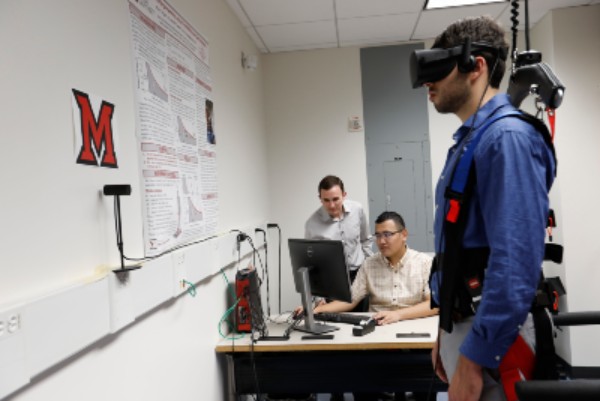 Identifying risk is not where the work ends, though. The team also wants to look at new methods for rehabilitating balance to help individuals become more stable. 
An important facet of the research is the interdisciplinary nature of the work. In this project alone, the researchers come from areas such as gerontology, statistics, kinesiology and engineering. 
In much the same way he does in MUCAT, Chagdes stresses the importance of working with academics from other areas of study to come out with the strongest solution. 
"The idea of MUCAT in general is to bring together researchers from these different areas and kind of have a common area where we can use the different expertise to tackle these problems to hopefully improve the quality of life of individuals, and that's exactly what this project's aiming to do," Chagdes said. 
Right now, with an RO3 grant, the team is in the stage of collecting preliminary data and gaining insights on the project. This grant also allows for a graduate student to be added to the mix of researchers. Looking to the future, Chagdes and the group plan to apply for an RO1 grant, which is a larger grant with more funds, which would make a bigger impact on the scientific findings. 
Overall, Chagdes said he is passionate about the study and is excited to see where this grant takes them. 
"This is a project that I have wanted to start for a while," Chagdes said, "so I think the grant really provides the resources needed to start up everything, and I'm excited to see where this leads." 
By Maggie Peña, CEC Reporter