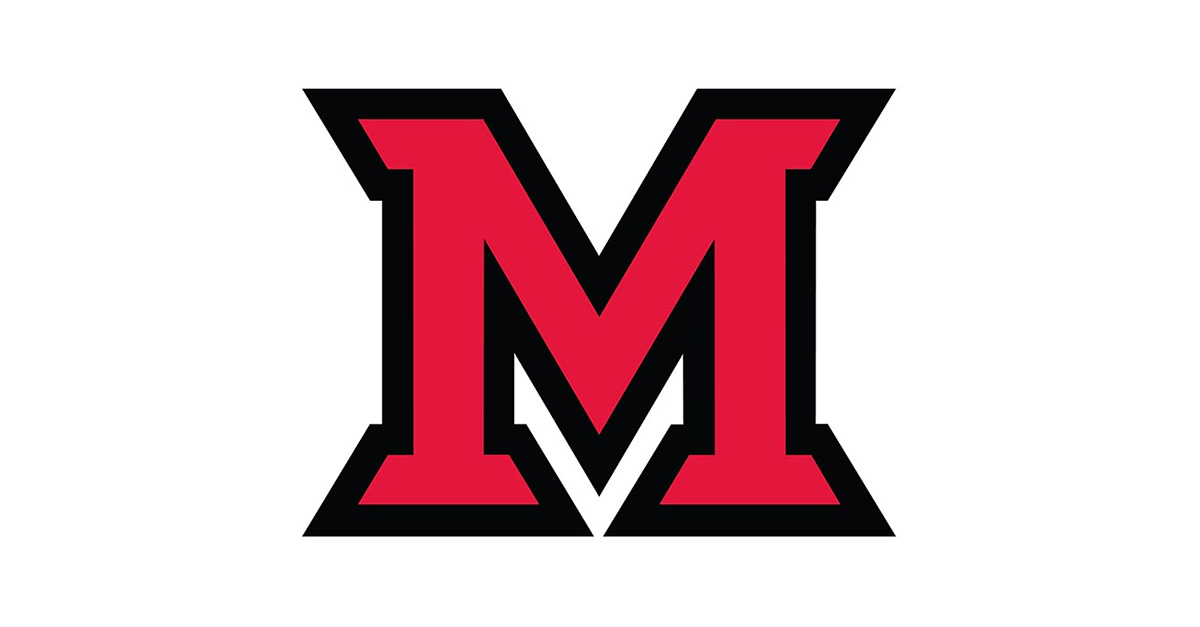 Nov 08, 2021
Greetings Miami University,
Here is this week's diversity, equity, inclusion "weekly three" from the Office of Institutional Diversity:
Freedom Film Festival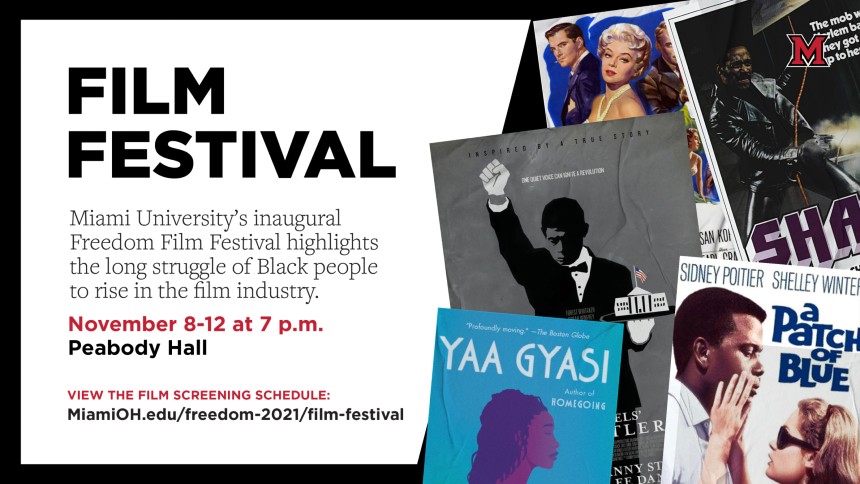 Join Us to Watch Films and Discuss Black Representation on Screen and in Society
The week-long film festival will be held in Leonard Theatre, Peabody Hall, Nov. 8-12. There will be a brief introduction to each film, the screening, and then a facilitated discussion about it. The following films will be featured:
Monday, Nov. 8, 7 – 9:30 p.m. "A Patch of Blue" 
Tuesday, Nov. 9, 7 – 9:30 p.m. "Carmen Jones" 
Wednesday, Nov. 10, 7– 9:45 p.m. "Imitation of Life"  
Thursday, Nov. 11, 7 – 9:30 p.m. "Shaft"
Friday, Nov. 12, 7 – 9:45 p.m. "The Butler"
IDS 253 Voices of Discovery: Intergroup Dialogue (3 credits)
This course meets the Intercultural Perspectives (IC) requirements of the Global Miami Plan IDS 253 introduces the intergroup dialogue model of peer learning and involves semi-structured face-to-face meetings across social identity groups, discussion of relevant reading material, and exploration of group experiences in social and institutional contexts. The goal is to create a setting in which students engage in open and constructive dialogue and explore issues of intergroup relations, intellectual diversity, free speech, conflict, and community. In the process, students learn about themselves and peers with different social identities while gaining valuable skills in cross-cultural communication and team-building. New knowledge, awareness, mindsets, and active listening skills acquired through the practice of intergroup dialogue serve to help students communicate better at school, in the classroom, and on the job.
Registration CRNs: 89031 and 89032 (Oxford) and 90492 (Hamilton)
Expanded Diversity, Equity, and Inclusion "Behind the Scenes" Town Hall
In line with Pillar 5: Inclusion and Accountability, Recommendation 3, OIDI hosts "Behind the Scenes" Townhalls to provide insights and details of how DEI is embedded in the decision-making processes and practices of each division. This fall we invite the Miami community to join an expanded DEI Behind the Scenes Townhall Series, featuring College Deans.
Save the date for the next events:
College of Education, Health, and Society, Tuesday, November 9, 12-1pm Register Now
Graduate School, Tuesday, November 16, 12-1pm, Register Now
Farmer School of Business, Wednesday, December 1, 12-1pm Register Now
Collaborative Teaching, Learning, & Mentoring: Supporting Diverse Graduate Students at Miami
November 11, 12:30-2:00 pm
Rose Marie Ward, Graduate School and Research Office Kinesiology and Health, and Kristen Budd, Sociology and Gerontology present this workshop on how effective mentoring plays a critical role at Miami in the teaching and learning process.This workshop is intended for all types of mentoring configurations: faculty/staff-graduate student mentoring, graduate student-graduate student mentoring, or graduate student-undergraduate student mentoring.
Waking up White in your Diverse Classroom
Friday, November 12, 10:00-11:30am
Suggested Prerequisite: This workshop assumes a basic understanding of concepts from the prior workshop, "Critical Whiteness Studies." Abstract: In this workshop we will explore some of the many ways that Whites are challenged to hear constructive criticism of their racial bias and several simple but effective strategies for reducing White Fragility to become effective anti-racists in the classroom. (Note: Repeats some portions of the Spring 2020 workshop "Waking Up White")
Global Education and Diversity Workshop
Thursday, November 18 at 1:30-2:30 pm
Dr. Amer F. Ahmed, Miami '00, will be facilitating a workshop on Dismantling the U.S. vs. International Dichotomy: Creating Synergy Between Global Ed and Diversity/Social Justice. This interactive program is open to all students, faculty & staff.Dr. Ahmed is the Honor's College Faber Scholar in Residence and his program is generously sponsored by the Honors College. This event is part of International Education Week 2021.
Reimagine Education Conference Keynote Address
Tuesday November 29 1:30-2:30 pm at Shriver Center, Dolbois Room
The College of Education, Health and Society Dean's Office invites you to attend the Keynote Address by Professor of Secondary Education at the University of Kentucky, Dr. Cheryl Matias: CRT, Teaching, And White Woman's Tears, Oh My: Hysteria in Racially Just Teaching.
"Accelerating Ahead: Miami's Focus on the Future"
This virtual conference is a compilation of presentations from Miami University educators and thought leaders. This nine-session virtual conference covers topics spanning from living, learning, and working amidst a pandemic to strategies for future success.TheseTedTalk-style presentations, featuring Miami's administrators, faculty, and staff from various colleges, offices/departments, and disciplines, will share insight into how Miami has persevered, acquired new knowledge, developed new initiatives, learned best practices for going forward, discovered ways to build a better future and more.
Three: Celebrations & Recognition
International Education Week Keynote Address & Awards Reception
Thursday, November 18, 4:00 - 5:00 pm
Keynote Address by Miami Alum (Class of 2000) and Honors College Faber Scholar in Residence, Dr. Amer F. Ahmed, Vice Provost for Diversity, Equity, and Inclusion at University of Vermont Dismantling the U.S. vs. International Dichotomy: Creating Synergy Between Global Ed and Diversity/Social Justice
Sponsored by the Miami University Honors College 5:00 - 6:00 pm - IEW Awards Reception will recognize the winners of the student contests as well as honor the faculty and staff recipients of the Faculty Award for Innovation in Global Programming and the Donald Nelson Award for Outstanding International Student Support (staff). The award announcements will be followed by light refreshments.
Native American Heritage Month
This month, we will spotlight events that showcase Native American cultures, identities, and experiences. We recognize and celebrate rich and diverse cultures, traditions, and histories and to acknowledge the important contributions of Native peoples. We aim to educate the general public and raise awareness about these identities, experiences, and contributions. Miami University is located within the historic homelands of the Myaamia people, who were forcibly removed from their homelands 175 years ago. The special relationship between the Miami Tribe and Miami University started almost 50 years ago. Neepwaantiinki, the Myaamia word meaning "learning from each other," is a rich interpretation of "partners in learning," a phrase that Miami University and the Miami Tribe of Oklahoma have used for years to describe their reciprocal relationship. The Myaamia Heritage Logo references the traditional Miami Tribe art form of ribbonwork and symbolizes the unique relationship between the University and Tribe. At Miami, we celebrate this very unique partnership as we celebrate Native American History month.  We encourage all Miamians to engage in dialogue and allyship with the Miami Tribe Relations Office, and more broadly to learn more about Native American cultures, identities, and experiences.
Trans Awareness Week
(November 13-19)
Miami University honors and celebrates the achievements and resiliency of transgender individuals and communities. President Joe Biden signed a historic proclamation on Transgender Day of Visibility recognizing the struggle, activism, and courage of trans*, transgender, and gender non-binary people in the United States and around the world to live openly and authentically. We encourage all Miamians to engage in dialogue and allyship with our campus community organizations such as Spectrum, Miami University Pride, Center for Student Diversity and Inclusion, Graduate Student Pride Association, Queer and Trans* Faculty Staff Association, Oxford Area PFLAG , and the 1809 LGBTQ+ Alumni Committee. We invite all to learn more about Transgender Day of Visibility.
Upcoming events include
Transgender Awareness Week Celebration at King Library Lobby
Monday, November 15th 10am-2pm
Buttons • Vinyl Decals • Books • Community
Heroes Week
At Miami University we are proud to be in the top 15 percent of national colleges, universities and trade schools that are doing the most to embrace America's military service members, veterans and dependents as students. Members of the military make tremendous sacrifices for our country. Miami Regionals will be celebrating Heroes Week with a number of events honoring all our veterans during the month of November. All events are free and open to the public, unless otherwise noted. We encourage all Miamians to engage in dialogue and allyship, including through campus and community organizations such as the Center for Veterans Services, Student Veterans Association and to visit the Alumni Veterans Memorial. We are proud of all of our community members who have completed Green Zone Training.
Upcoming Religious Holy Days and Holidays & Inclusive Scheduling
November 15: Shichi-go-san (Shinto)
November 19: Gurpurab Birth of Guru Nanak Dev Ji (Sikh)
November 21st: Entrance of the Theotokos into the Temple (Eastern Orthodox Christian)
November 23: Niinamesai (Shinto) 
November 25*: Day of the Covenant (Bahá'í) 
November 27*: Ascension of 'Abdu'l-Bahá (Bahá'í) 
November 28: Advent (Christian)
November 29-December 6*: Hanukkah (Jewish)
"*" denotes holidays that start sundown the day before. Please note that individual practices may vary.
Please see the academic affairs calendar and complementing interfaith narrative calendar for policies and for more information, and regarding religious holy days and holidays observed by Miami Community members.
With Love and Honor,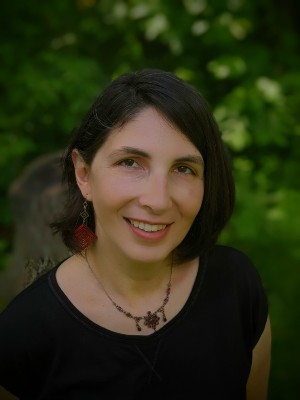 Cristina Alcalde, Ph.D. (she/her/hers)
Vice President for Institutional Diversity and Inclusion
Professor, Global and Intercultural Studies
vpDiversity@MiamiOH.edu