Connect With Other Alumni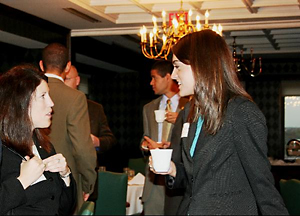 The Cincinnati Alumni Chapter hosts various events for all Miami alumni living, visiting or working in the Greater Cincinnati area. Friends and graduates of the Farmer School are encouraged to attend these meetings and events. Some of these outings include wine tastings, networking breakfasts and career discussions with fellow alumni. All events serve to help our alumni connect and foster relationships with one another beyond their time at Miami. 
Visit the Miami University Alumni Association to find a chapter near you. You can also check out the FSB LinkedIn group to see what others have to say about us and to get connected with other alums.
If you have further questions about the Cincinnati Networking Breakfast or other events throughout North America, contact Laurel Roether, the associate director of alumni relations for Miami University, at roethele@miamioh.edu or 513-529-5957.