Challenge accepted: Students learn sales by selling to sellers
More than 30 companies take part in class project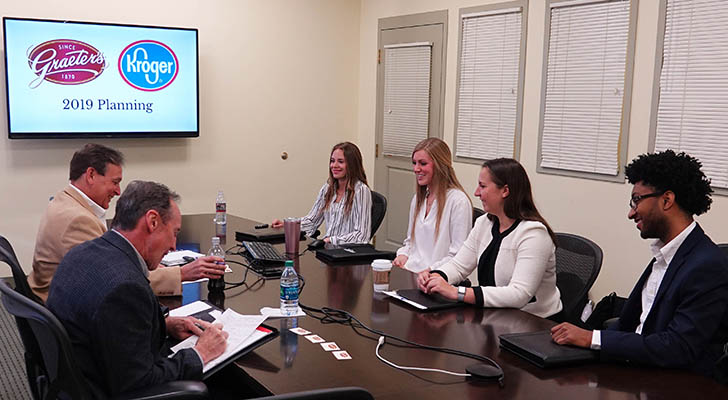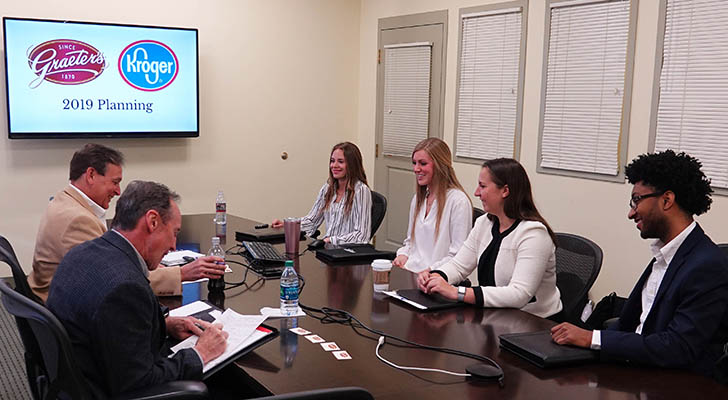 Students pitch Graeter's Ice Cream to buyer
Photo: Jay Murdock
More than 30 companies take part in class project
Apr 30, 2019
Imagine for a moment being the man who sells shower curtains to Miami University as he listens to a group of Farmer School students as they attempt to sell him shower curtains. Or being a vice president at Graeter's as a team works to convince him to buy Graeter's ice cream. That's just a couple of the scenarios that have played out in the last few days as part of the Miami University Sales Challenge.
Marketing instructor Pat Lindsay has been using the Challenge every semester since 2014 to give his Marketing 405 classes a hands-on exercise in selling, and more than 30 companies took up the challenge this year. Students formed teams who were then assigned to a person at the companies, shadowing them and learning how they sell their products to customers.
Eden Eisel's team was assigned to Graeter's executive vice president for sales George Denman. 'We were able to follow Mr. Denman into a pitch to Kroger, right in their headquarters. There, we had the experience to see how a real-world scenario works," she said.
A few weeks later, Eisel and her team had to make their own sales pitch – to Denman. "They're Graeter's, and they're presenting to me, role playing as the Kroger buyer. They're presenting new flavors, and they'll go through the same process that I do when I'm presenting to Kroger," Denman explained. "It's surreal. Hopefully, they've done their homework and they're asking the right questions."
"My team strategized how to best divide roles in order to sell Graeter's Ice Cream products to Kroger. The hardest part for me and my team was educating ourselves on everything possible to make the sale," she said. "We missed some key points we needed to know; however, that is how learning works"
After shadowing Ferguson outside sales representative Trenton Nalls, Sarah Pisciotta and her teammates worked to put together their own sales pitch, using their own experience combined with information supplied by Nalls, some of which arrived only a day before their pitch.
"I think that trying to sell a product to someone who sells that same thing showed me how much industry expertise you gain from working in the field," Pisciotta explained. "As we were working to sell our product, our client asked questions that we hadn't even thought about. There are so many small details that are important to become an expert seller of a specific product."
For Nalls, the experience was helpful to his future sales work as well. "I actually got some things from their presentation that I can take back and incorporate into my own presentation," he said. "I really liked the fact that they went to a dorm and took a picture of the shower curtain in use, so that I knew that they qualified the product. I didn't even have that in my presentation."
Nalls and Denman, both Farmer School alumni, said they take part in the Sales Challenge because they enjoy giving back to the school and working with the students.  "I try and give as much feedback as possible because they're in a sterile environment. You can run through literally step one through four. But in a real life situation, there's give-and-take between you and a stranger. Sometimes you have to put that in the back of your mind and then run it intuitively," Nalls said. "I'm always trying to continuously learn and continuously hone my craft. No better way to do it then go through these sales scenarios, kind of look at the textbook and then apply real-life situations to it."
"We make sure they understand what our expectations are, and we'll walk them through successful presentations, show them what works and what doesn't work," Denman said. "There's great salespeople and mediocre salespeople, and we've seen both. We want these students to be considered great salespeople."
As for the students, the experience is helping to grow their own skills and initiative. "I think that the biggest thing I am taking away from the Sales Challenge is that each sales call is a different experience," Pisciotta said. "There are different things that come up, and different circumstances each time. The best thing to do is to just be flexible and ready for anything."
"(Lindsay) provided this opportunity for us so that we may practice and see our true strengths and weaknesses. My team will take the notes we have received and then improve upon what we have already done," Eisel explained. "Selling is not easy, and it takes quite a bit of failure. What we take from our failures and see what to change is how we truly grow as a professional."
Check out more photos from the Sales Challenge on our Facebook page