Altman Institute named 2020 NASDAQ Center of Entrepreneurial Excellence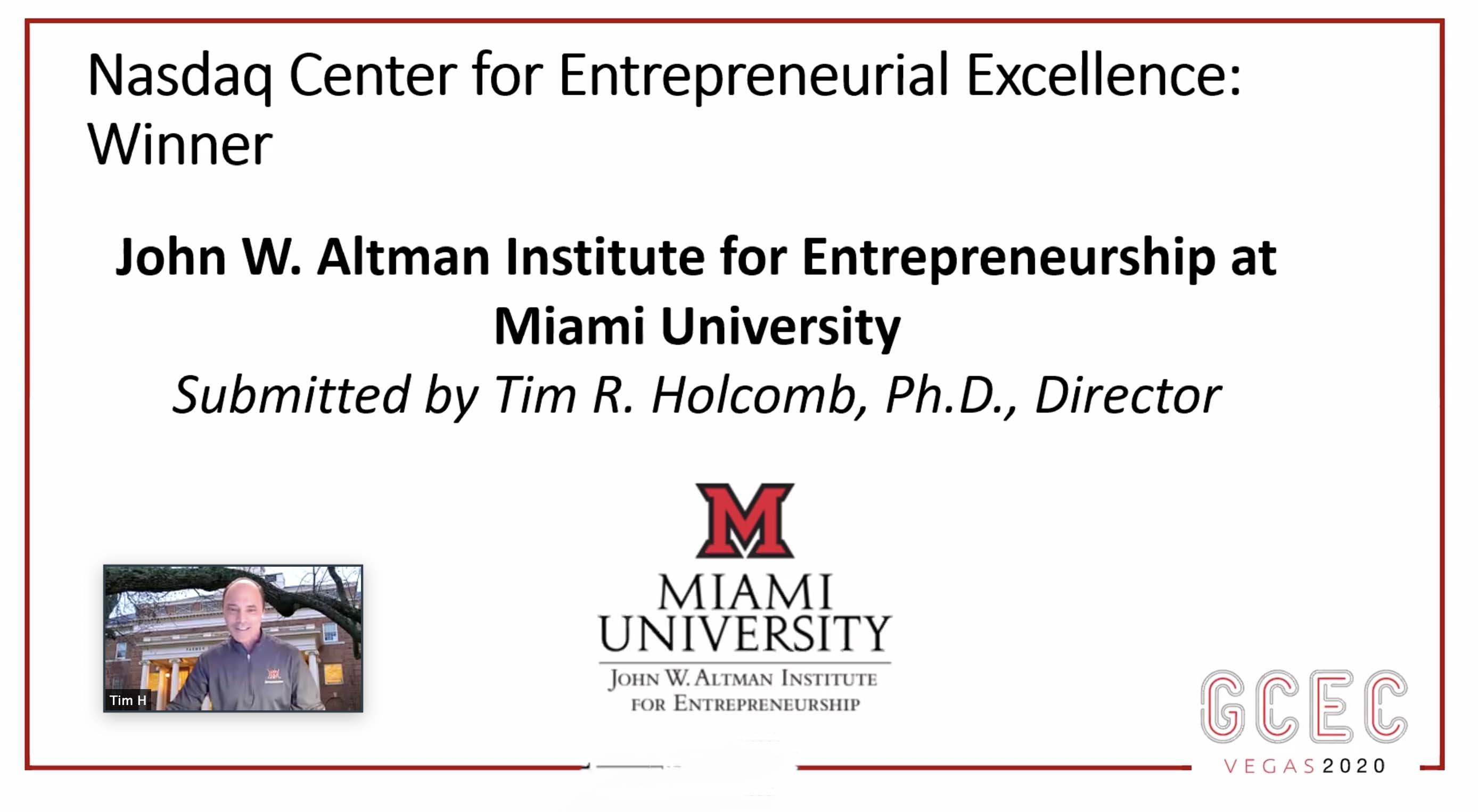 Nov 02, 2020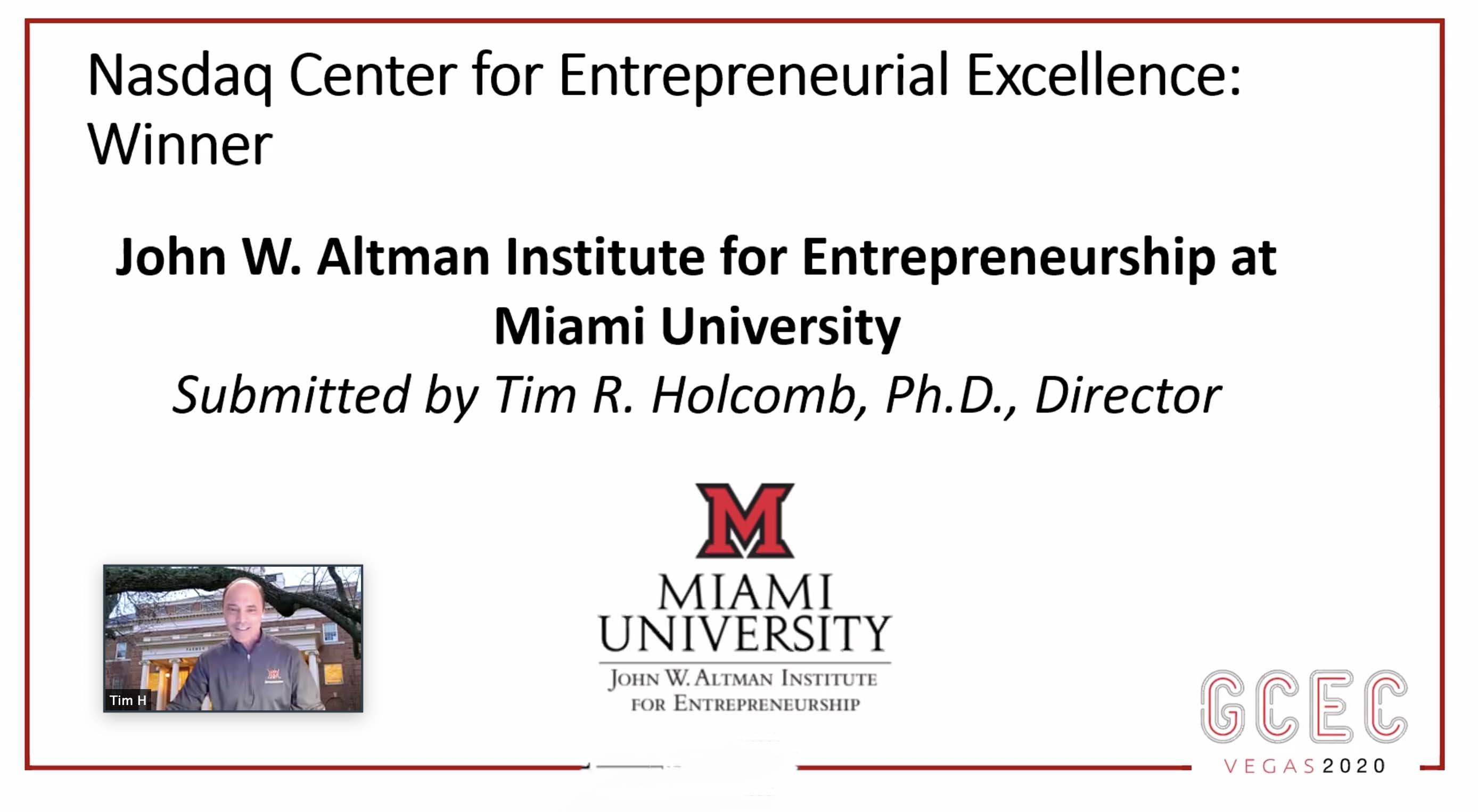 Miami University and the Farmer School's John W. Altman Institute for Entrepreneurship has been named winner of the 2020 NASDAQ Center of Entrepreneurial Excellence Award. 

Awarded annually by Global Consortium of Entrepreneurship Centers (GCEC), the 2020 NASDAQ Center of Entrepreneurial Excellence Award is the highest honor that a university entrepreneurship center can receive. This special award was created by NASDAQ in association with the Global Consortium of Entrepreneurship Centers for the purpose of recognizing the unique achievements and outstanding efforts of entrepreneurship centers across the world.
"To be named the top entrepreneurship program and center in the world by NASDAQ and the Global Consortium of Entrepreneurship Centers is a real honor. I am especially happy for the faculty, staff, students, and graduates of Miami University's John W. Altman Institute for Entrepreneurship and the Farmer School of Business's entrepreneurship program," institute director Tim Holcomb said. "This award reflects a total team effort more than 28 years in the making."
This recognition reflects Miami's commitment to fostering a space for entrepreneurs across campus to learn, plan and grow. Our outstanding faculty and staff are nurturing a spirit of innovation and creativity and providing the inspiration, guidance and support needed for our students to begin their entrepreneurial careers on solid ground. Our faculty in the Institute embrace students in all majors across campus in truly transdisciplinary ways," Miami University President Gregory Crawford said.
"I was delighted to hear of this incredible recognition of the program that we created in 1992. Our work has always been a team effort that has benefited thousands of Miami University students. Most importantly, our faculty has leveraged smaller resources to gain State of Ohio Excellence awards, and now national recognition," first professor of entrepreneurship & trustee emeritus John Altman said. "I am very thankful to have my name on the Institute!"

The NASDAQ award honors those centers that have made and will continue to make enormous contributions in advancing entrepreneurship as the force in economic growth throughout the world. The honor is bestowed upon entrepreneurship centers that have made remarkable advancements in the entrepreneurial field in the following areas:
outreach to emerging ventures

entrepreneurship curriculum

community collaborations

special projects

overall prestige

recognition in the entrepreneurship field

entrepreneurship research
The institute joins a select list of prestigious universities that have previously received the award, including the University of Chicago, University of California – Berkeley, MIT, Stanford University, Columbia University, and Cornell University.
"The John W. Altman Institute for Entrepreneurship continues to differentiate its program with student founders through its strong reputation with former Miami graduates, a unique experiential learning strategy, and deep relationships around the globe with accelerator and venture programs that support the growth and development of early stage entrepreneurs," Wendy Lea, board director at Techstars, said.
"The Miami approach to 'who's an entrepreneur' is working. No longer are these definitions confined by being a founder or an investor, but now they're being expanded in an inclusive way to capture those who want to work alongside and amongst those with a healthy disrespect for the status quo," Vice President, External Relations at Cintrifuse Eric Weissmann said. "The spirit of the Miami program is evident and shines through each of their students (major, minor, or just an elective course) - the confidence, the humility, the intelligence - all is thanks to the attitude instilled in everyone from the staff on down. Congratulations on a well-deserved honor and for shining a light squarely on what we've got cooking in the Midwest. 
"This prestigious award is further recognition that Miami's entrepreneurship program has become one of the top programs in the country.  And that's no surprise given the program's outstanding faculty, innovative in-classroom curriculum and numerous opportunities for experiential learning, such as the student-led Redhawk Ventures seed investment fund and the Center for Social Entrepreneurship," Allos Ventures co-founder and managing director John C. McIlwraith said.
The institute and undergraduate entrepreneurship program, which has been ranked among the "Top 10 Public Schools for Undergraduate Entrepreneurship Studies" for 13 consecutive years by Entrepreneur Magazine and The Princeton Review, became a full department at the Farmer School earlier this year. Since 1992, it has had a cross-disciplinary focus that engages over 3,200 students annually from 110+ different majors across campus,  practice-based and immersive curricular and co-curricular programs that integrate with with entrepreneurial ecosystem builders, and large numbers of opportunities to gain practical, hands-on experience.