Accessibility at a whole new level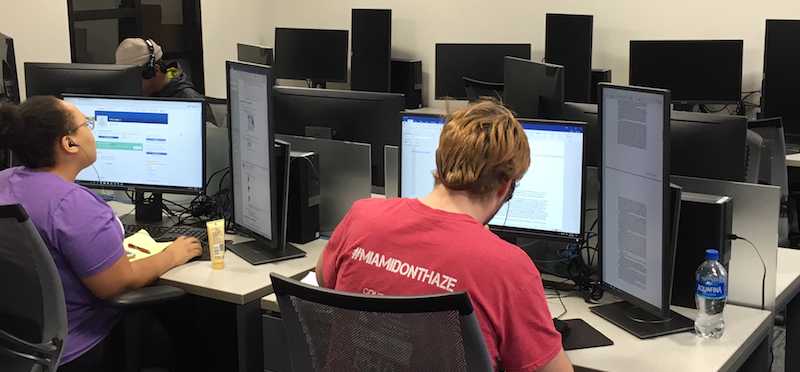 Jan 26, 2018
By Randy Hollowell, IT Services
Too often in higher education when we talk of collaboration, words like "silos" and "barriers" pop up, providing excuses for not actively seeking to partner with colleagues from other offices or divisions. One place you will not hear those words unless they are prefaced with "breaking down," is the third floor of the Shriver Center. That is where you will find the new AccessMU Center.
AccessMU Center
The AccessMU Center was created to support faculty, staff, and students in creating accessible content and in understanding how appropriate accommodations can make Miami more welcoming and effective in teaching, learning, and everyday work. Options from do-it-yourself to full service are provided by the five Accessible Technology Services (ATS) staff, supplemented by well-trained student employees. A bright, active hub, the Center includes two assistive technology labs, a conference room, and a work room.
The student employee lab is filled with 10 workstations allowing ATS to produce alternative format materials for faculty and students who require them. There is also an open AT lab managed by the newest member of the ATS team, Autumn Meade, AT Coordinator. (See sidebar article.)
This AT lab contains various AT including a tactile image enhancer, a book scanner, and a braille embosser.
Since the new AccessMU space opened in room 316 Shriver Center in August 2017, there has been a renewed emphasis on the connection between Student Disability Services (SDS) and technology. The physical closeness of the two offices has allowed better sharing of information and improved decision-making. And don't forget the Rinella Learning Center, also located on the third floor of Shriver.
"Getting to this point has been stressful at times, but to see the fruits of everyone's labor come to fruition has been extremely exciting and satisfying," says Sean Poley, director of Accessible Technology.
Accessibility Committees and Communities
Another key component to the ongoing success of the AccessMU Center is the Accessible Technology Committee (ATC). It is the driving force for raising awareness, identifying technological barriers, fostering collaboration with key stakeholders, and providing an ongoing commitment to the long-term effort of improving accessibility at Miami. The committee is made up of representatives from every division, including the regional campuses, and is chaired by JP Natale, CIO/VP of Information Technology.
In conjunction with the Center for Teaching Excellence (CTE), there is also a faculty learning community called Accessibility & Inclusion in the Classroom. This group will be together for a year and includes approximately 10 faculty members who are looking at both the theory and application of accessibility issues in the classroom.
Also in the works is a Faculty Advisory Committee, which should be up and running by the start of the 2018-'19 school year.
Accessibility Events
One very positive effect of this collaboration was the "Universal Design in Higher Education" event this past December. Part of the University's Inclusion series, this presentation, panel discussion, and tour included representatives from ATS, SDS, and clinical faculty from educational psychology who focus on disability studies.
Part of the focus of the Inclusion event was utilizing Universal Design inside and outside the classroom, as well as on student services and designing accessible office spaces. It also included a cultural component, like artwork. This aesthetic piece can often provide a comfort level which can create better student engagement with an office.
Besides the December Inclusion event, ATS and SDS co-hosted the 4th Annual Access for All accessible technology symposium, and the Ohio AHEAD annual conference. That second event included 126 attendees from around the state whose visit to Oxford included tours of the various accessibility spaces. Miami officials say they received rave reviews from the participants, and solidified their belief that Miami is really on the leading edge of accessible technology, space utilization, and collaboration.
"We have really accomplished a tremendous amount in the past 12 months," according to Student Disability Services director J. Andrew Zeisler. "And we're looking forward to continued efforts that will have a significant impact for our campus and our students."
AccessMU Center Welcomes New AT Coordinator
The Accessible Technology Services (ATS) staff within IT Services added a new member in December, and there is no denying it is a wonderful fit for both her and Miami.
Autumn Meade began in her new position on December 1, having previously worked for over three years as an e-Campus Support Specialist for the regional campuses. At the regionals she was responsible for checking accessible documents, captioning videos, and conducting faculty training for e-Learning.
In her new position, Autumn creates accessible technology training for faculty, staff, and students. The training consists of learning about accessible technology, captioning videos, and creating accessible documents. She is also responsible for creating training materials for ATS student employees and interns. A Canvas course has been created to consolidate all of the various training modules in one place.
The new role also allows Autumn to learn and explore new technology, including using a brailler for the first time. According to Autumn, "A brailler is a machine that creates tactile writing for individuals with vision impairments. Braille is provided in cases where electronic support cannot be provided, such as door signs."
Autumn knows her way around Oxford. She is a 2011 Miami graduate who studied Sociology and Family Studies. Away from Miami she considers herself a cat lover, and enjoys spending time with her family whenever possible. She also enjoys watching movies and traveling.
Autumn has been working in the realm of accessibility for about four years, and absolutely loves it. "At the end of the day I feel like I have had a positive impact while helping people, and that is what it is all about."
For the near future, Autumn sees accessibility as a growing field. "It is not standing still," she notes. "It is constantly advancing and developing."
If you are interested in learning more about accessible technology at Miami, or how to create accessible documents, please contact Autumn at 513 529-0418 or meadeam@MiamiOH.edu.