IT Services, University partners celebrate CIO 100 win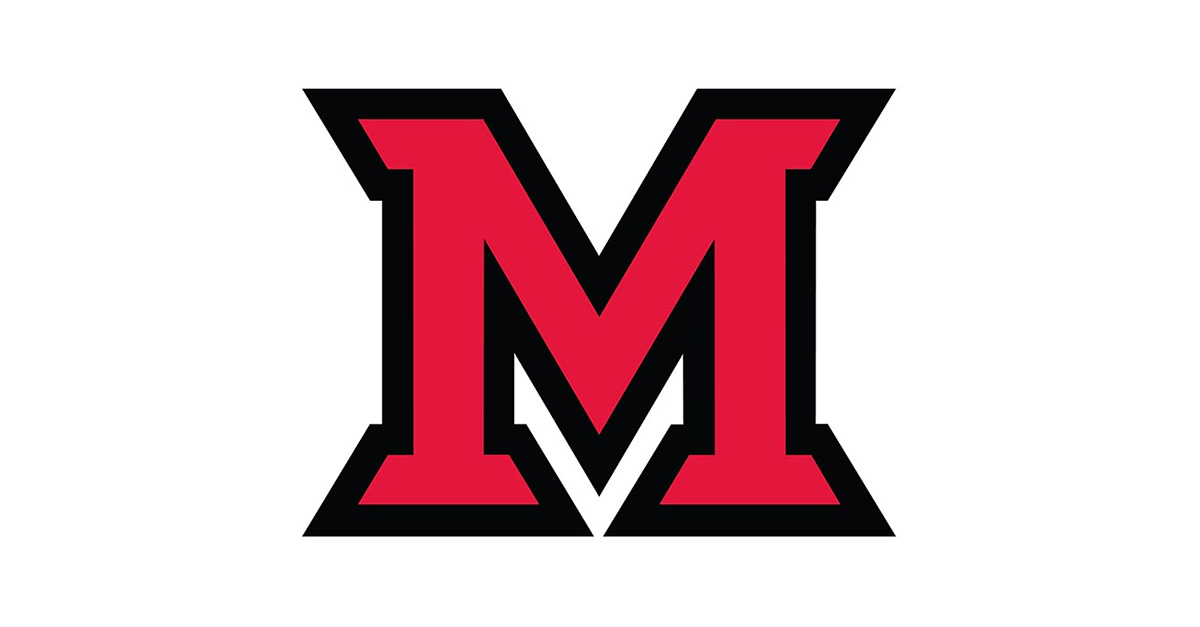 Aug 31, 2022
by Elizabeth Parsons, IT Services
At the beginning of August, Brian Henebry, assistant vice president of solution delivery in IT Services, accepted the Top CIO 100 award that was given to a team of IT staff and University partners this past March.
The team, which consisted of staff members from several groups in IT Services as well as partners from various departments across the University, were conferred the award earlier this year for their efforts to improve contact tracing methods used throughout the pandemic by Oxford Butler County health officials.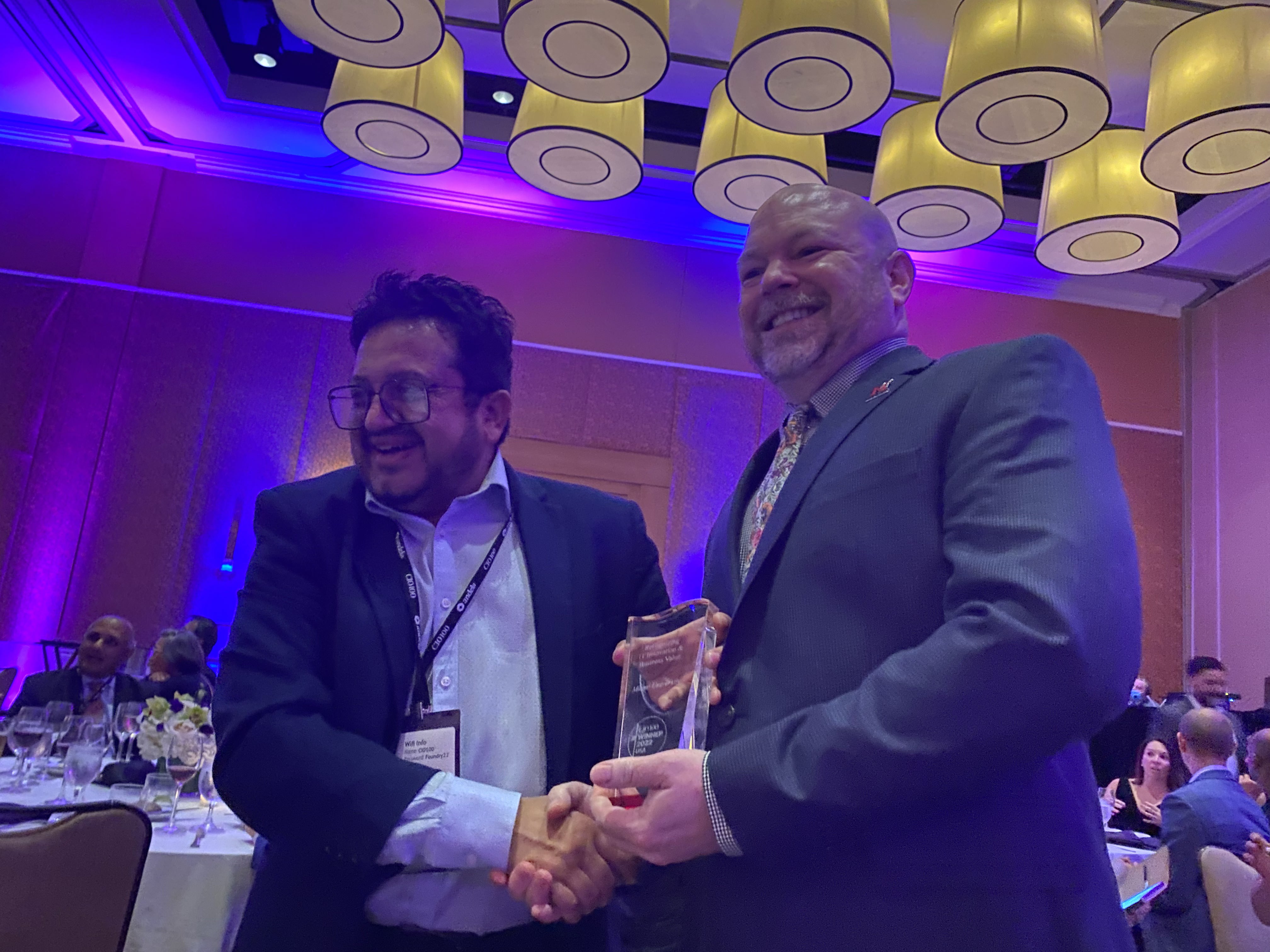 The group automated the process by which residents of Butler County were notified of COVID-19 contact, hired undergraduate and graduate students to assist with the contact tracing activities, and improved reporting processes beyond the pencil-and-paper strategy that the county had been using. The efforts, which included meeting daily for three weeks leading up to the launch of the contact tracing process, increased the efficiency of said process by more than 1,200 percent.
For their efforts, they were presented with a CIO 100 award at this year's CIO 100 Symposium & Awards conference in Rancho Palos Verdes, California.
"Being part of the sole higher-education team to win a CIO100 award this year was a great honor for us," Henebry said. "It really showcases the great work we did during the pandemic in supporting the university students, faculty, staff, and the Butler County communities. The award is recognized by leaders all across the IT Industry and really shows without a doubt that Miami has a world-class IT organization."
"I am proud of all of our hard work," Henebry continued, "and would like to give special thanks to Dr. Kendall Leser, Tony Kinne, and Doug Wallace for all of their hard work in making this possible."
The results are in…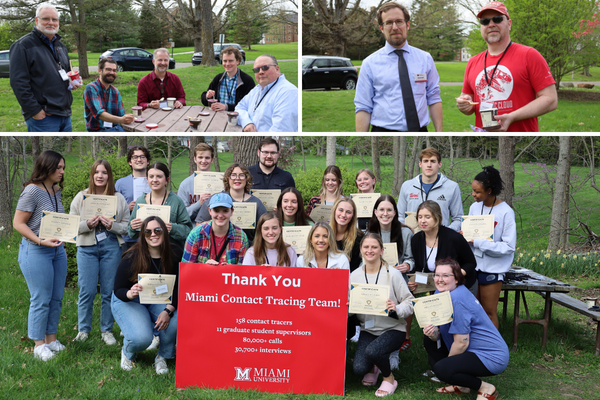 In May 2022, the final numbers came in for the contact tracing efforts for the first two years of the program, and they were a doozer! In total, the program hired and trained 158 undergraduate students as contact tracers, and 11 graduate students were hired and trained as supervisors.
One cool thing about the students who were hired: Fifteen of them (14 undergraduate and one graduate) remained with the program throughout its two-year duration. Those 15 students were recognized by the Butler County Board of Health during its May 2022 meeting.
In all, Miami placed 21,048 outgoing contact tracing phone calls to Butler County residents and entered a total of 10,326 cases into the Ohio Disease Reporting system. The team of contact tracers also processed 8,135 disease investigation interviews and 2,022 contact tracing interviews. This level of effectiveness was in part made possible by the cloud-based, remote technologies and processes put in place by the original team.
Partners through the pandemic
Technical details and numbers aside, the real hero of this story is the partnership between IT Services and academic folks from across the University.
"From my perspective, IT really helped the academic side do everything quickly and in the right way, following all the right procedures," said Dr. Kendall Leser, the director of Miami's public health program and co-director of the University contact tracing effort. "I am very grateful that these folks were there to support this project and allow us to have such an efficient program in place."
"The amazing teamwork between folks from across the University and county not only built new friendships, it also won national recognition for Miami as a peer amongst organizations like HP, Accenture, the American Red Cross, General Motors, and UPS," said David Seidl, vice president for information technology and chief information officer of Miami University. "I'm deeply proud of our IT Services folks who gave generously of their time and talent during a deeply challenging time."
For more information about the team's efforts, you can read the paper published in the Journal of Public Health Management and Practice: An Academic-Health Department Community Partnership to Expand Disease Investigation and Contact Tracing Capacity and Efficiency During the COVID-19 Pandemic.
Congratulations once again to all involved in this project!
View this post on Instagram