Leland G. Spencer, Ph.D.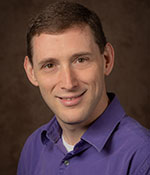 Associate Professor & Chief Departmental Advisor
Affiliate, Department of Media, Journalism and Film
Affiliate, Women's, Gender, and Sexualities Studies Program

103E Phelps Hall
513-785-3060
spencelg@MiamiOH.edu 
Scholarly Interests
Leland G. Spencer (Ph.D., University of Georgia, 2013) is assistant professor in the Interdisciplinary and Communication Studies Department and an affiliate faculty member in the Department of Media, Journalism, and Film and the Women's, Gender, and Sexuality Studies Program at Miami University in Hamilton, OH.  Leland holds a graduate certificate in Women's Studies from UGA (2011), an MA in Communication from the University of Cincinnati (2009), and a BA in Communication Studies from Mount Union College (now known as University of Mount Union, 2007). Leland's research interests are in rhetorics of religion, gender, and sexuality.  Leland co-edited (with Jamie Capuzza) the collection Transgender Communication Studies: Histories, Trends, and Trajectories (Lexington, 2015).  Leland's articles have appeared in Communication Studies, the Southern Communication Journal, Equity & Excellence in Education, and Speaker & Gavel.  Leland has presented his work at the annual conferences of the National Communication Association, the Organization for the Study of Communication, Language, and Gender, the Southern States Communication Association, and others.
Education
Ph.D., University of Georgia, 2013
M.A., University of Cincinnati, 2009
B.A., Mount Union College, 2007
Courses Taught
Interpersonal Communication
Women's, Gender, and Sexuality Studies
Political Communication
Integrative Studies Seminars
Additional communication courses
Research Interests
Rhetorical Theory & Criticism
Religious Communication
Gender & Sexuality
Feminist Theory & Criticism
Social Media
Connect with Dr. Spencer on the following social media sites:
Academia.edu: https://miamioh.academia.edu/LelandSpencer