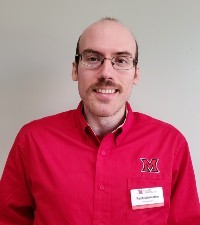 Ralph Stikeleather is our Math Specialist on the Hamilton campus. He earned a Bachelor of Science in Mathematics from Xavier University and a Master of Science in Mathematics from the University of Cincinnati. Ralph's major-level and graduate classes include a mixture of pure Mathematics, applied Mathematics and Statistics.  As a student, Ralph worked as a tutor in the Mathematics learning centers, where he developed a love of helping others and an interest in teaching as a career.
Since graduation, Ralph has taught Mathematics and Statistics at several colleges in the Midwest, including Miami University, University of Cincinnati, Northern Kentucky University, and Columbus State Community College. Ralph enjoys professional development opportunities in his areas of expertise, and he presented effective teaching strategies at MathFest 2019 in Cincinnati.
Away from school, Ralph enjoys playing and creating table-top games; volleyball, swimming, bicycling and other recreational exercise; playing handbells and harmonious singing. Ralph is interested in healthy living, eating well, and tugs along a water bottle everywhere possible. Ralph is happy that Hamilton's tap water tastes good, and that so many of his friends and family members live within a day's driving distance, including his parents, siblings, special friends and extended family.