Student earns national civic fellowship after making an IMPACT at Miami University Regionals
Jacob Gainey was named Miami Regionals' first-ever Newman Civic Fellow after finding ways to involve his fellow first-year students in their communities during the COVID-19 pandemic.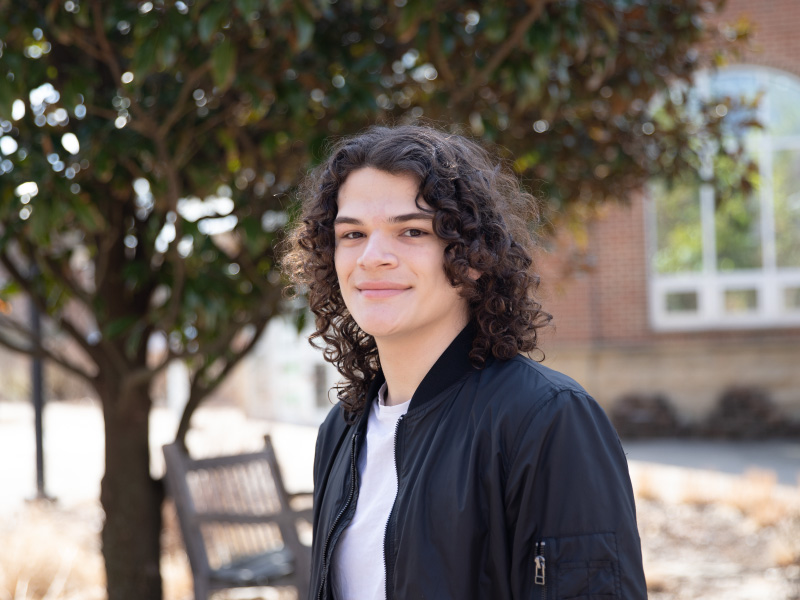 Jacob Gainey
Student earns national civic fellowship after making an IMPACT at Miami University Regionals
Jacob Gainey
Students who entered college during the COVID-19 pandemic missed out on a lot. Classes were held remotely, and opportunities to meet new friends and participate in social activities were temporarily shuttered. 
Despite the challenges, Miami University Regionals student Jacob Gainey found a way to involve his fellow first-year students in their communities.
Working with Kara Love and Collette Thompson from the Center for Social Impact, the Middletown native created IMPACT, a new organization whose purpose is to build a culture of engagement on campus and in surrounding communities by fostering individual transformation through volunteerism and leadership development. 
"I wanted students to have the opportunity to come together, get to know each other, and make lasting friendships," said Gainey, now a sophomore majoring in Psychological Science and working on his Global Readiness certificate. "I saw an opportunity to make a positive change at Miami and the surrounding community, and I took advantage of it." 
Gainey took on a hefty leadership role and, as a result, said he learns something "new and valuable every single day."
Gainey's efforts have resulted in him being named Miami Regionals' first-ever Newman Civic Fellow through Campus Compact, a national coalition of colleges and universities committed to the purposes of higher education.
The fellowship recognizes and supports community-committed students who are changemakers and public problem-solvers at Campus Compact member institutions. Fellows are nominated by their president or chancellor based on their potential for public leadership.
In his nomination letter, Miami University President Gregory Crawford praised Gainey for being "… a catalyst for building community and belonging on campus before his tenure as a student even began. During new student orientation, Jacob learned the longtime student service organization disbanded due to COVID-19. An active student leader in high school, Jacob quickly responded to this void by creating a new organization."
Gainey has been passionate about volunteering from an early age. As a foster child who was eventually adopted, he knows first-hand the importance of working with disadvantaged communities and at-risk youth.
"I started IMPACT because I know there are other students and community members like myself who love to contribute to something greater than themselves," Gainey said. "College is all about exploration and skill advancement. As part of IMPACT, students can get a grasp on what types of work they like to do or what populations they are passionate about serving."
Students in IMPACT have been organizing monthly volunteer events at local nonprofit organizations for the Miami Regionals community to get together and serve. As the team grew, so did Gainey's confidence.
"Jacob shared that he wasn't sure IMPACT would be successful or that other students would want to get involved. After the first event attracted close to 20 volunteers, his excitement grew," said Love, the group's advisor. "For Jacob, he is just as passionate about serving the community as he is about bringing the students together to do this work. It is inspiring to see."
Getting a new student organization off the ground can be a heavy lift for even the most seasoned student. Gainey praised fellow members of IMPACT, noting they worked together to build it from the ground up. 
And it's not done growing yet. 
Gainey plans to expand his local service efforts globally as a member of the first College of Liberal Arts and Applied Science (CLAAS) cohort of Miami's Global Readiness Initiative. The certificate program combines Miami coursework, co-curricular activities, and community involvement with an eye toward global readiness. Components of the program include a study abroad experience and domestic or international service learning or sustained volunteerism.
Humbled by the fellowship, Gainey sees it less as a prize and more as an opportunity to grow his leadership skills.
"In hindsight, all I did was reach out and ask a simple question to a staff member, but sometimes that's all it takes," Gainey said. "I have worked alongside an incredible team to make this possible. It's crazy to think that none of it ever would have come to be if I wouldn't have networked and talked with the right people."