New cybersecurity microcredential prepares students, professionals for two highly sought certifications
No IT experience required; courses available 100 percent online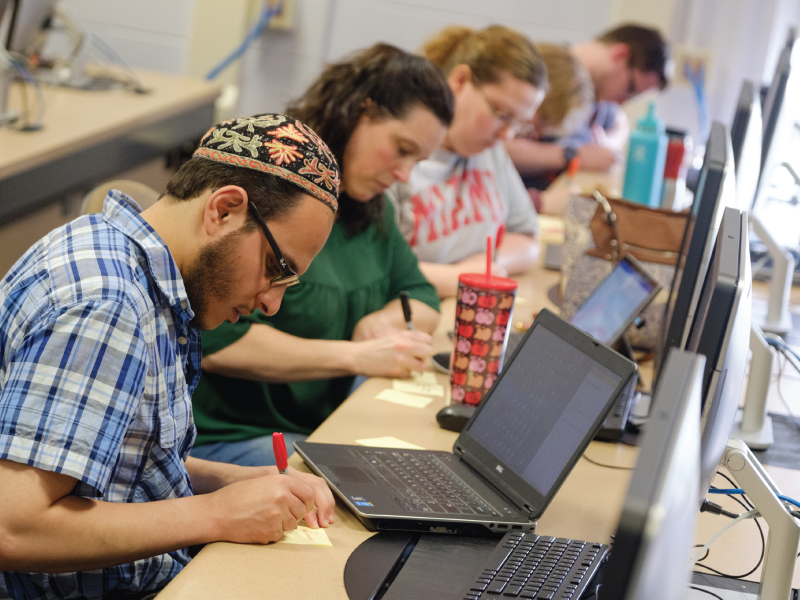 New cybersecurity microcredential prepares students, professionals for two highly sought certifications
Students and working adults can prepare for two highly sought cybersecurity certifications in as little as two semesters with a new microcredential offered by Miami University Regionals E-Campus.
Job outlook for cybersecurity professionals is excellent: the U.S. Bureau of Labor Statistics projects that the number of information security analyst positions will increase by 35 percent over the next decade. That's seven times the average growth rate for all occupations.
"Everything relies on network computers," said Anthony Rose, assistant lecturer at Miami Regionals Department of Computer and Information Technology, "and so the only secure computer is the one that's unplugged and turned off. If you have a business, you have computers, and if you have computers, then cybersecurity is important to you."
The Cybersecurity Foundations Microcredential — which can be completed 100 percent online — prepares students to obtain the CompTIA Security+ and EC-Council's Certified Ethical Hacking Certifications and gives them hands-on practice in the school's live cyber range.
These certifications will provide valuable additions to the skillset of working information technology (IT) professionals, students majoring in business or computer information technology, or anyone who wants to contribute to the protection of a company's assets, Marianne Murphy, chair of the Department of Computer and Information Technology, said.
And no experience in IT is necessary: the first course introduces students to IT tools and techniques and can be waived for certain students with IT experience.
The CompTIA Security+ Certification is a global certification that validates basic skills for core security functions and the ability to pursue an IT security career. The Certified Ethical Hacking Certification covers the latest commercial-grade hacking tools, techniques, and methodologies used by information security professionals to test the security posture of an organization.
The Cybersecurity Foundations Microcredential includes three undergraduate courses, which are available starting in the 2022-2023 school year. To learn more, visit the E-Campus Microcredential website.