Students broaden their horizons with study abroad
Nursing students learn about different cultures in the context of their chosen career path while studying abroad.
Students broaden their horizons with study abroad
Dr. Youlani helps students, while in seminars, learn assessment techniques and teaches about common ailments that affect the people of Belize.
Dr. Youlani helps students, while in seminars, learn assessment techniques and teaches about common ailments that affect the people of Belize.
For one Nursing student, it was the chance to travel abroad again for the first time since the COVID pandemic. For another, it was his first-ever flight. For both, it was the opportunity to learn about different cultures in the context of their chosen career path.
Two study abroad trips offered by Miami University's Nursing program brought juniors Kendall Robinson, a native of Carlisle, to Luxembourg and Switzerland, and Madison Township native Max Kelly, to Belize to experience healthcare in situations much different than they would find in the United States.
Creating opportunities like this in a rigorous program like Nursing isn't always easy, said Sara Arter, PhD, RN, but the payoff is worth it.
"We have a packed schedule, and the students definitely stay busy," said Arter, who leads the Caregiving in a Crisis: Humanitarian Aid Study Abroad Workshop. "The first 10 days of the course are taught at Miami's campus in Luxembourg. Then, we travel to Geneva, Switzerland for five days, where all of the learning happens through cultural immersion and field trip experiences."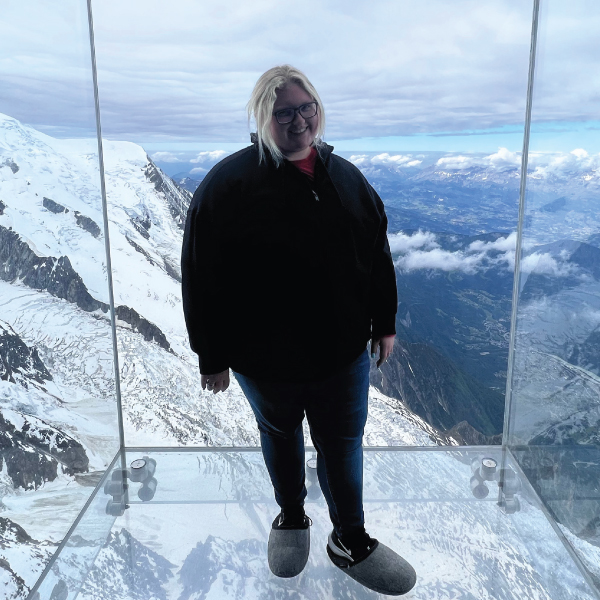 Kendall Robinson
For Robinson, who has been to the Caribbean twice and Europe previously, the mix of classroom lectures combined with the opportunity to work with people from different cultures provided the perfect study abroad combination.
"I was hoping to learn more about humanitarian aid efforts and how I can be involved as a nurse once I complete my schooling," she said. "We heard from speakers from Caritas and Doctors Without Borders while in class, which was very powerful. They were telling us about their real-life experiences and how important it is to get involved because there is a need across the globe.
"Another highlight of the trip was our visit to the International Red Cross Museum and World Health Organization, both of which are in Geneva, Switzerland. We got to read and listen to notes and stories about experiences that people faced during the Rwandan genocide and the wars in the Middle East," Robinson said. 
"For one full day, we went to Chamonix, France, and visited Mont Blanc in the Alps," Arter said. "I think this was one of the student's favorite activities this past summer. It was stunningly beautiful. We took the tram all the way to the top of a mountain where we were surrounded by snow and ice. It was so pretty!"
Students in the Healthcare Delivery in Central America: Belize, led by Debbie Beyer, RN, MSN, Associate Professor of Nursing, and Kathy Crowe, BSN, MSN, Assistant Clinical Lecturer, have two in-person class sessions and several online activities for students to complete before heading to Belize for the two-week immersion portion of the program..
"The course was created to have students experience other cultures, other types of healthcare settings, and to be out of their comfort zone in delivering healthcare while serving others and making a difference," said Beyer, who has a master's degree in Community Health. "The students participate in village triage, assessing patients who live in the village to identify and provide care for those with the highest priority medical needs." 
They also conduct assessments of the surrounding communities to better understand how environmental health issues affect overall population health within the country.
"Usually, half of the students are in Nursing and the others are either Pre-med, Pre-PA, Pre-dental, or Public Health," Beyer said. "We review and teach basic (physical) assessment skills when we arrive in the country to all students. The Nursing students feel that this is a bonus learning opportunity. The sophomore Nursing students gain experience in using their newly acquired skills, and all Nursing students get to share their knowledge and skills on a peer-to-peer level by teaching each other. The students from other majors become more comfortable with patient interactions and assessments."
The opportunity to travel and study in Belize was a dream come true for Kelly, who loves to travel but had never been on a plane before.
"I knew immediately that I wanted to go because here was my chance to go outside of the United States and do something that not everyone gets to do," Kelly said. "I got to widen and use my knowledge of Spanish, and I got to practice some of the skills that I have learned so far throughout the nursing program."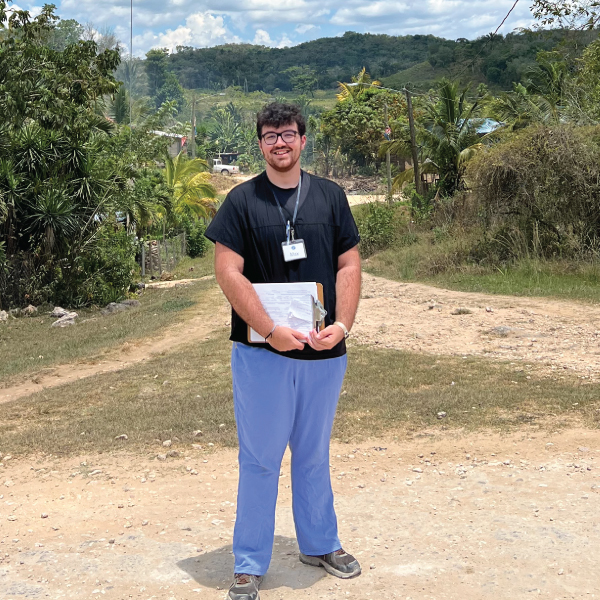 Max Kelly
Kelly, who wants to be a pediatric nurse, especially enjoyed working at one of the healthcare clinics, where he was followed by a group of children. "These kids were such a big highlight of my trip. I would sit down with them and color in coloring books we brought. I would dance with them, and I even played a game of soccer with them."
Like Robinson, Kelly enjoyed the extracurricular trips that were scheduled, which included climbing to the top of Xunantunich, an Ancient Maya archaeological site; a visit to the island of Caye Caulker; and zip lining and cave tubing.
"One of the biggest things I learned while I was in Belize is that not everyone has equal access to healthcare. People cannot always afford to keep up with their care or medications or have ways to get the medical attention they may need," Kelly said. "I will use this knowledge in my coursework and future professional practice by making sure people do have access to things they need before they leave my care. And if they don't have access, then I will try to arrange ways for them to get it or make it more accessible to them."