Expanded bachelor's degree in Community Arts and Cultures to launch fall 2023
New program gives students the opportunity to turn their passion for the arts into a profession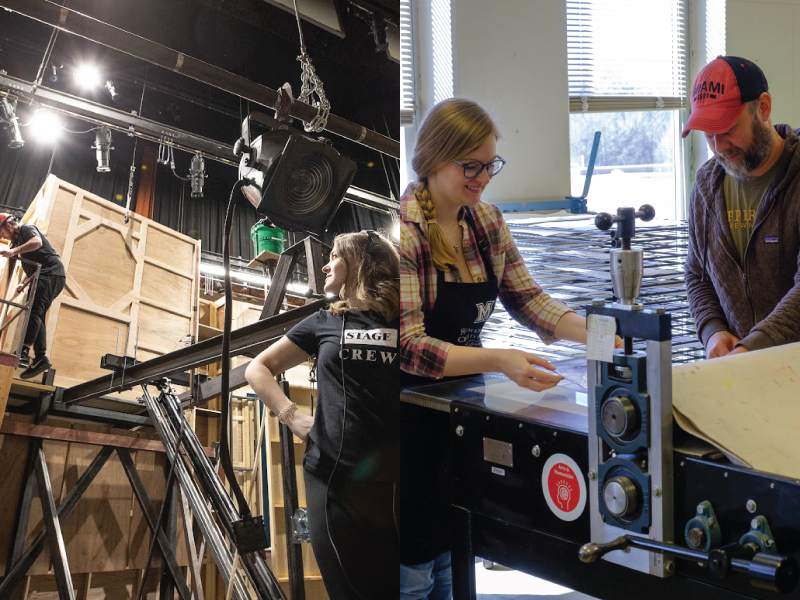 Expanded bachelor's degree in Community Arts and Cultures to launch fall 2023
This fall, Miami University Regionals will launch a newly expanded bachelor's degree program in Community Arts and Cultures. The degree builds on the current Bachelor of Arts degree in Community Arts to provide paths for both art makers and students interested in the application of art within a public setting. Graduates will be prepared for careers in arts and community organizations that are part of a thriving arts business sector in the region.
The Greater Cincinnati metro area ranks as one of the top 20 most arts-vibrant cities in the country, according to a report released by Southern Methodist University in 2022. As the arts emerge as a catalyst for social and civic engagement, demand for jobs in this growing field is increasing, said Cal Cullen ('04), a Miami alumnus and executive director of Wave Pool, a Cincinnati-based contemporary art fulfillment center.
"The mission of many art projects today is to effect change and to be relevant to people," Cullen said. "Art is no longer a passive activity. It's now an active, engaged, collective activity. Organizations from art museums to hospitals are looking to employ social practice artists who are creating projects that are collaborative and impactful. The Community Arts and Cultures program is uniquely positioned to take advantage of this growing market."
Program to include more art disciplines
Coursework in the new program will provide greater flexibility for scheduling while engaging a broader depth of faculty expertise through the critical exploration of creative arts and their cultural contexts. For example, courses in disciplines such as theater, music, film study, history, grant writing, business, and communication are included as part of the expanded program.
"This new degree allows us to meet the demand for students interested in careers with museums, nonprofits, and arts organizations, as well as those who want to pursue art creation," said Susan Spellman, chair of the Department of Humanities and Creative Arts. "The program can be completed entirely on the Regionals campuses and includes some options for online coursework."
A study conducted every five years by Americans for the Arts, the nation's leading nonprofit advancing art and art education, documents the economic impact of the arts across the country. Its most recently published study showed the arts and culture industry generated more than $166 billion in economic activity in 2015. It supported 4.6 million jobs and brought in $27.5 billion in government revenue, the study found
Ohio's arts and culture industry contributed $19.6 billion to the state's economy in 2019, representing 2.8 percent of the state's gross domestic product and more than 172,000 jobs, according to a report published in 2021 by the Americans for the Arts Action Fund.
Andrew Au, associate professor of Art, said Miami's Bachelor of Arts (BA) degree in Community Arts and Cultures will prepare students to lead the organizations that produce this important economic impact in their communities.
"There's a proven paradigm that shows communities can be revitalized through the arts," he said. "Art creates a buzz around a community that generates economic activity. We are educating the future arts leaders who will go back to their communities and help arts organizations thrive."
Miami's is one of the few BA programs in the country for Community Arts and Cultures, Au added, making its availability to area students a unique and innovative opportunity to turn their passion for the arts into a profession. 
To learn more about the Bachelor of Arts in Community Arts and Cultures, go to Miami OH.edu/Regionals/HCA.