Graduating senior overcame family ordeal with help from university community
He hopes to use his degree to help others recover from past experiences.
Graduating senior overcame family ordeal with help from university community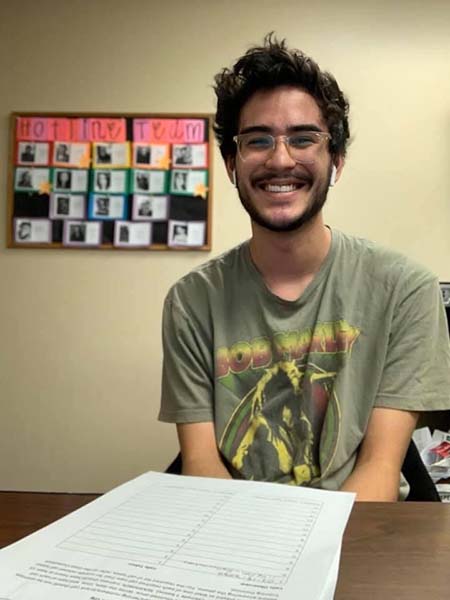 Ethan Wilson working as an intern at Sojourner Recovery Services in Hamilton.
Like many students, Ethan Wilson made decisions about his major based largely on what he had experienced in life. In his case, however, those experiences included some significant family trauma.
As Wilson prepares to graduate from
Miami University Regionals
May 13 with a Bachelor of Science in Applied Social Science, he looked back on how much things have changed for him in the seven years since he started at Miami in 2016. His road to graduation was non-traditional. He worked a full-time job and needed occasional breaks to deal with unfolding life situations.
Although he found tackling school, work, and life at the same time challenging, he now realizes he wouldn't have made it through each of those successfully without the friendships and mentors he found at Miami. They helped him navigate one of the most difficult periods he had ever faced.
It was shortly after he started his second year at Miami that his world blew up when his mother fled her home due to an abusive relationship. This plunged Wilson into a state of homelessness as he no longer felt safe at his mother's home either. He couch surfed with friends for a month before he found a more stable living situation.
School became a burden during this time. He was missing class and struggling to keep up with day-to-day needs like getting to work, much less studying. He was worried about his mom, who was in hiding and in fear for her life. He had to work to pay his bills, but school seemed like something he could do without. He almost dropped out.
Luckily, his advisor and professor Sree Subedi, professor e
merita
 of Sociology and former chair of the
Department of Social and Behavioral Sciences
, noticed something was wrong. She was supportive and emailed him when he wasn't in class. She helped him with basics such as registering for classes and provided a sympathetic ear when he needed someone to talk to. She encouraged him not to quit. It meant a lot to Wilson.
"She's the reason I didn't drop out," he said of Subedi, who retired in 2021. "She was there for me when I needed someone."
Wilson adjusted his schedule to become a part-time student so he could deal with the personal dramas he was facing. Fortunately, he had the support of other family members and friends to help him find a path to heal from the memories that haunted him. But in the midst of the chaos, he also realized he wanted to help others who faced similar situations find their own path.
He chose Applied Social Research as a major because he hopes to use his degree to work with people who struggle with challenging life circumstances, much like his own.
In the past year, Wilson has worked as an intern in a crisis communications role with a hotline at Sojourner Recovery Services in Hamilton and said he found the work challenging and rewarding. As a graduate, he said he sees himself in a possible administrative role within a social work organization.
"My mom was in an abusive marriage and it affected her whole life," he said. "I want to help others through these types of situations. I'm so thankful for the people who supported me."
Life is much smoother for Wilson today than it was several years ago. In addition to graduation, he also has a wedding to look forward to. He is getting married to his longtime girlfriend in June. His mom is doing well, too. She moved past her traumatic marriage and now lives in Hawaii, where she was born. It feels good now to reflect on how it all turned out, he said.
"Looking back, I didn't even want to go to college at first. Now, I realize, with everything I went through, college taught me how to deal with life. Everyone at Miami has been so helpful. I couldn't have done it all without them."