Mexico City native realizes American dream by earning Miami University degree
Faith, faculty, and family help Fairfield resident succeed at Miami Regionals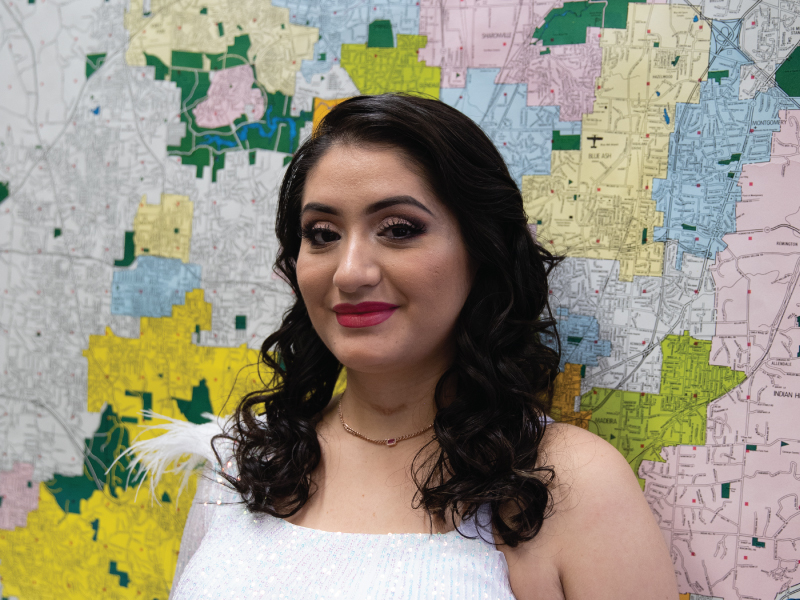 Mexico City native realizes American dream by earning Miami University degree
Fairfield resident Estefani Barrera Galan credits the three fs — faith, faculty, and family — for helping her earn a bachelor's degree in Psychological Science from Miami University.
A married mother of two, with another one on the way, Galan readily admits the work-life balance was difficult at times, staying awake long after her daughters had fallen asleep.
"It has not been easy for me to balance my schoolwork, my job, and my family commitments, but I have always tried my best to be successful even when things may be complicated," said Galan, a first-generation college student. "My education at Miami University took a lot of effort and organization, but I was able to find my strength through praying and worshiping God."
A native of Mexico City, Galan opted to attend Miami because she wanted to continue her education in Psychology after earning licensure in cosmetology and management from an area beauty academy. 
While attending Miami Hamilton, she worked as a community wraparound facilitator for the Butler County Educational Service Center, helping to connect youth and families to high-quality services and supports in the region.
"My psychology classes helped me to understand how the brain works and how behavior can be shaped," Galan said. "The autism class with Camilla McMahon has been very helpful in my journey because I was able to use what I learned about the disorder to help autistic individuals with their behaviors."
In Elliott Jardin's classes, Galan said she learned about the mental processes and the process of memory and cognitive aging.
"Because of those experiences, I was able to work at Cincinnati Children's Hospital, working one-on-one with children who had psychological and behavioral disorders," she said.
She also appreciates the valuable mentorship she received at Miami Regionals.
"Earning my degree in Psychological Science would not be possible without the mentorship of Barbara Oswald, who has helped me along the way and has empowered me to find the right career path that matches my personality."
Oswald and Jardin both saw the effort Galan put toward earning her degree.
"Estefani's tenacity, persistence, flexibility, and passion for education focused on the goal of helping people," Oswald said. "Despite many personal and academic setbacks and hardships, she never gave up hope, and never tried less than her best."
She said Galan was able to achieve stellar grades while consistently taking a full load of courses that included winter and summer courses. She accomplished it all while managing family and job responsibilities "to ensure that she graduated within a strict timeframe she imposed upon herself."
Jardin also saw Galan excel in the classroom while working, participating in Psych Club, and taking care of family obligations.  
"Estefani embodies what makes the Regional campuses so great," he said.
Galan expressed gratitude to her husband, Jose Hernandez, who supported her both financially and emotionally to achieve her goals; to her mother, Gricelda Galan, who helped with childcare; and to her father, Jose Barrera, "who brought me to the United States to have better opportunities and to become bilingual."
She also appreciated her tutor, Theresa Collins, who encouraged her to always do her best.
Galan said she is proud of all she has accomplished and for earning a degree from Miami.
"My plans are to continue my education and prepare myself to help embrace those in need," she said.