Midlife degree launches graduate on route to dream career
After years of doubts about returning to college, she now looks to a new future in conservation science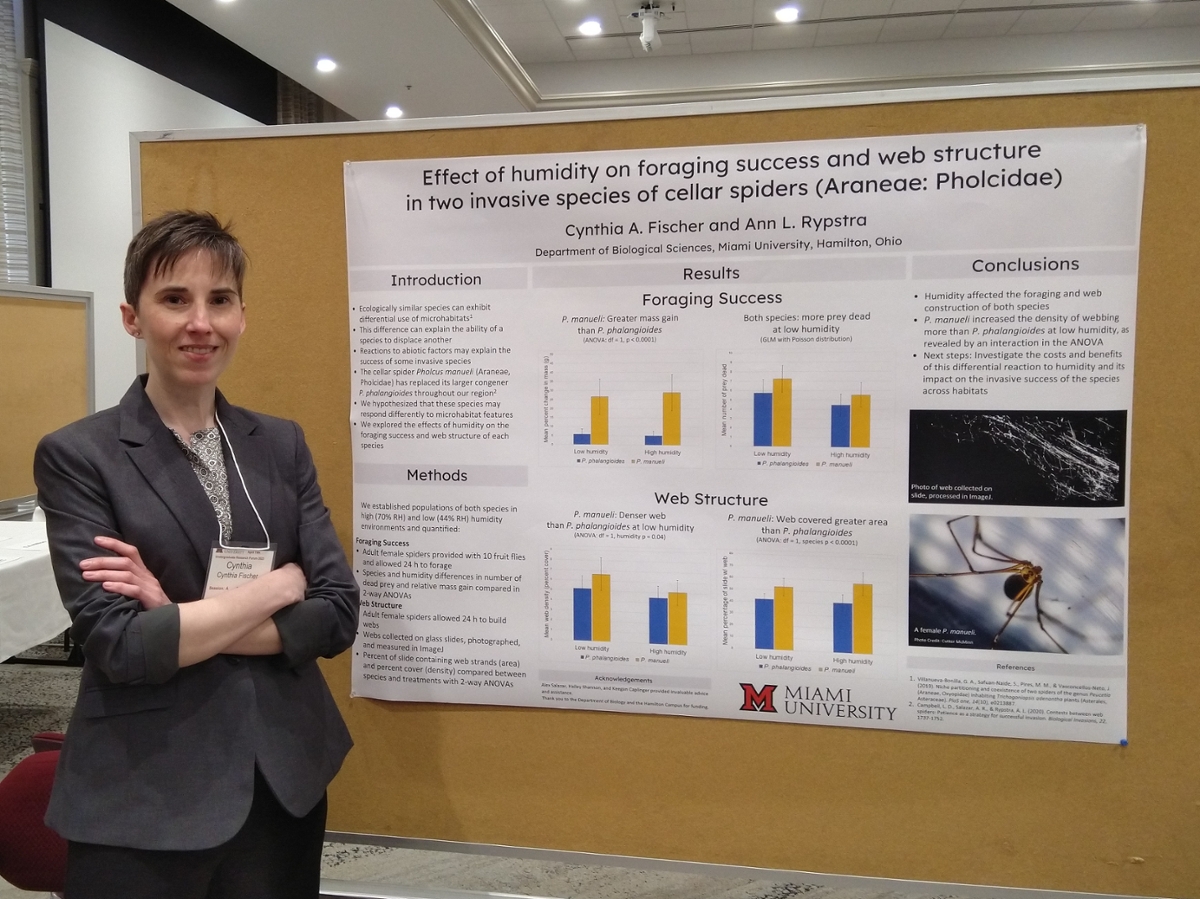 In 2023, Fischer presented a poster on the behavioral ecology of spiders at the Undergraduate Research Forum in Oxford. She also presented a talk at the 2022 Student Scholar Symposium in Hamilton on her paper, "Emily Dickinson's Liminal Space for Neurodivergence."
Midlife degree launches graduate on route to dream career
In 2023, Fischer presented a poster on the behavioral ecology of spiders at the Undergraduate Research Forum in Oxford. She also presented a talk at the 2022 Student Scholar Symposium in Hamilton on her paper, "Emily Dickinson's Liminal Space for Neurodivergence."
Cynthia Fischer's path to graduation last month started on the banks of the Ohio River more than 30 years ago.

Her Bachelor of Science in Applied Biology at Miami University Regionals is the culmination of many years of searching for the best path to her most fulfilling life. Like many journeys, there were a few missteps along the way. But she never gave up, and her perseverance was her salvation.
Today, after graduating summa cum laude with a concentration in Environmental Science and a certificate in Geographic Information Science, Fischer will finally pursue a job in environmental stewardship and conservation. It is a dream that seemed very distant just a few years ago but has been with her for most of her life.

Her story starts with a love of nature that developed during long walks along the Ohio River.

As a girl growing up in the East End of Cincinnati, Fischer's grandfather often took her for walks along the river banks. During the late 1980s and early 1990s when Fischer grew up there, it was still largely undeveloped. She learned to love searching out plants and animals that lived along the river and intensified her sense of awe for the natural world, a feeling that would stay with her for life.

After high school, she thought she knew what she wanted: a degree in physics so she could eventually study meteorology. She enrolled at a Cincinnati university and majored in physics, but it did not go well because she did not have a strong foundation in math, a necessity for physics. She eventually dropped out.

The grief and sense of failure from this setback would haunt her for many years. As the first person in her family to pursue a college education, the failure grew to outsize proportions in her mind and would prevent her from trying to return to school for nearly two decades.

She eventually went to work as a clerk in the pharmacy department at a Bigg's store. She worked her way up to becoming a pharmacy technician and felt reasonably happy in her job. After putting in six years there, the Great Recession hit, bringing layoffs. She lost her job.

She then worked her way through a string of back-office jobs at several large retailers. They paid her bills, but she knew she was capable of much more.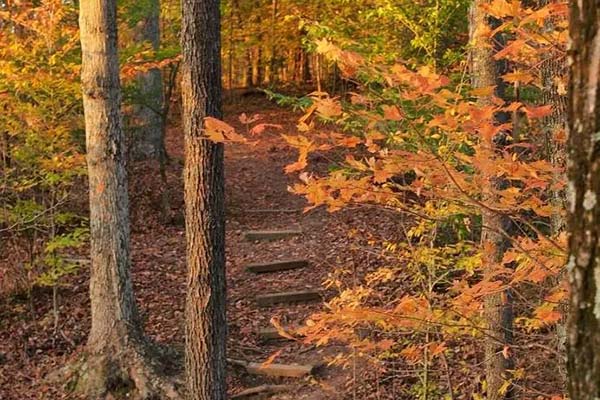 Caesar Creek State Park trail photo taken by Fischer. Three of her nature photos were selected to be published in the spring 2022 issue of Illuminati: A Journal of the Arts.
Throughout this time, she never lost her love for nature. It was her true passion, so she sought out ways to spend more time outside. Photography was one of the ways she found fulfillment. She turned her camera on the natural world, often driving long distances to spots such as Caesar Creek State Park in Waynesville for photo sessions. She also looked for ways to increase her education, without involving a college campus.

During her travels to Caesar Creek, she learned about a program through the Ohio State University Extension office to become a certified volunteer naturalist. It required 40 hours of training plus another 40 hours of volunteer field experience at a park or nature preserve. She eagerly signed up.

She completed the training and became a volunteer guide for paddling trips at Caesar Creek on weekends. She loved this part of her life. 

It got her thinking about school again.

"I was actually sad when the training ended," she said of the naturalist program. "The others in the program encouraged me to do something to pursue my passion. That started the wheels turning."

But her fear of college still loomed large.

Instead, she joined groups that fed her interests such as the Cincinnati Wildflower Preservation Society and the Spanish Club at her local public library. She knew she had an insatiable curiosity, but she found ways to feed it that did not spur any anxiety about grades or credits.

Fate was about to intervene, however.

Through her volunteer work, she happened to get a stint helping to care for the gardens at Otterbein SeniorLife Community in Lebanon, not far from where she lived at the time. It was there she happened to meet Margaret Johnson, whose granddaughter, Emily Hughes, was an admission counselor at Miami University Regionals at the time (she now works as a microcredential specialist). As they got to know each other, Johnson learned about Fischer's interests and recommended she look into Miami Regionals to complete her education and find the career she truly wanted.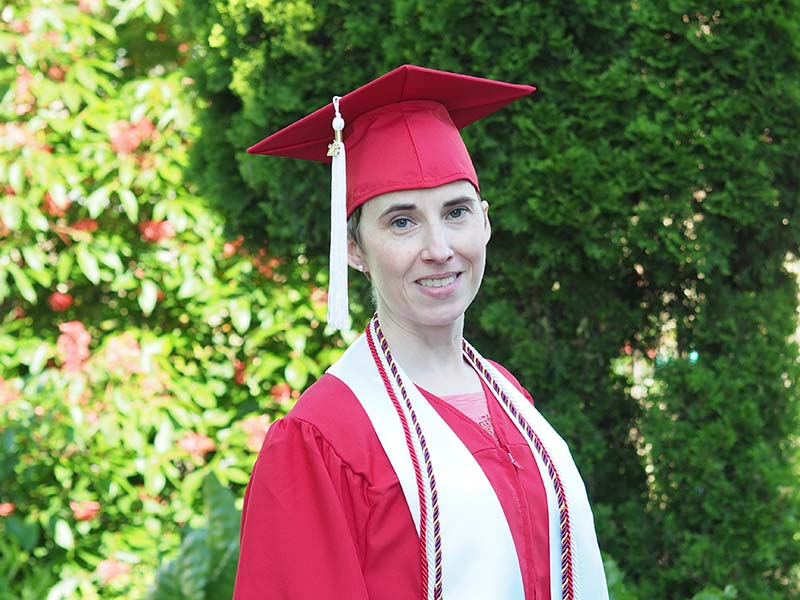 Fischer earned her degree in May 2023.
Fischer took her advice and attended a Regionals Exploration Day in October 2019. She filled out the application when she got home, feeling hopeful about the future for the first time in many years. She wanted everything to go smoothly. Little did she know there was a pandemic coming.

Fischer started at Miami Regionals in the summer of 2020, the height of COVID. Her classes were online as students and faculty adapted to social distancing. She also had to fight the fear of failure that had hovered like a dark cloud for 20 years.
"It was a huge deal for me to go back to school. I was now in college with kids who I could be the parent of. It was daunting. I had to get over the myths and the ghosts."
Luckily, this time, things went well.

Her classes were not easy. She had to take difficult courses again, such as chemistry and biology. But she utilized every resource Miami offered, such as the Tutoring and Learning Center and study groups. She also accessed TRIO, a student support program that helps with academic coaching, financial aid, and scholarships for qualified applicants. It all helped.

"I didn't feel as inadequate as I expected," she said. "I learned that we all contribute something different. It was a place I felt welcomed and like I belonged.'

 As she begins her job search in conservation science, she has a new outlook.

"I'm optimistic about my career for the first time. I have never experienced that. I've got a new confidence to approach obstacles that I didn't have before," she said. "I knew I had more that I could give. I'm glad I got the chance."