Miami Regionals offers multiple programs for area youth under 18
Camps, career exploration, leadership and development opportunities growing in popularity
Miami Regionals offers multiple programs for area youth under 18
Grace Hopper was a pioneer in military computer science in the 1940s who helped develop some of the earliest computer programs at Harvard University. Until this past summer, however, Hamilton fifth grader Elizabeth Lehnhoff had never heard of her. 
She learned about the groundbreaking female scientist during Miami University Regionals
STEAM Studio
, a summer camp program for students in the third through eighth grades that provides enrichment through hands-on activities in science, technology, engineering, art, and math, known as STEAM.
Elizabeth was part of one of the largest groups of girls ever to participate in the camps, which are held in June and July at Miami Regionals' Hamilton and Middletown campuses. This summer also featured one of the first camps to focus on women in STEAM, with a goal of inspiring more girls to pursue careers in STEAM fields.
It was a surprise to Elizabeth to learn that women such as Hopper were instrumental in creating modern-day computers, a career path she associated mostly with men.
"I saw some things I could do," she said, adding that one day she wants to pursue fashion design, a field where computer simulation could be a valuable tool. 
Her mom, Leigh Ann Lehnhoff, said she was thrilled to see the enthusiasm that Elizabeth displayed for attending the camp each day. 
"I didn't have to drag her out of bed in the mornings. She wanted to go. These are the kinds of experiences kids don't get in school anymore," she said of the projects the campers take part in. "It gives them a chance to see these subjects in another light."
STEAM Studio is one of several youth programs at Miami Regionals. Two more programs for high schoolers provide additional opportunities.
The
NEXT Leadership Program
offers ninth through 11th graders the chance to pursue leadership development through exploration of social entrepreneurship and community advocacy. In addition, an academic achievement program for high schoolers,
Upward Bound
, runs year-round for first-generation college hopefuls who want more opportunities for college preparation and personal development.
Thanks to generous donations and grant funding, these programs also provide scholarships making them accessible to youth regardless of income level. Each year, hundreds of students from the Hamilton and Middletown communities take part in one of these enrichment opportunities on the Regionals campuses.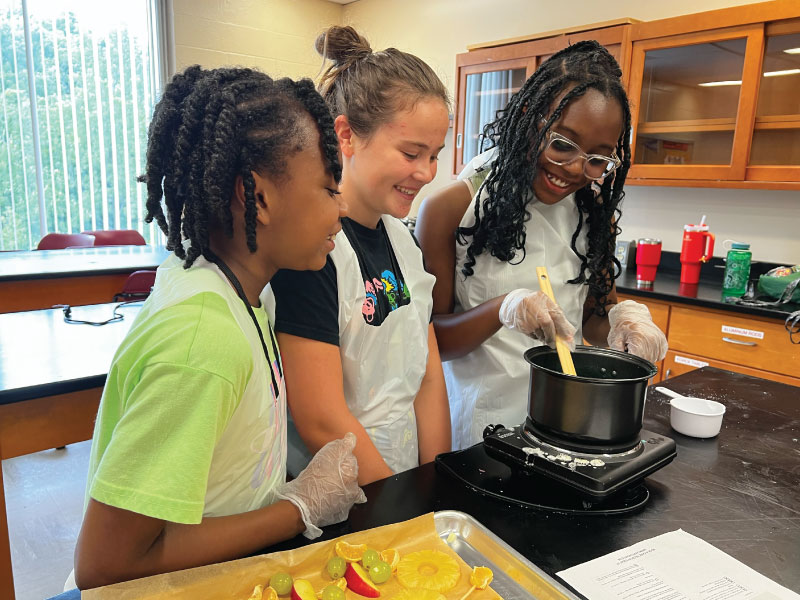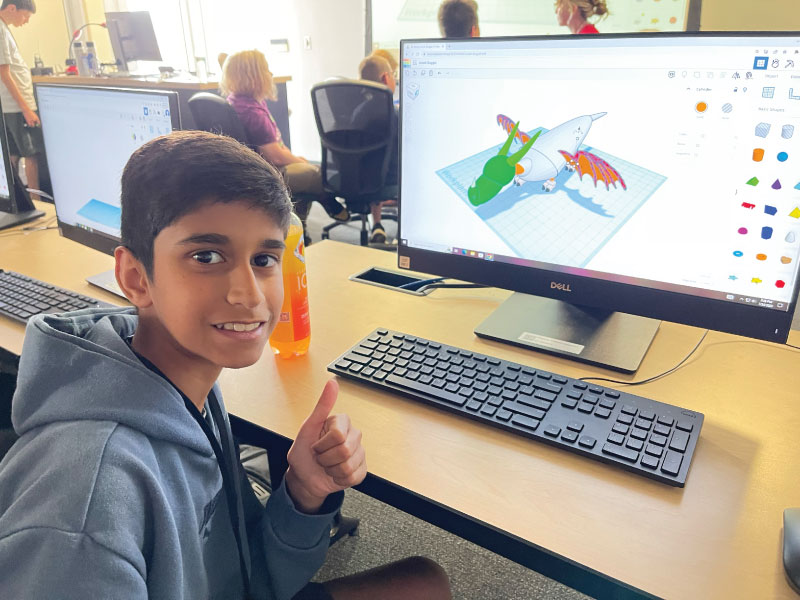 STEAM experiences open young minds
With weekly themes that include robotics, game creation, and aerodynamics, Miami's STEAM Studio gives kids a chance to use their minds and hands to create their own designs and explore the types of skills that go into careers in these dynamic fields.
The camps are taught by Miami students, so the campers work with leaders close to their own age. They utilize university classrooms and equipment to conduct experiments, share ideas, and create individual designs — giving them a feel for what campus life entails. Professors make guest visits to the camps, bringing their expertise and passion for their field and sparking young imaginations about the possibilities in STEAM research and design.
"This fills a gap," STEAM Studio Director Theresa Young said. "Schools cannot offer these kinds of hands-on activities anymore during the school day, especially in elementary school. There simply isn't enough time. Our point is to provide STEAM opportunities and introduce the kids to a campus environment so they can see what it's like."
Generating curiosity is the goal, especially for girls and minority students who have not traditionally been as likely to consider careers in STEAM professions.
The number of girls taking part in the camps has more than doubled since 2020, going from 63 in 2020 to more than 140 in 2023, something Young said she is thrilled to see. "We are very happy to see the camps drawing interest from a broad range of kids. Our Women in STEAM theme this summer emphasized how these careers are available for anyone who has an interest in them."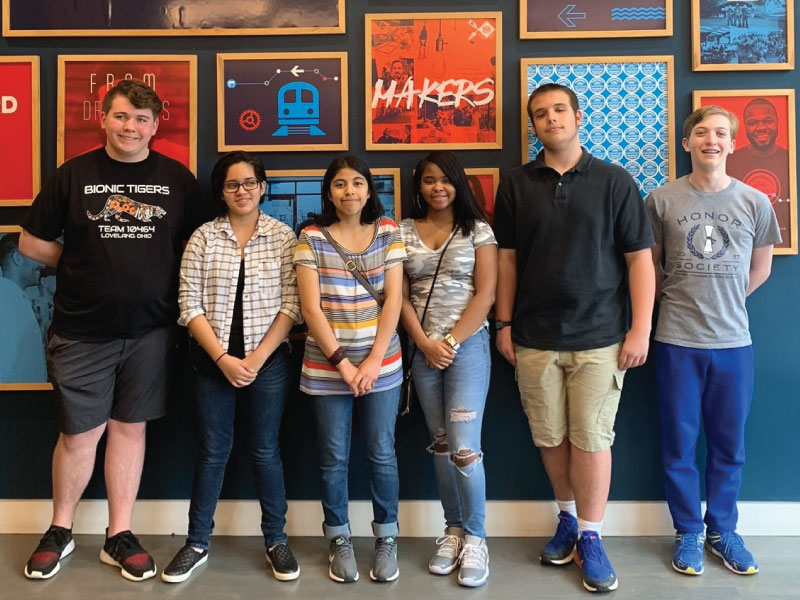 Teens explore their personal potential
High schoolers get their chance for enrichment at the Regional campuses through two unique programs: Next Leadership and Upward Bound.
The Next Leadership program partners with the Edge Teen Center in Liberty Township to give high schoolers the opportunity to learn about how they can impact their communities through social entrepreneurship and civic engagement during a program each summer.
Next Leadership Director Sonseeahray Ross, assistant professor in the Commerce Department at Miami Regionals, said there is a strong interest among young people in entrepreneurship, and many want to use this as a tool for social change as well. The Next program aims to harness this energy and help teens develop the skills to make their small business and social action dreams into reality.
"We've seen an explosion in the number of students interested in entrepreneurship compared to previous generations," she said. "The Next program fills a void at the high school level where few programs exist to explore entrepreneurship. It also teaches them how to be connected to their communities. They want to make a difference. They often don't know how to do it."
Through workshops, group projects, and interactions with community leaders, the participants learn the basics of identifying community needs and starting a business. Students participate free of charge and earn recognition that can be used in resume building.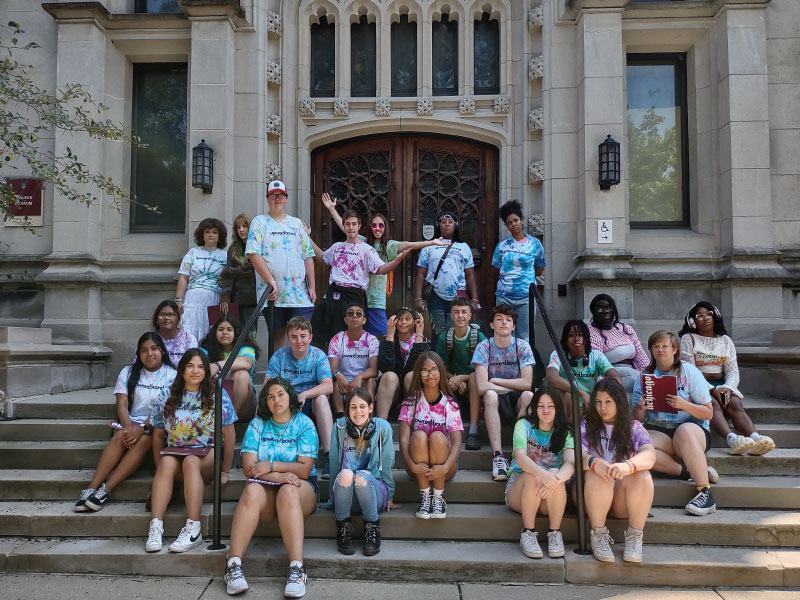 Upward Bound
Students at Hamilton High School who meet federal income criteria or are first-generation college hopefuls can participate in Miami's Upward Bound. This year-round program helps youth prepare for college through personal development and academic achievement.
Funded through a five-year, $1.5 million grant from the U.S. Department of Education, the program can enroll 60 to 70 students each year who participate free of charge. Students have access to tutoring, college level courses on the Regional campuses, field trips, workshops, college and career exploration, and the potential to earn scholarships and stipends to help pay for college. In addition, they can take part in a six-week summer camp that includes an on-campus living experience.
The goal is to increase college enrollment for traditionally underserved high school students, and the program has shown success in reaching this goal, said Ashley Hopkins, director of Upward Bound.
In 2021, 33 percent of Upward Bound graduating Hamilton High seniors enrolled in bachelor's degree programs compared to national enrollment of around 25 percent for first-generation college students. In addition, 100 percent of seniors who participated during the 2021-22 school year scored proficient or higher on state standardized tests, compared to 77 percent for all Hamilton High School seniors.
A requirement of weekly contact with students in the form of tutoring, advising, or instruction helps to keep participants connected with their goals. Those who meet all the requirements for attendance, grades, and good behavior can earn a regular stipend.
Numerous partners in the program, such as the Hamilton YMCA, Envision Partnerships, 17Strong, and First Financial Bank, provide help in the form of wellness programs, mental health awareness, and financial literacy for student participants and their families.
"Upward Bound helps young people reach their potential by accessing the resources they need to be successful," Hopkins said.
These and many other programs offered at Miami Regionals strengthen our local communities and empower young minds. To learn more about these programs or if you are interested in volunteering or donating, email RegionalsASPIRE@MiamiOH.edu or call 513-895-8865.