Hope Lives Here: Confronting the Addiction Crisis in Butler County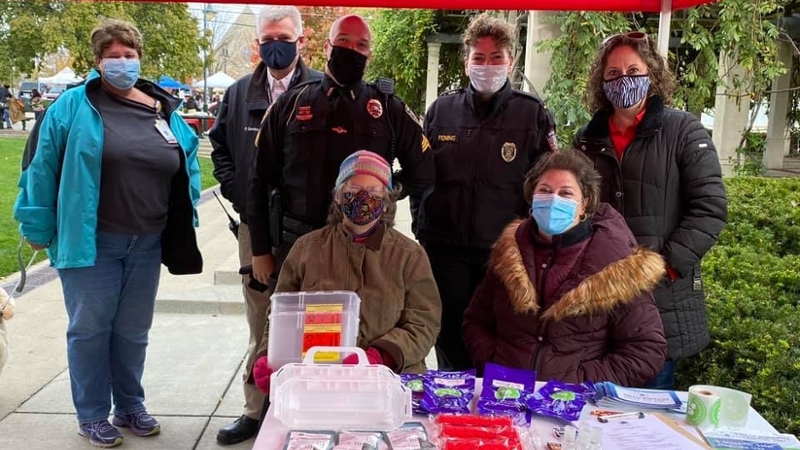 Feb 02, 2022
The state of Ohio has been on the forefront of the addiction crisis since the opiate epidemic came to light in the early 2000s. In 2007, unintentional drug poisoning became the leading cause of injury death in the state, surpassing motor vehicle crashes for the first time on record. This trend continues with Butler County ranked third in the state for the number of unintentional drug overdose deaths by county for the period 2013-2018.
Recognizing the needs nationally for prevention, treatment, and recovery services, the Health Resources and Service Administration awarded implementation grants to strengthen and expand services in rural areas. The Butler County Mental Health, Addiction, and Recovery Services board accepted a $1 million grant for services in the Oxford area and established a consortium named the Oxford Area Addiction Response Initiative. Members include:
Butler County Mental Health and Addiction Recovery Services Board
Miami University, office of student wellness
TriHealth McCullough-Hyde Memorial Hospital
Talawanda school district
Coalition for a Healthy Community - Oxford area
Epiphany Community Services
The consortium implements prevention, treatment, and recovery initiatives, addressing the needs of the education, healthcare, treatment, and first responder sectors while also building collaboration and relationships. The Regional Harm Reduction Collaborative and Butler County General Health District provide additional advisory and input.
Now in year two of grant implementation, the consortium has developed several programs and campaigns.
Oxford Hope campaign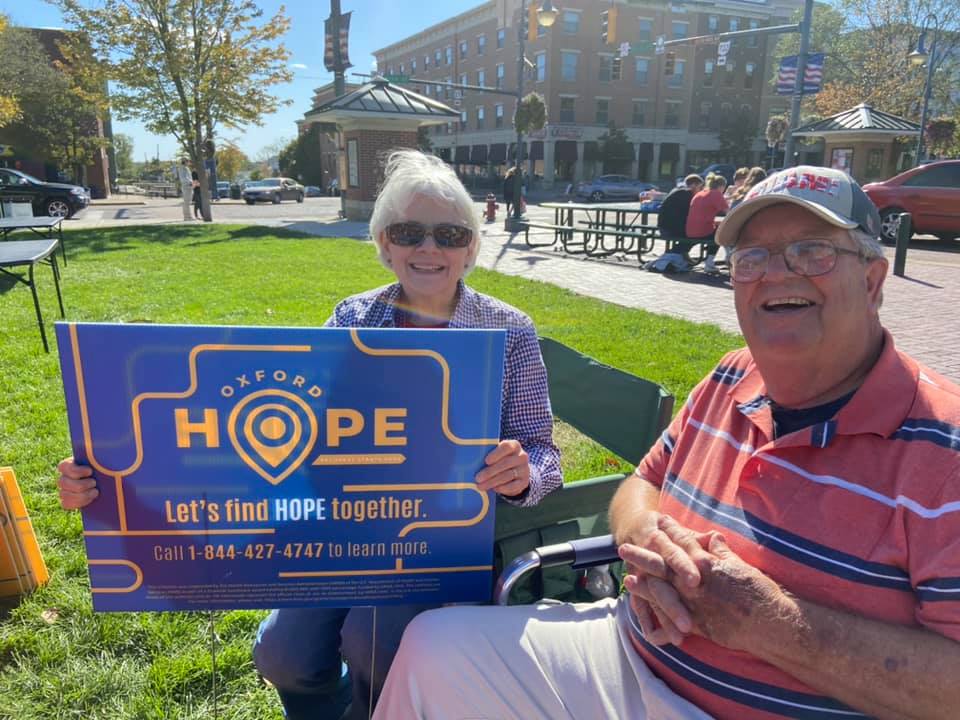 Volunteers Pat and Dan Haizman share Oxford hope messages."Find us where a community comes together. Where we help our neighbors and friends when they need it the most. Where we shine a light on addiction without shame and build a road to recovery. United, Oxford chooses hope."
The Oxford Hope campaign aims to inspire hope for addiction recovery and decrease the stigma associated with addiction. Campaign information can be found at OxfordHope.com, and messages are promoted throughout Oxford on yard signs, flyers/stickers, uptown banners, and Kroger carts. Many community partners have engaged with this campaign, including Kroger, Kofenya, LaRosas, the city of Oxford, and DuBois Book Store.
McCullough-Hyde peer support
TriHealth's McCullough-Hyde Memorial Hospital used grant funding to improve substance use and opioid use disorder referral information for hospitalized patients and their families. The hospital now has a dedicated peer support staff from DeCoach Rehabilitation Centre onsite three days a week. Staff is available through telehealth while off-site starting this month. The peer support staff has lived experience with substance misuse. They follow up with the client for up to one year to ensure care is known and support is available.
Miami University initiatives
Generation Rx University
To reach Miami students on a peer level, the grant supplemented the promotion of Generation Rx University. This national program, created by college students, aims to prevent prescription drug misuse on college campuses. The HAWKS peer health educators share information about the project in their health-related presentations to student groups, residence halls, and academic classes.
Screening, brief intervention, and referral to treatment
Miami University student health services, through TriHealth, implements a screening, brief intervention, and referral to treatment program annually to all students who visit the clinic as part of their routine checkups. The program allows clinicians to quickly assess if a student needs additional support to reduce substance use.
Medication lock bags
Grant funds were used to acquire medication lock bags for campus distribution. These bags allow for the secure storage and monitoring of medications. Medication lock bags are available for students, faculty, and staff.
Community resources
A harm reduction vehicle posted on College Corner PikeThe City of Oxford is offering new community resources in partnership with the Regional Harm Reduction Collaborative. Each month, an onsite harm reduction specialist offers free and anonymous services including:
NARCANⓇ distribution.
Rapid HIV/HEP-C testing.
Fentanyl testing strips.
Medical referrals.
Overdose prevention/harm reduction education.
Safer sex supplies.
These services will be offered weekly beginning next month.
Safe medication disposal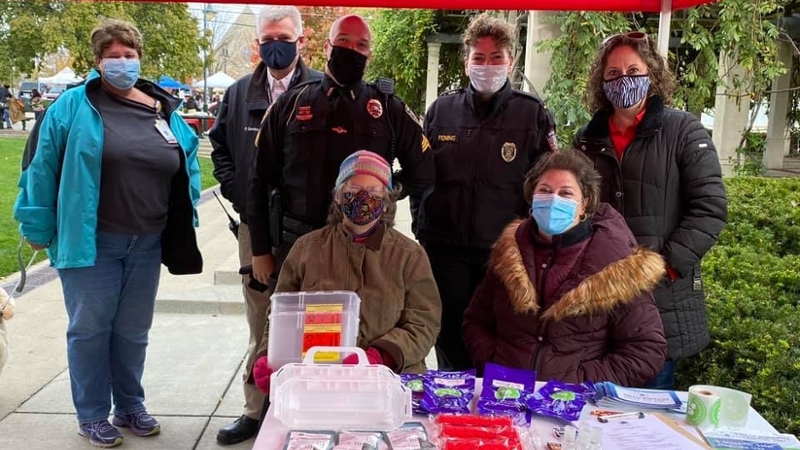 Oxford Police hosting a drug take back event.Safe medication disposal allows for safe, environmentally-appropriate disposal of unused, expired, or unwanted prescriptions or over-the-counter- drugs. The goals of the grant helped to expand existing medication take back days in the community and on campus. The year-round safe medication drop boxes located at the Oxford Township building, Miami University Police Department and Oxford Police Department were also improved. In the past 8 years, these collection points have properly disposed of over 3,000 pounds of medication.
Training
The grant sponsored free training to local mental health providers in January on how to optimize coding and billing for their services. Training included diagnosis and procedure coding as well as billing to Medicaid, Medicare, and private insurance. The grant funded the purchase of up-to-date ICD-9 and ICD-10 coding books for each provider in attendance.
Looking Ahead
Although the pandemic has changed the timeline of some grant activities, future programming and activity planning is well underway. Activities include Naloxone training, more drug take-back days, transportation assistance to/from substance use care, and support for the development of recovery communities in our area.
Need someone to talk to? Butler County Mobile Crisis Team is a 24-hour hotline. Call 1-844-427-4747. Students can also reach out to Miami's student counseling service.
This initiative was supported by the Health Resources and Services Administration (HRSA) of the U.S. Department of Health and Human Services (HHS) as part of an award totaling $1 million with 100% financed with non-governmental sources. The contents of this article are those of the author(s) and do not necessarily represent the official views of, nor an endorsement, by HRSA, HHS, or the U.S. Government. For more information, please visit HRSA.gov.