Student Employee Recognition Week Kicks Off April 24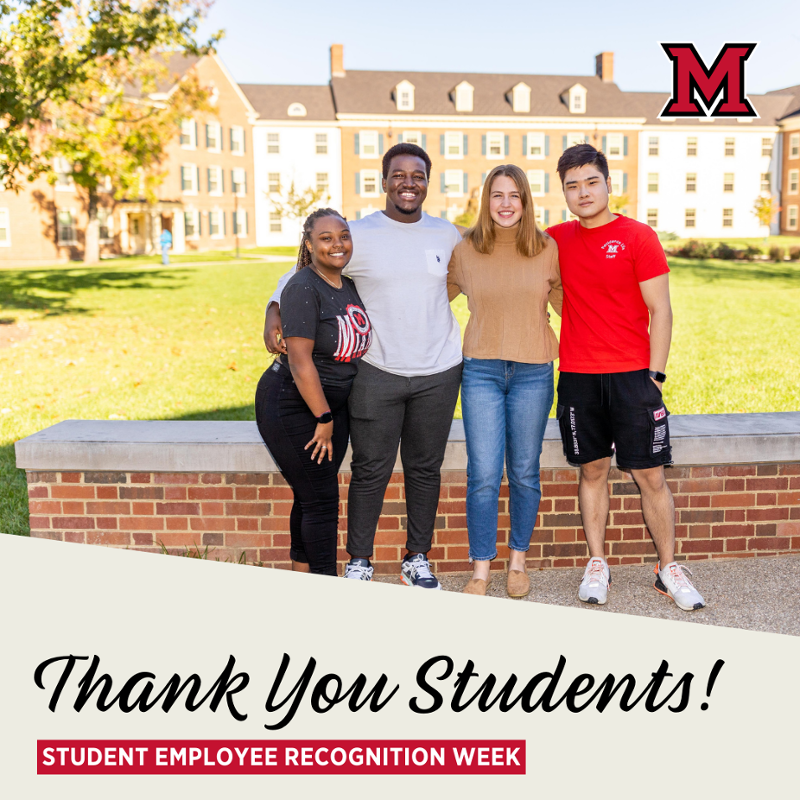 Apr 07, 2023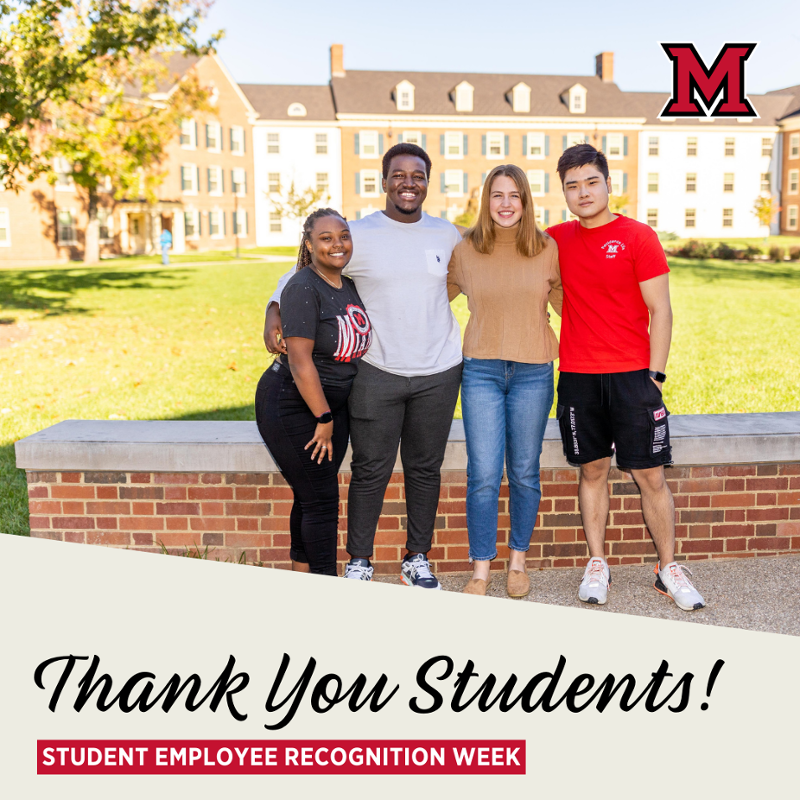 Miami University is set to honor its student employees through its first Student Employee Recognition Week. The campus-wide celebration will recognize the invaluable contributions made by the university's 3,400 student employees.
The week is scheduled from April 24-28, 2023. There will be opportunities for supervisors to express appreciation for student employees and to showcase their talents and accomplishments during this specified time.
Miami previously recognized student employees through a nomination and award process with a formal ceremony. This year's events promise to be an engaging, week-long series of  activities aimed at recognizing and thanking all student employees.
"Student employees make a huge impact on campus. We count on them in so many ways. Our offices and university could not function without them," said Jayne Brownell, vice president for student life. "We want to express our gratitude in a meaningful and celebratory way." 
In preparation for the event, supervisors across the campus have received details about the upcoming week's events to share with their student employees, as well as a toolkit to help them plan recognition for their direct reports. Opportunities include customized emails, social media posts, and activities throughout the week. 
On April 26, the Career Center will host an event from 11-11:45 a.m. in Armstrong 1086 for students on how to maximize their student employment on their resume. Giveaways and refreshments will be provided.
The highlight of the week is expected to be on Thursday, April 27, when the university will hold the S'mores and Sweets: Celebrating Student Employees event on East Court of the Armstrong Student Center from 11 a.m. to 2 p.m. The East Court is located just outside the south entrance to the Atrium. The event will feature giveaways, boba tea, dessert, music, and s'mores in the outdoor fireplace. The first 100 student employees to attend will receive a free t-shirt. Students will also have the opportunity to write a note of appreciation for their supervisor.
The Middletown and Hamilton campuses will also be thanking student employees, with giveaways, iced coffee, dessert, and music on Tuesday (Hamilton) and Wednesday (Middletown) during the Spring Fling events from 11 a.m.-2 p.m. 
The week's events will round off on Friday, April 28, as supervisors are encouraged to express their appreciation for student employees with an activity from the supervisor toolkit.
Supervisors can find more information on the Student Employee Recognition Week website.