On February 1st, we honor townships, Ohio's first form of government! Thank you to all township officials for all that you do each and every day. The CPMRA and Miami University are proud to serve you as you serve Ohio.
The Center for Public Management and Regional Affairs engages in applied public policy and management research, technical assistance services, and training and education in the areas of public management and capacity building, local government economic development, planning, and public program evaluation and policy research. The Center's primary efforts are student-centered research and assistance projects with small/non-metropolitan cities, villages, townships, and counties in Ohio. Center projects are initiated upon request from local governments or by Center staff. The Center is housed in the Department of Political Science at Miami University
February 2016 - News and Highlights
Ohio Public Leader Fellows
Congratulations to the following Miami students who have been awarded 2016 Ohio Public Leader Fellowships: Brian Beaudry, Riley Cook, Libby Edwards, Addie Fries, Colin Greig, Kyle Mortimer, Natalie Roberts, Kevin Schrock, Olivia Vandervoort, and Kelsi White. The OPL Fellows will be placed with mentors across the state of Ohio during the 2016 Winter term. View more details on the Ohio Public Leaders web page.
OTA Winter Conference
The Ohio Township Association hosted its annual winter conference in Columbus to further the education of township officials and to provide a forum in which they may exchange ideas. The Center was an active participant with our information booth and offering several educational sessions during the conference. The 2016 conference was held Jan. 27-30.
Judge Nick Selvaggio '88
Congratulations to the Champaign County Court of Common Pleas who received this year's Ohio State Bar Association (OSBA) Judicial Administration and Legal Reform Committee Innovative Court Practices Award. Judge Nick Selvaggio '88 accepted the award on behalf of the Champaign County Court of Common Pleas. View the full news article on the Urbana Citizen website.
LeanOhio Boot Camp
LeanOhio Boot Camp: Transforming the Public Sector is an intensive five-day program that is designed to equip local government organizations with the skills and knowledge needed to make their processes simpler, faster, better and less costly. Miami University now offers the LeanOhio Boot Camp and has scholarships available. Information about the next boot camp will be posted when available. Learn more on the LeanOhio Boot Camp website.
Visiting Fellow in Public Leadership
Rick Platt '89, Visiting Fellow in Public Leadership announced. Rick was on campus October 26-28.
Ohio Township Sourcebook
Have you purchased the Ohio Township Sourcebook series? Contact the Ohio Township Association for ordering and payment information.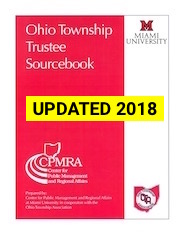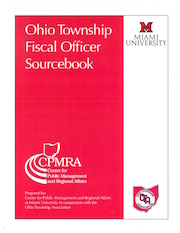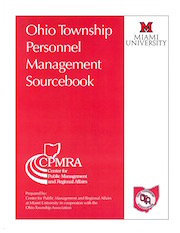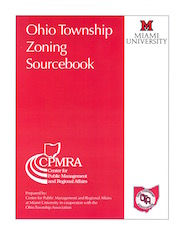 CPMRA | 2 Harrison Hall | Miami University | Oxford, OH 45056
513-529-6959 | 
CPMRA@MiamiOH.edu

Last Updated: February 7, 2016
cpmra.miamioh.edu