Acting Coordinator, Institute for Food
Ilaria Tabusso Marcyan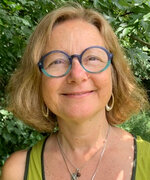 Ilaria Tabusso Marcyan (University of California, San Diego) is acting-coordinator of the Institute for Food. She is a Visiting Assistant Professor of Italian language, literature and culture in the Department of French, Italian, Classics Studies. Her research investigates how a comparative approach on Italian culture can help reframe contemporary environmental, ecological, social and ethical issues related to landscape, and contemporary farming and food cultures. She uses an interdisciplinary approach to examine the relationship between lost rural practices, produces, and the emergence of renewed farming and food cultures.
Her article "Slow Food and Terra Madre: A conversation with Carlo Petrini on Ecology, Rural Traditions, and New Food Cultures", is available in the volume Italy and the Environmental Humanities  (University of Virginia Press, 2018, edited by Serenella Iovino, Enrico Cesaretti and Elena Past); and her article "The Cervi Family: A Peasant Story", appears in the volume Ecocritical Approaches to Italian Culture and Literature (Lexington Books in 2016, edited by Pasquale Verdicchio).
Institute Staff
Charles Griffin
Director of Farm Production & Operations
Charles Griffin is a seasoned organic farmer. Over his 20-year career, he has built, managed, and inspected organic farms, consulted for sustainable farm projects and community initiatives, and educated students and staff on the practice and business of sustainable farming.
Stephanie Beckner
Farm & Education Assistant
Scott O'Malley
Farm Production Assistant
Affiliated Faculty
Albarrán, Elena
Associate Professor of History/Global and Intercultural Studies
Elena Albarrán developed and coordinated a team-taught history course called Food in World History, which explored the way that the study of food helps us to understand gender relations, state policies, global trade networks, socioeconomic inequality, power dynamics, climate change, and the politics of identity.
Bauer, Jonathan
Assistant Professor of Biology
Jonathan Bauer is a plant biologist who teaches courses in food systems and ecology. His research is focused on plant ecology, with particular interest in plant interactions with bacteria and fungi and application to ecological restoration and sustainable agriculture.
Bielo, James S.
Assistant Professor of Anthropology
James Bielo is a cultural anthropologist who teaches a course on local food systems and community development. He is in the process of proposing an undergraduate ethnographic field school that works collaboratively with a Cincinnati Eco-Village, which practices several forms of sustainable food production and exchange.
Blair, Annie-Laurie
Senior Clinical Professor of Journalism
Annie-Laurie Blair is an environmental journalist who teaches 3 communication courses at Miami that include modules on food systems, food policy and regulation, sustainability, and healthy food choices: IES 429/529 - Environmental Communication, JRN 318 - Advanced Storytelling through Food, and JRN 350 - Environmental Journalism.
Cameron, Susan
Instructor of Nutrition in Kinesiology and Health
Susan Cameron encourages her students to visit the Institute for Food as part of her nutrition class. She teaches Fundamentals of Nutrition, where she emphasizes the impact of herbs and food perennials on our diet.
Cameron, Tim
Professor and Chair of Mechanical and Manufacturing Engineering
Tim Cameron creates senior design projects based around helping the Miami University Farm.
Conger, Michael
Assistant Professor of Management & Entrepreneurship
Michael Conger's research and teaching focus on how entrepreneurial action can contribute to solving social and environmental problems and the ways in which social enterprises are changing the role of business and organizations in society.
Davis, Amelie
Assistant Professor of Geography and Institute for the Environment and Sustainability
Amelie Davis' work focuses on human-environment interactions. She is particularly interested in modeling the effects of land use and land cover change on honey production and wild bee abundance and richness.
Daugherty, Jacqueline
Lecturer in Individualized Studies Program
Jacqueline Daugherty teaches WST 341, a service learning course working with the Miami University Farm. Student groups in this course are working on several service projects that support the Miami University Farm's business plan goals, including making a book of recipes using the farm's produce.
Fuehrer, Ann
Associate Professor of Global and Intercultural Studies
Ann Fuehrer is a community psychologist who consults and researches with organizations in the community that promote food security. She teaches undergraduate courses on the connections between identity and food as well as on engagement with local food systems to promote well-being.
Gordon, Stephen
Administrator of McGuffey House and Museum
Stephen Gordon focuses on agricultural history, with an emphasis on the 19th century in southwest Ohio. He researches the Miami University Farm's previous owners and workers, such as Aaron Austin, David Magie, and Felix Fryman.
Klumbyte, Neringa
Associate Professor of Anthropology and Havighurst Center for Russian and post-Soviet Studies
Neringa Klumbyte's research focuses on political and economic anthropology, including food, consumption and writing. Her food-consumption publications include "Europe and Its Fragments: Europeanization, Nationalism, and the Geopolitics of Provinciality in Lithuania" (Slavic Review 2011). She teaches ATH405/505 - Food, Taste and Desire, a course that includes research of organic consumption and food consumption among the elderly in Oxford.
Mannur, Anita
Associate Professor of English
Anita Mannur researches and teaches in the areas of food studies, environmental humanities, Asian American literature, and South Asian American studies. She is the author of Culinary Fictions: Food in South Asian Diasporic Culture (Temple University Press 2010) and co-editor of Eating Asian America: A Reader (New York University Press 2013) as well as author of numerous essays in the the field of food studies.
McCarty, Jessica
Assistant Professor of Geography
Jessica McCarty's work focuses on applying geospatial technology, including remote sensing, GIS, data mining, and spatial statistics, to agriculture and food security including climate-smart agriculture, prescribed burning in croplands and pastoral landscapes, land-use/land-cover change, air quality, greenhouse gas emissions, black carbon and short-lived climate pollutants, climate adaptation and mitigation, and crop index insurance. Dr. McCarty's current research is across all scales, with projects in sub-Saharan Africa, Eurasia, Europe, North America, South America, Oceania, South Asia, Southeast Asia, and the Arctic. She works at field-level (smallholder, family farms, urban farming) to country and regional scales (U.S., Andes, Himalayas, sub-Saharan Africa).
Miller, Beth
Assistant Professor of Nutrition in Kinesiology and Health
Beth Miller is a member of the Food Action Team of Cincinnati, with special emphasis on working with youth on community gardens. She teaches a Global and Community Nutrition course that emphasize community-based work.
Palmeri, Jason
Associate Professor of English
Jason Palmeri teaches experiential courses on food writing and the rhetoric of "slow food" both in Florence, Italy and in southwest Ohio. As a scholar whose work focuses on digital rhetoric and writing pedagogy, Palmeri is especially interested in exploring how food rhetorics are evolving in online spaces as well as how food writing pedagogy can offer a way of engaging students in understanding rhetorical practices as a complex, evolving assemblages of human and nonhuman agents.
Parkinson, Nancy
Clinical Faculty in Nutrition in Kinesiology and Health
Nancy Parkinson develops nutritional education programming with all ages in the local and surrounding communities. She works with the Oxford Community Choice Pantry, where demonstrations, family cooking workshops, and nutritional counseling take place.
Prádanos, Luis I.
Assistant Professor of Spanish
Luis I. Prádanos-Garcia focuses on environmental humanities and the relations between ecology and culture. He studies counter-hegemonic cultural responses and socio-ecological movements that are essential to achieve environmental justice and sustainability. Prádanos teaches courses on slow food, ecological economics and degrowth, ecocriticism, socio-ecological movements, and post-carbon cultures.
Rech, Jason
Professor of Geology and Environmental Earth Science
Jason Rech researches soil geochemistry and teaches GLG435/535 (Soils and Paleosols).
Stevens, Charlie
Senior Lecturer of Global and Intercultural Studies
Charlie Stevens teaches courses in international studies on sustainable food security. In those classes, the students compose realistic policy constructs based on geographic, climate, and economic restraints (among others). He researches cultural anthropology in the Pacific Islands, food independence, and local agricultural sustainability.