Where Are They Now? | Alumni Spotlight: Judi Ketteler '98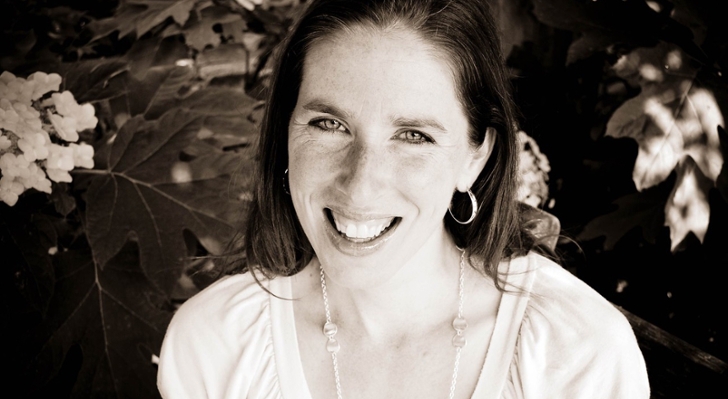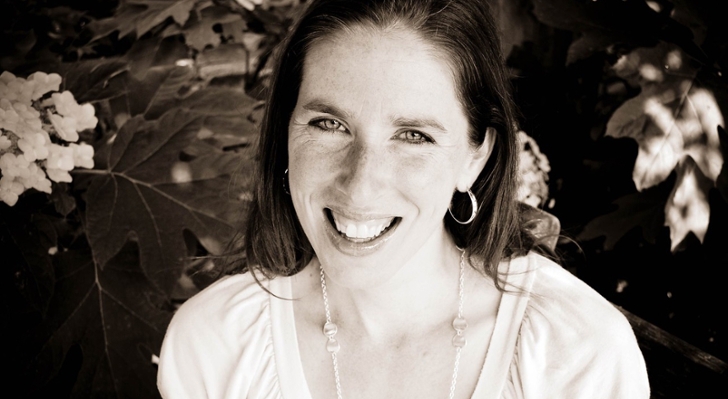 Judi Ketteler
Oct 09, 2018
Freelance Writer in Cincinnati, OH

MA in Literature '98
Miami graduate alumna Judi Ketteler '98 visited campus on October 2nd to share her career wisdom. She has worked as a freelance writer since 2002, writing essays, articles, speeches, and content copy.
Professional Writing major Elizabeth Fulco sat down with Ketteler during her visit to discuss her college experience, life/work balance, and what it is like to find your stride in the workforce, even if that means taking an unconventional route.

The Journey
When did you first become inspired by storytelling?
When I was a child, I always loved to read, but I enjoyed reading with the intent of writing my own stories. I remember laying on the living room floor and writing stories about whatever captivated me, whether that was gymnastics or butterflies. Writing was always intuitive for me.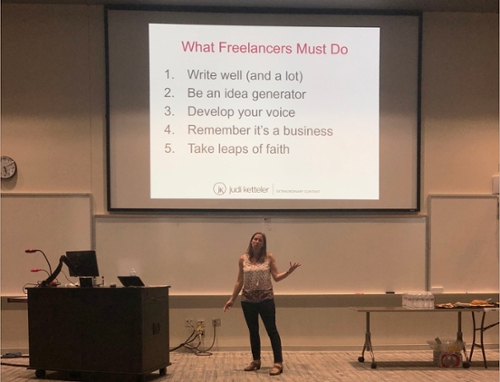 How did you became a freelance writer?
I had a few full time positions before turning to freelancing. One job was at a publishing company in sales; I didn't really like it, but I hoped it would lead to editorial work. I was only there six months before getting a job as a proofreader at a package design firm. At the firm, I discovered the technique of copywriting, an entirely different kind of writing. That was also where I learned that it is possible to make a living with my skillset. I worked at the agency for a few years before being laid off. Then I got another marketing job and was laid off again, due to the economic recession in 2001. At that point, I decided to freelance, with the goal of finding more copywriting work, but also writing for magazines. The next challenge was learning how to pitch ideas to magazines.
What was the process of transitioning from a traditional 9-5 job to a more flexible position?
To be honest, I was really excited because a freelance position meant I could sleep in later! I was in control of my own time, which was important to me, and still important to me to this day. The most challenging thing was finding work.

Miami Experience
Why did you choose Miami for your graduate degree?
Quite frankly, because they gave me the most financial support. I went to Northern Kentucky University for undergrad and then applied to six or seven places for grad school. I knew I didn't want to go to school far away, so when Miami offered me a terrific teaching assistantship, I knew it was a good fit.
What about your Miami education shaped you into the person you are today?
Graduate school was where I really started to understand "voice" as a writer. I loved reading and discussing literary theory and sharing ideas, but what I really wanted to do was use that to understand life and people, and how we could make the world better. I was always interested in the practical application. I remember taking that approach when writing papers, and I always received support from my professors at Miami. It was the first time that I started to develop a point of view. In undergrad, I was constantly working and trying to balance being a full time student, but in grad school, all I had to do was go to school and teach. It was really the luxury of time that allowed me to develop, and even though the writing I do right now is very different, learning the skills while earning my graduate degree was a very rich experience.
How did your writing develop over the course of your academic career?
I certainly became a better writer, though sometimes I look back at what I wrote in grad school and feel so removed from that style of writing. I'm a very different kind of writer today; my work is more digestible and designed for consumers, and less about combining complex theories and constructing long sentences. But I really learned how to write, and write better, during my time at Miami, which has certainly contributed to my work today.

Writing for a Living
What do you like most about your job?
I like that freelancing is on my own terms. As cliché as it sounds, I like that I am in control of my own destiny; I don't like the idea of working for someone else. As a freelance writer I am my own boss. I can decide what work I want to do, how much I want to charge, when I want to take time off, etc., which is why I continue to do it, despite the ups and downs.
How do you find work/life balance in a freelance position?
This is very challenging because I'm kind of always working. I have two kids, ages 10 and 8, and my husband has been a stay-at-home dad for a long time, in addition to some part time work, so I'm very lucky that he takes care of the household tasks. That being said, I'm always very connected; I check email constantly, even at 10pm when I'm watching TV with my husband. I'm trying to find a cut-off point to my day.
What is the project you are most proud of in your freelance career?
I'm currently writing a book on honesty. We live in a really dishonest world, which can be frightening and stressful. We need to call out the dishonesty, but we also need to look inside ourselves because it's very easy to notice others being dishonest or dishonorable, but we may not examine ourselves for the same tendencies. I'm examining what it mean to be honest and live an honest life. Surprisingly, this is an approach that hasn't been taken before. A lot of books on honesty have been written by behavioral scientists, written from a religious perspective, or written by empowerment coaches. My book draws from experiences in my own life. The book is due early next year and will be published in 2020. I hope that it will represent my best, most thoughtful work. It's definitely the most ambitious thing I've done!
How do you define success?
For me, it's feeling like you are in control of your destiny. It's feeling that no matter what happens, you can handle it, and having the resources to handle it and know that you are able to work your way back up. The path may not always be clear cut, but success is knowing you are able to handle whatever is thrown your way.