Lit London Students Strengthen Resumes in UK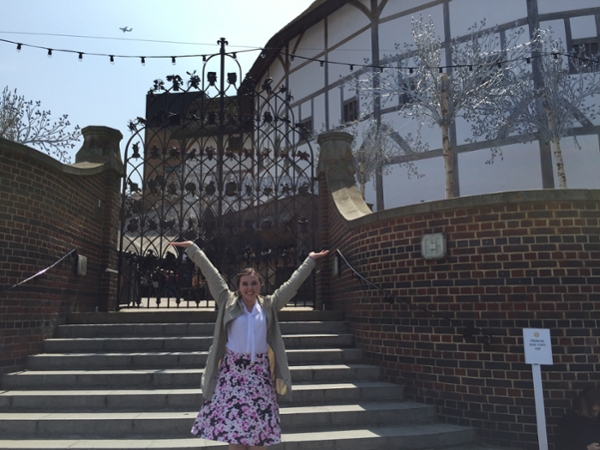 by Riley Steiner, CAS communications intern 
This past summer, Miami University students gained international work experience through the Literary London study abroad program. For the first time in its 11-year history, Literary London offered its students the opportunity to intern with employers in London, England. 
This summer study-abroad program, based in the English department, accepts approximately 20 students each year for six weeks of learning and living in England. Along with taking two academic classes, the students visit historical sites such as Westminster Abbey and attend productions at places like the Globe Theatre. Maria Ramos at the Globe Theatre
While courses are taught by Miami professors, students are completely immersed in London's culture, using classroom space at the University of London and living in apartments in the London neighborhood of Marylebone.
"It's a truly wonderful experience," said Professor Kaara Peterson, director of Literary London. "We really work hard to make sure that students are getting real classes, and what they're doing in class has to do with all the trips and exhibitions that we're doing. They're all tied in with class content."
This year, the program offered something new: internships for students in various industries throughout London. Out of the 20 students that participated in Literary London, 13 pursued internships, working for five out of the six weeks they spent abroad.  
Before departing on the trip, students interested in interning during their time in London ranked their top three preferred industries. Literary London's study-abroad service partner, the American Institute for Foreign Study, placed the students in one of their requested areas.  AIFS staff also guided the students through the process of applying for Tier 4 visas, which allowed them to legally work in London, and monitored the internship sites throughout the five-week period.
The positions comprised a wide range of industries—interns worked at publishing houses, political offices, public relations companies, theaters, schools, production companies and museums.  Placements included David West Books, Hampstead Conservatives, Chrome Productions, Cubitt Town Junior School and others.
While not a required component of Literary London, the internship experience was uniquely valuable. 
"It gives students the opportunity to say that they have international work experience, and because they have to apply an obtain visas, it's true, legitimate, real international work," Peterson said.
Junior Maria Ramos interned at the Tabard Theatre in the Chiswick district of London, where she did everything from answering phones and selling tickets to creating sets, costumes and props.
"It was fabulous," she said.  "I was completely immersed in drama."
Her favorite thing about the internship, though, was the chance it gave her to interact with the residents of Chiswick.
"That direct contact with the locals was something I wouldn't have experienced had I not done the internship and I wouldn't trade for anything," Ramos said.
At her internship with the Foundling Museum, junior Lindsey Kober answered visitors' questions about the history of the many works of art on display. The Literary London internship opportunity was the deciding factor in her decision to go abroad.
"If it was just a study abroad experience I wouldn't have gone," she said, citing the need for a summer internship as her primary reason for going to London. "It was the best of both worlds."
The experience, Peterson said, will have a lasting effect on its students.
"It's a daunting thing to go work for anybody, much less to do it in a foreign culture," she said. "Because it was a genuine, bona fide international work experience, it gives the students the ability to put on their resume that they had a job in London. And that is not something that I think a lot of people are able to say."  
Want to learn more? Stop by the Internships Forum on Nov 4 between 4-6PM in the Bachelor Hall Reading Room (337).