Liz Widom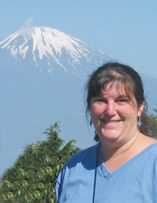 Janet & Elliot Baines Professor and Department Chair
Ph.D. (1991) Univ. of California, Santa Cruz
122 Shideler Hall 513-529-5048
widome@miamioh.edu
My research involves the application of trace elements and isotope systems (radiogenic and stable) to address a wide variety of geologic problems.  Current research foci include investigations of the processes and timescales operating in active magmatic systems (Azores and Japan); the composition and evolution of the Earth's mantle, with ongoing projects on basalts and mantle xenoliths from ocean island settings (Azores and Canary Islands), arc settings (Kamchatka, Izu, Italy and Mexico), and continental settings (China, Nevada, Madagascar); and the application of radiogenic isotope systems to meteorite impact studies (Serpent Mound, Ohio) and environmental contaminant tracing (SW Ohio and Nevada)
Possible thesis/dissertation topics
Sr isotope and U-series disequilibria studies of magmatic processes and timescale in active silicic volcanic systems (Azores, Canary Islands, Japan, Mexico, Nevada).
Re-Os isotope studies of mantle heterogeneity and crustal recycling in island arc and ocean island settings (Mexico, Azores)
Geochemistry and dating of Quaternary Volcanism and mantle xenoliths in Madagascar
U and Pb isotopic studies of environmental contamination (Ohio and Nevada).
Current/recent graduate student & postdoc research:
Fara Rasoazanamparany (Postdoc) Origin and Eruptive History of Quaternary Volcanism in Madagascar
Patri Larrea (Postdoc) Geochemical and isotopic evolution of Paricutin Volcano, Mexico
Masoomeh Kousehlar (Ph.D. in progress) Sources of urban dust and Pb contamination, Tehran, Iran.
Kelly McHugh (Ph.D. in progress) Tree rings as archives of environmental U contamination
Elise Conte (Ph.D. in progress) Petrogenesis of Sete Cidades volcano, Azores:  a U-series disequilibria study
George Daly (Ph.D. in progress) Petrogenetic processes and timescales in Terceira, Azores and Dominica, Lesser Antilles:  constraints from U-series disequilibria and Sr isotope microanalysis
Fara Rasoazanamparany (Ph.D. 2015) Re-Os isotope systematics in Jorullo volcano, Mexico and the Lunar Crater Volcanic Field, NV
Rebecca Tortorello (M.S. 2012) Application of Uranium Isotopes as a Temporal and Spatial Tracer of Nuclear Contamination in the Environment
Huimin Yu (Ph.D. 2011) Li, Hf and Os Isotope Systematics of Azores Basalts and a new Microwave Digestion Method for Os Isotopic Analysis
Shizuko Watanabe (Ph.D. 2010) Isotope and Trace Element Investigation of Magmatic Processes and Timescales in the Azores.
Selected publications
Larrea, P., Franca, Z., Widom, E. and Lago, M. (accepted, 2015) Petrology of the Azores Islands. In Volcanism in the Azores, Beier, C. and Kuppers, U., eds. Active Volcanoes of the World Series, Cimarelli, C. and Muller, S. eds. Springer.
McHugh, K.C., Widom, E., Spitz, H., and Glover, S. (2015) Analysis of sugar maple tree cores for monitoring environmental contamination.  Journal of Radioanalytical and Nuclear Chemistry. DOI 10.1007/s10967-015-4369-x.
Conte, E.R., Widom, E., Kuentz, D.C. (2015) Characterization and transport modeling of uranium particulate from Fernald area tree bark.  Journal of Radioanalytical and Nuclear Geochemistry.  DOI 10.1007/s10967-015-4388-7.
Rasoazanamparany, C., Widom, E., Valentine, G.A., Smith, E.I., Cortes, J.A., Kuentz, D., and Johnsen, R. (2015) Origin of chemical and isotopic heterogeneity in a mafic, monogenetic volcanic field:  A case study of the Lunar Crater Volcanic Field, Nevada.  Chemical Geology 397, 76-93.
Tortorello, R., Widom, E., and Renwick, W.H. (2013) Use of uranium isotopes as a temporal and spatial tracer of nuclear contamination in the environment.  Journal of Environmental Radioactivity 124, 287-300.
LeGalley, E., Widom, E., Krekeler, M.P.S. and Kuentz, D.C. (2012) Chemical and lead isotope constraints on sources of metal pollution in street sediment and lichens in southwest Ohio.  Applied Geochemistry 32, 195-203.
Larrea, P., Franca, Z., Lago, M., Widom, E., Gale, C., and Ubide, T. (2012) Magmatic processes and the role of antecrysts in the genesis of Corvo Island (Azores archipelago, Portugal) Journal of Petrology 54, 769-793.
Widom, E. (2011) Recognizing recycle osmium. Geology 39, 1087-1088.
Partey, F., Lev, S., Casey, R., Widom, E, Leuth, V and Rakovan, J. (2009) Source of Fluorine and Petrogenesis of the Rio Grande Rift Type Barite-Fluorite-Galena Deposits.  Economic Geology 104, 505-520.
Snyder, D.C., Widom, E., Pietruszka, A.J., Carlson, R.W. and Schmincke, H.-U. (2007) Time scales of formation of zoned magma chambers:  U-series disequilibria in Fogo A and 1563 A.D. trachyte deposits, Sao Miguel, Azores.  Chemical Geology 239, 138-155 (see also erratum in Chemical Geology 243, 369).
Widom, E. (2006) Lost lithium found.  Nature 443, 516-617.
Watanabe, S., Widom, E., Ui, T. Miyagi, N. and Roberts, A.M. (2005) The evolution of a chemically zoned magma chamber:  the 1707 AD eruption of Fuji Volcano, Journal of Volcanology and Geothermal Research 152, 1-19.
Selected grants
National Science Foundation 2015-2018
Origin & Eruptive History of Quaternary Volcanism in Nosy Be and Itasy-Ankaratra, Madagascar
National Science Foundation 2010-2015
Identifying Crustal and Mantle Processes in the Central Trans-Mexican Volcanic Belt
National Science Foundation 2011-2014
Acquisition of an Inductively Coupled Plasma-Optical Emission Spectrometer for Geological and Environmental Applications
National Science Foundation 2010-2014
Collaborative Research:  Testing the links between magma source characteristics, shallow plumbing, and eruptive styles in mafic intraplate volcanic fields (Lunar Crater Volcanic Field, Nevada).
National Science Foundation 2009-2013
Constraining Processes and Timescales of Magma Evolution
Teaching Interests
GLG 111 - The Dynamic Earth
GLG 211 - Chemistry of Earth Systems
GLG 417/517 - Forensic Isotope Geochemistry
GLG 427/527 - Isotope Geochemistry
GLG 617 - Chemistry of Earth's Interior
GLG 627 - Applications of Non-Traditional Isotope Systems
GLG 670 - Geochemical Modeling
GLG 770 - Advanced Isotope Geochemistry
for a complete description of the courses please see the 2014/2015 Miami Bulletin.