About the Henry Pre-Law Center
Naming Ceremony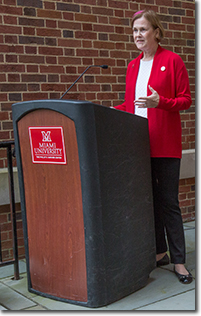 The Sue J. Henry Center for Pre-Law Education, named after alumna and long-time supporter Sue Henry '73 (pictured above), held its official naming ceremony on October 4, 2017.
Read more in the CAS press release Miami's Pre-Law Program renamed after prestigious alumna.
Mission
Miami's Sue J. Henry Center for Pre-Law Education (located in Room 159 Upham Hall):
educates students about law school and the practice of law
equips those who apply to law school with the tools to succeed in the law school admissions process
Students receive focused guidance and counseling on:
undergraduate coursework
extracurricular and community service opportunities
law school admissions process
LSAT preparation
… and opportunities to learn from and network with professionals in pre-law courses and during pre-law events such as the Law Day Fair.
Student Newsletter
Did You Know?
96% of senior Miami applicants were accepted to law school from 2016-17 (compared to a 85% national average for the same period).
In recent years, Miami students have been accepted to top law schools including Harvard, Columbia, New York University, University of Chicago, Pennsylvania, and California-Berkeley. And, Miami remains an important feeder school for top Ohio law schools.
Henry Pre-Law Center Video