Your Career in Architecture and Interior Design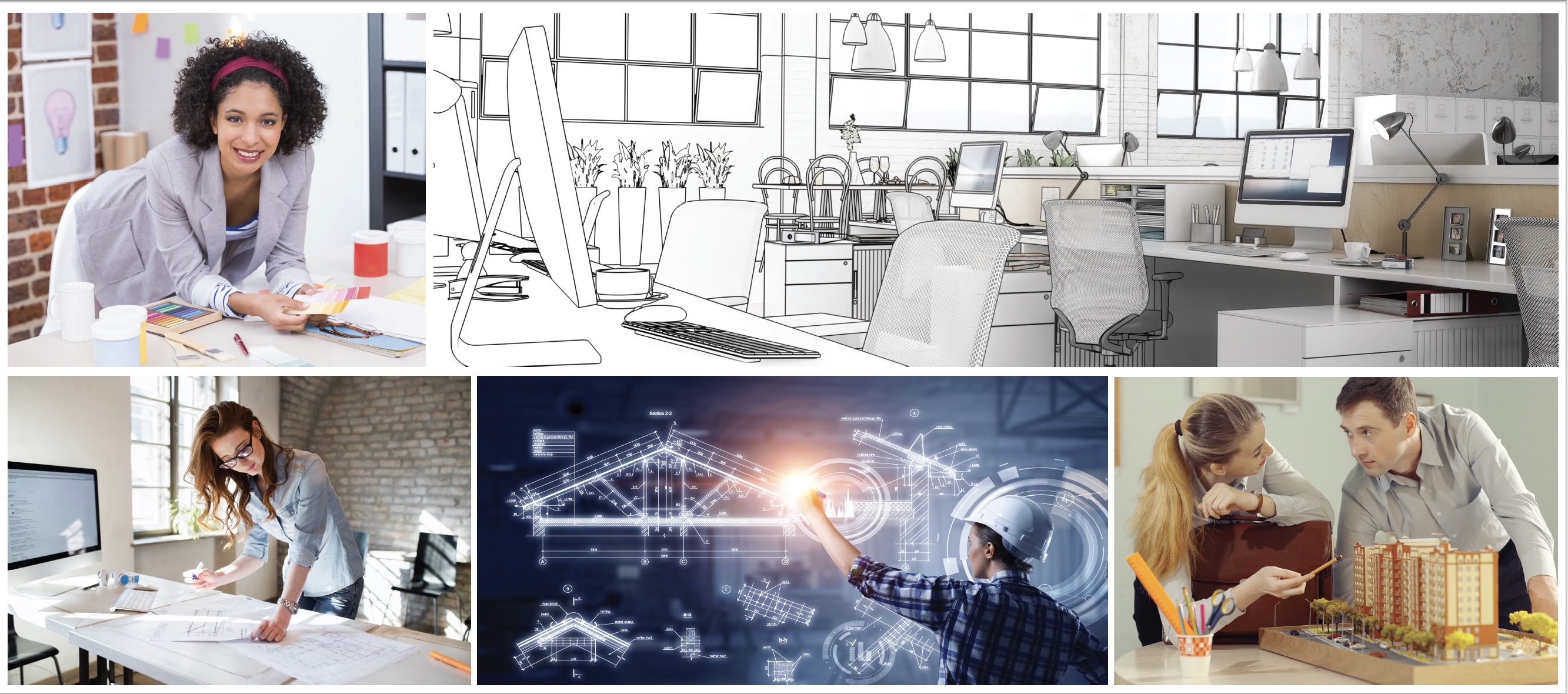 What can I do with a major in Architecture+Interior Design?
Studying architecture and interior design prepares you to work in a vast range of areas in the building design sectors including: retail design, commercial architecture, residential buildings, health facility design, educational buildings, industrial design, office fit outs and much more. However the skills you learn will help you so much more. Here are just a few examples:
Creative abilities will get you jobs in architecture and interior design studios.
Hand and computer graphics skills can get you into visualization and advertising.
'Design thinking' will help you in everything, from transport to product design.
Critical thinking is essential to social justice and social policy fields.
Knowledge building/interior environments is needed for wellbeing and the health sector.
Skills in sustainability will let you specialize in environmental design and planning.
Studying at Miami teaches you all of these skills and opens all of these doors... and more.
Student Stories
A foundation for lifelong learning

As a senior Interior Design Student I could not be happier with my choice to attend Miami University. The Architecture and Interior Design Department has given me the foundation for lifelong learning and exploring. The dedicated faculty and students share a mutual passion for new and innovative ways of thinking about the design process. These past four years have allowed me to grow so much as a designer and gain a global perspective on how strong of an impact design has on our world.
Kaley Sobanski, BFA, Interior Design
Interior Designer
BHDM Design, New York, NY
Alumni Stories
Diversity in interests and expertise

The architecture program at Miami provided me with both a detailed and broad education which stems from the great diversity in interests and expertise shown by both the faculty and other students. My education at Oxford has helped me on an almost daily basis since graduation and I could not imagine a better experience.
Brian Albrecht, M. Arch
Lead Designer and Graphics Specialist
Albrecht Wood Interiors, Dayton OH
Design-Related Jobs
Project Architect
Designer-Design Consultant
Project Manager
Design Strategist
Design Technologist-Technical Support
Design Researcher
Design Detailer
Specification Writer
Workplace Strategist
Architectural-Design Illustrator-Renderer
Business Developer-Marketer
Owner's Representative
Professor
Developer
Contractor
Project Engineer
Product Developer-Researcher
Manufacturer Representative
Project Types
Residential Design
Corporate Design
Healthcare
Hospitality
Sports and Entertainment
Retail Design
Cultural and Civic Buildings
Religious Buildings
Educational Buildings
Transportation
Government and Military Facilities
Manufacturing Facilities
Product Design
Design Issues
Community-Based Design
Sustainable Design
Design for Social Justice
Virtual Building Modeling - Building Information Modeling
Human-Centered Experience
Design Thinking
Healthy Environments
Professional Identity and Branded Environments
Historic Preservation and Restoration
Adaptive Reuse
2 Design Group, Chicago IL
ACE Mentor Program (Architecture, Construction, Engineering, Chicago, IL
Acock Associate Architects, Columbus, OH
Architectural Artisans, Louisville KY
BHDM Design, New York City, NY
BSA LifeStructures, Indianapolis, IN
EYP Architecture and Engineering, Boston, MA
Freytag and Associates, Sidney, OH
Garmann Miller Architects and Engineers, Minster, OH
Group 70 International, Honolulu, HI
Hackley + Associates Architects, Kenilworth, IL