Friday, December 15, 2017, 3 p.m.
Millett Assembly Hall
500 E. Sycamore St. Oxford, OH 45056
For all graduating students; no tickets required

Watch the ceremony live
Featured Guest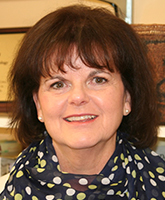 Dr. Linda Marchant --  Professor of Anthropology in Miami University's College of Arts and Science, is the Miami University 2017 Benjamin Harrison Medallion Recipient.
Primatologist Linda Marchant has been lauded nationally for her research and has received two national awards. She will speak at the 2017 December commencement ceremony.
Degree Requirements
All necessary requirements for master's and doctoral candidates, other than final examinations, must be completed by the deadlines as determined by the Graduate School. This includes all grade changes for incomplete grades to be turned in to the Office of the University Registrar as well as approval forms to be turned in to the Graduate School indicating results of final oral/written examinations and grade changes for thesis and dissertation research.
All necessary requirements for undergraduates must be completed by January 12, 2018. If you are having transfer credits sent to Miami to complete your degree requirements, please email commencement@MiamiOH.edu with the school and courses being taken. Undergraduate candidates graduating with Latin Honors (cum laude, magna cum laude, or summa cum laude) will be recognized during the ceremony.
Policies & Regulations
New Policy for Student Regalia
A new policy prohibits students from wearing their robes and caps in to Millett Hall.
All bags will be checked upon entering the venue.
---
Share your experience!



Use the hashtag #MiamiOHgrad when talking about graduation and related festivities on social media.
Graduation Photos
Graduation Photos